Goruck GR1 (26L) Backpack Review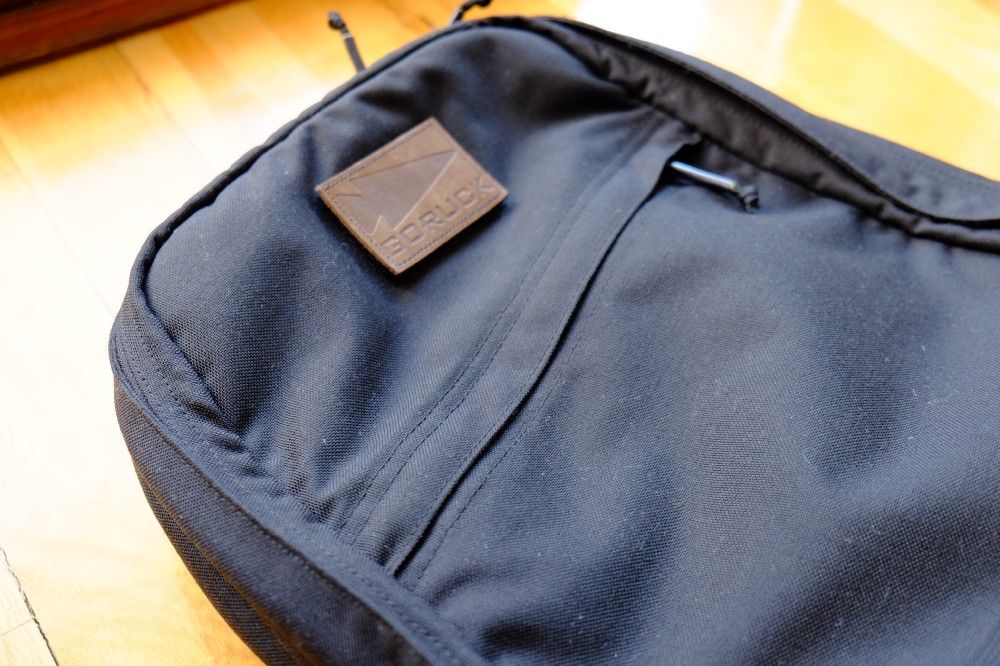 I had to start carry something more comfortable and something that could hold more in a better way. I'm also working remotely from home, so I was not going to use the bag every single day. It should do two things in good ways
Carry enough stuff to the destination
Should be comfortable to wear** during the trip and at the destination**
Upon some research I've found the Goruck GR1. When I've visited NYC for the first time, I saw also it for the first time hands on. It was heavy, it was black as night and it felt "bombproof" (which is how they advertise it).
I was sold.
The next day I've ordered the Goruck GR1 in 26L version (they also have the 21L version) I've didn't made any other research. I just thought, this looks good and it's a BIFL (buy it for life) gear. It's not by any means cheap and **costs $295 **(plus taxes & shipping). I've pulled the trigger and bought the bag.
After a one year usage, I think it's time to share my thoughts and do a review of this bag with its pros and cons.
Look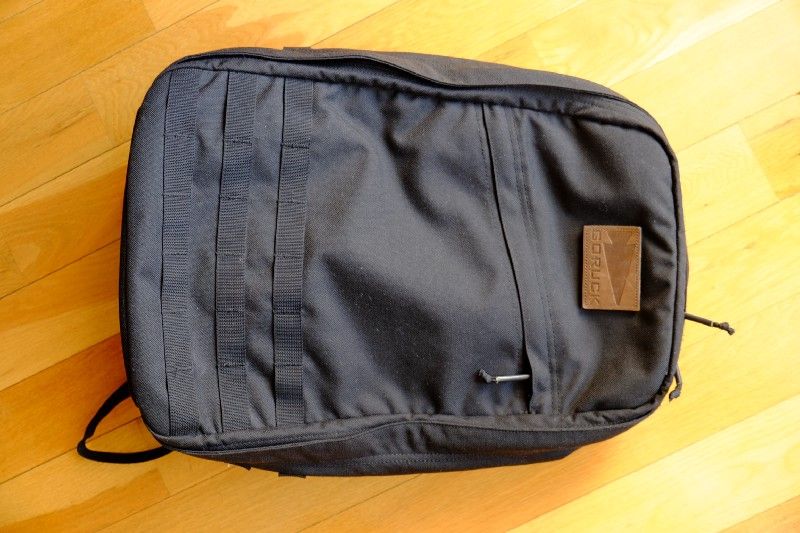 It has a very minimalist look. One big compartment and another one small in the
front and that's it. The molles outside the bag also blend into the bag, so
from the far away the bag looks like a single block of bag. It has zero
branding. There is nothing written or nothing attached outside the bag. The
only place you see the Goruck brand is inside the bag
Goruck sells the bag in various colors, the black color is the one that's sold the most and I see the most. It also allows you to customize it with a 2"x3" velcro patch. I preferred something that again looks good and simple and therefore attached a leather patch.
What I don't like however about the look is the molles outside the bag. I know that Goruck is intended to be extended with various stuff to be attached outside the bag. However the military look of the bag, combined with the molles is not my preference. When I bought the bag, I've didn't thought much about it, but I've never used the molles to attach anything
Usage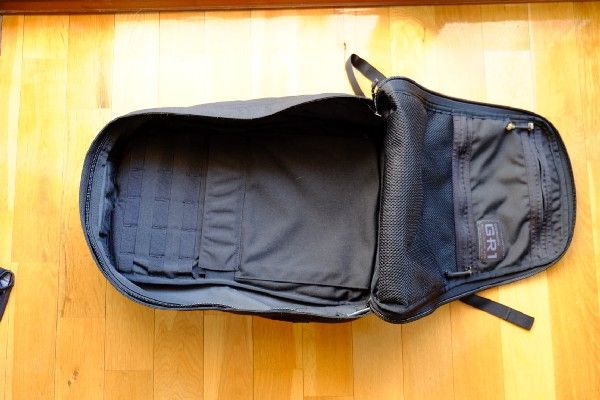 The Goruck GR1 opens flat, like a suitcase. When you travel a lot this is a feature you used to like a lot. Open it and fill it with your clothes and stuff. And if you have some packing cubes (like the ones from Eagle Creek), it's a joy to fill this bag and then fill out in your destination. The downside of it is that it's literally **big black hole **if you decide to pack it lightly. All your stuff will shuffle around and it's literally mess to find something. The interior is all black and anything you throw into it, there is a %50 chance you don't find it next time.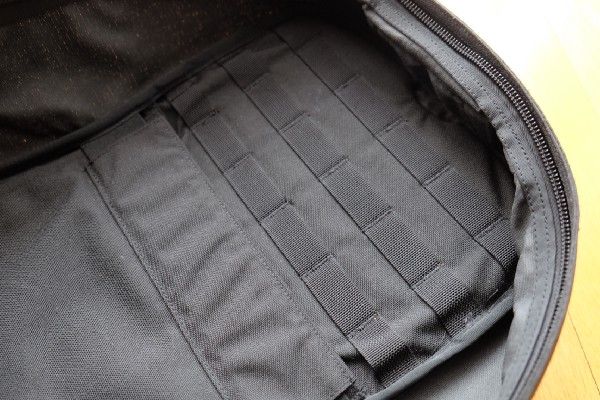 It has an internal molle system as well. This means you can attach a pouch to
it, which gives you a little extra organization. However I've found this
feature is not useful if you pack with packing cubes or anything else. Because
the pouch gets into your way, so you have to therefore detach it from the
internal molle (which btw is not a 10 second work, it requires some time to
attach or detach it)
It has a large laptop compartment which fit's up to 17" laptop. It's also has an internal frame, which means the back of the bag never bends. It feels like a brick. The advantage about the laptop compartment is that it's just behind your back. It's very safe and** no one else**, except you can get it. Another cool feature is that, it has a false bottom. If you set your back down or sit down somewhere, the laptop compartment never touches the bottom. However, it's very hard to get your laptop out. They claim it's easy, but I have to disagree on this. The problem is that the laptop compartment is behind the straps and not in front of the straps. And because the straps are heavily padded, they are stiff and don't bend easily. So you have fold at least the right strap individually so you can get out your laptop (see picture below). If you use this bag as an EDC, this feature will annoy you a lot.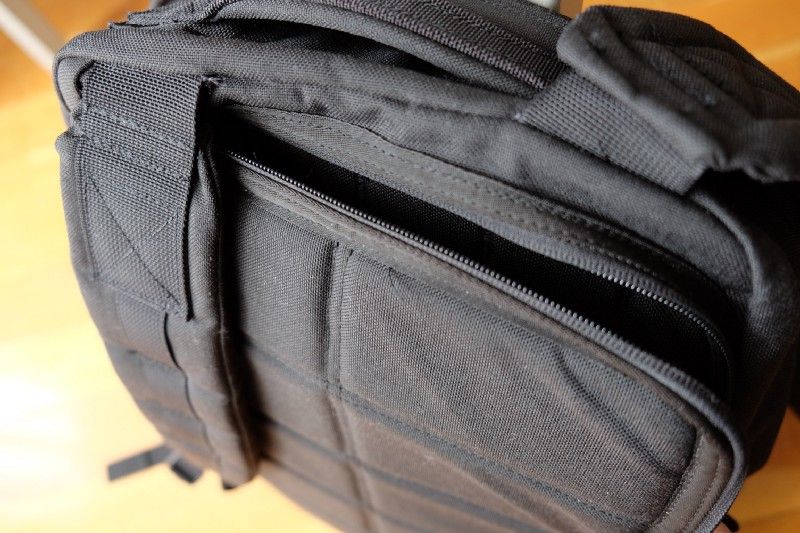 As I've said, it's a minimalistic bag. Because of it's main compartment that
opens flat, there is zero organization in this bag. You have a single
external pocket in front of the bag. I use it to stow away my iPad or my
boarding pass and co while I travel. The problem with this external pocket is,
when you fill the main compartment, it's barely usable. Because the stuff
inside the bag puts pressure to the upper side of the bag and thus it's very
hard to open and get stuff out it.
It has also two internal pockets. One is meshed (which makes it easy to find
stuff). The one on the top is imho my most used pocket (because there are no
other pockets!). It's easily accessible from the top. I put my pens, phone
chargers or anything small I need to get quickly. The other meshed pocket is
great to see easily things and grab them. The problem with this pocket though
is, anything you put here will put some pressure to the outside external pocket
and will make it hard to use the external pocket.
Comfort
First of all, the bag is heavy. The empty bag weights ~1.5kg (3.2lbs). If you hold it, you know it's built like a tank, but that comes with a hidden price. Because of the quality materials used everywhere, it adds a lot of weight. If you want to travel light with this bag, forget it! Because it's also 26L, it means you pack a lot. All this ends up with a bag that is not easy to carry.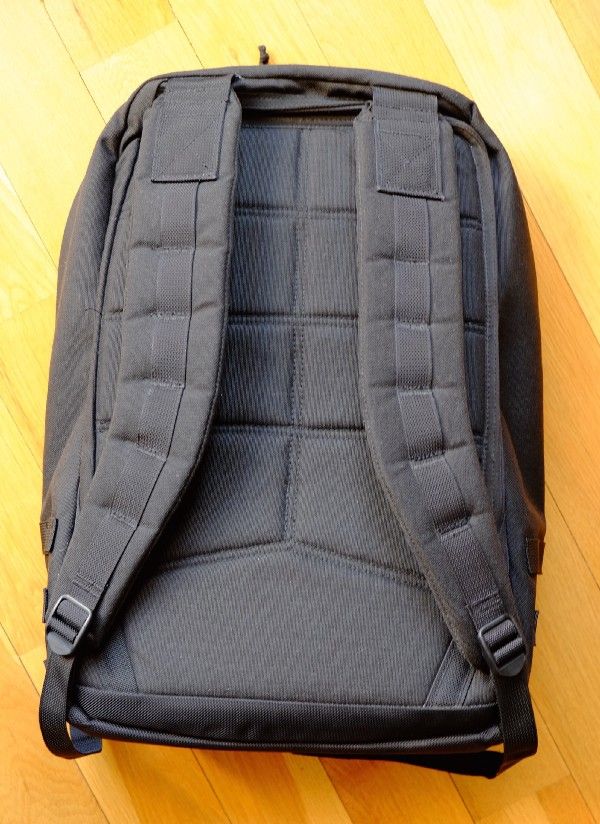 But Goruck has some nice features that at least makes it easy to carry. First
it has very heavily padded straps. I've never seen a backpack strap like
this. They are a little stiff, but break in after some usage. They are really
comfortable to wear. They end at the very top which is also feature.
Because you wear the bag high, it'll distribute the weight evenly (which you
need as the bag is really heavy).
The straps also has molles. These can be used to attach various little things
or even a sternum strap (which they sell it for
extra)
If you don't want to wear on your back anymore, it also has a handle on the top. This handle is also heavily padded and is very useful in airports or anywhere else if you just want to carry it for a while.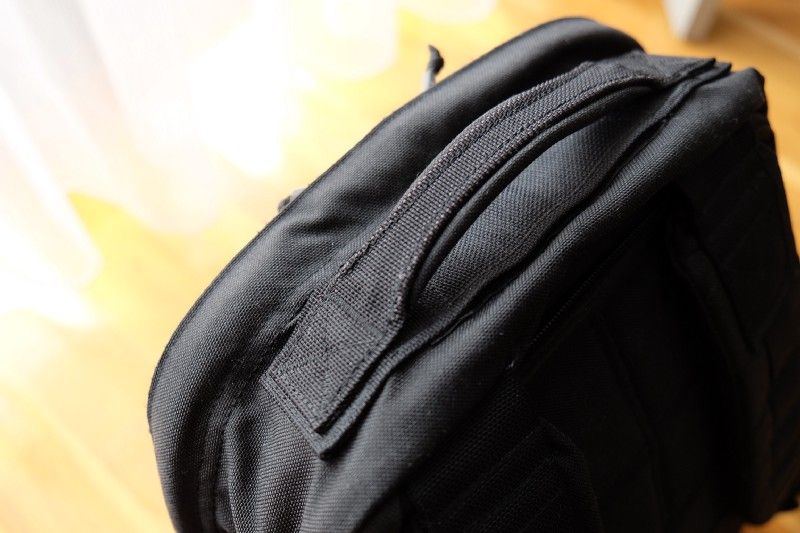 Verdict
Goruck GR1 is an expensive, very durable, nice to travel but pain in the ass to use it as an EDC (every day carry). Get it if you travel a lot, don't mind the weight, the price is ok for you and want to have a sleek and minimalistic look (and therefore do the organization yourself). Don't get it if you carry a lot technical stuff (chargers, laptop, etc..), want to travel light and value your organization.