Tom Bihn Daylight Briefcase Review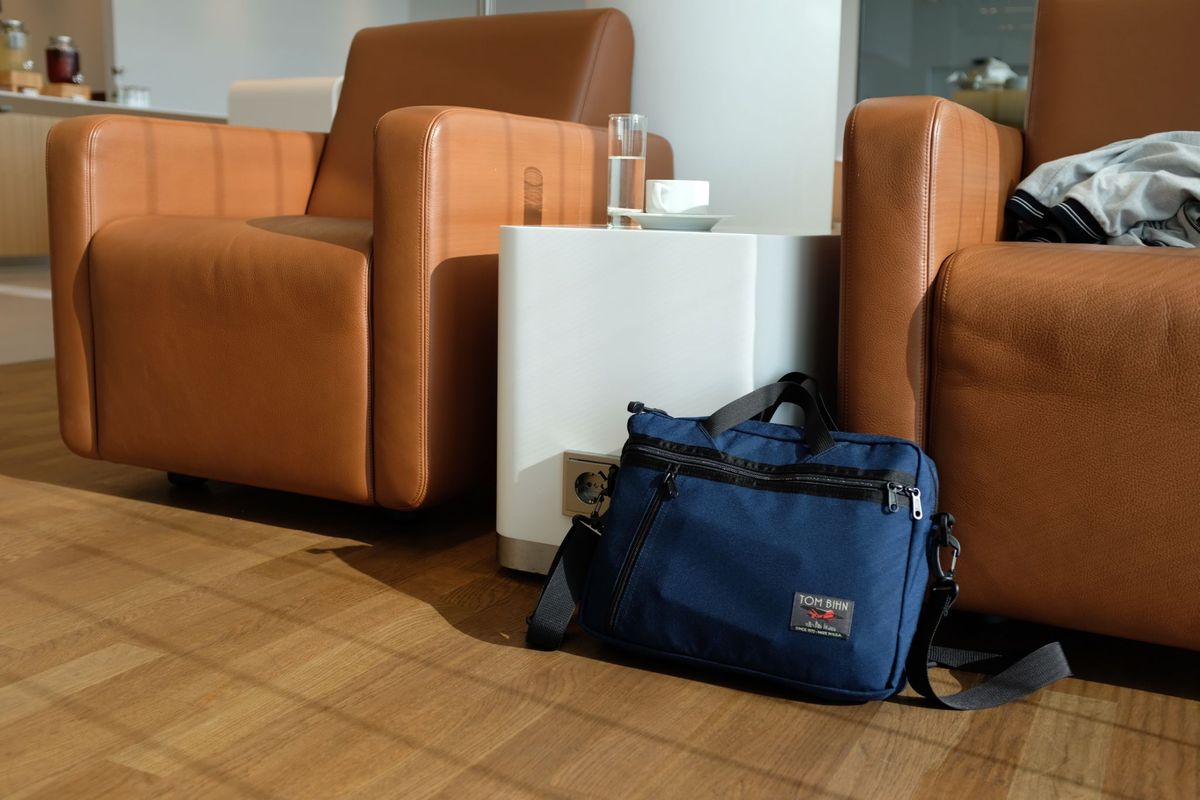 Let me introduce the newest member of my bag collection, the Tom Bihn Daylight Briefcase: classic, ultralight, minimalist briefcase for the urban dwellers.
I purchased this briefcase because I wanted to have something that is lightweight yet durable - something I could carry with me in the city. Even though I work remotely and don't have a daily commute, I still need something to carry for when I decide to work outside or attend meetups and conferences. Because of its weight and construction, this can be also tucked into another big bag  - like a traditional Russian doll!
Tom Bihn is a popular, Seattle based company that produces very high quality, functional and design-oriented bags. The Daylight Briefcase (also called as DLBC amongst Tom Bihn users), depending on the material selected (more on this later), weighs around 350 grams. It has an 8L capacity, has room for including a 13" laptop and costs $80.
Look
The DLBC is a minimalist looking briefcase. It's clean with none of the bells and whistles of a serious looking briefcase. And that's a good thing. This also makes it a great choice for people who want to use it as a messenger as well. It blends into the environment very well.
It comes with two different choices for exterior fabric. The one I have is made of 1000 Denier Cordura. It's a durable material with a cotton canvas like texture. The bag can also be purchased in a more lightweight material, called Halcyon 400 Denier. This is lightweight nylon fabric with a good kind of abrasion resistance, weighing only around 260 grams. More information about the materials can be found in Tom Bihn's excellent materials page.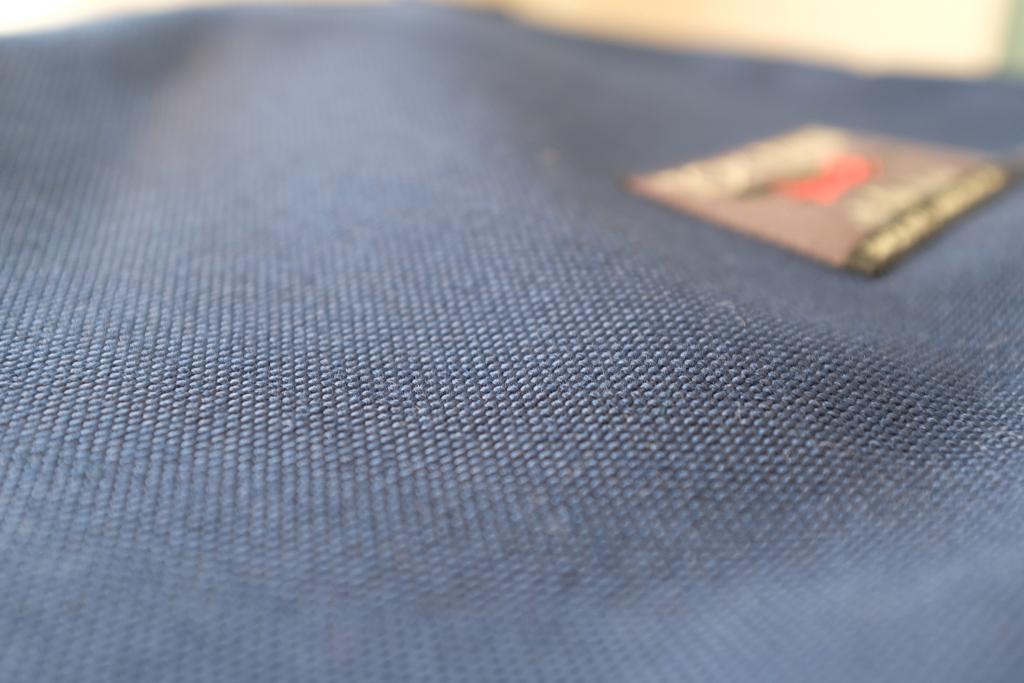 Which fabric should you choose? That depends on how you want to use this bag. If you're interested in ultralight style carrying and want the lightest item  available on the market, pick up the Halcyon 400d. It's 260 grams and I don't think you'll find anything lighter than this. However, keep in mind that the 1000D Cordura version is just 90 grams heavier (350 grams). It's tough, more durable and has a cotton-like fabric. The only thing you need to be aware is that the 1000D Cordura version is a magnet for pet hairs. If you have pets, you need to clean it periodically.
Having said that, what makes Tom Bihn different from most other companies is that** all of their bags are sewn in their one and only factory in U.S., in  Seattle**. All bags are handmade, inspected and built with a craftsmanship you will probably not see in other bags. That's why their prices are a bit higher than average bags. All bags being U.S.-made, using the best materials (not just fabrics - for example zippers are all water-resistant YKK) out there and thoroughly inspected prior to shipping. All of this is reflected in the price.
Usage
The Daylight Briefcase is a small briefcase. As I said, it only holds around 8L. What this means is that you can only bring your essentials with you. If you're a minimalist or ultralight advocate, this briefcase is just perfect for you. However, even with its small size, it carries a lot. I can carry with it the following items: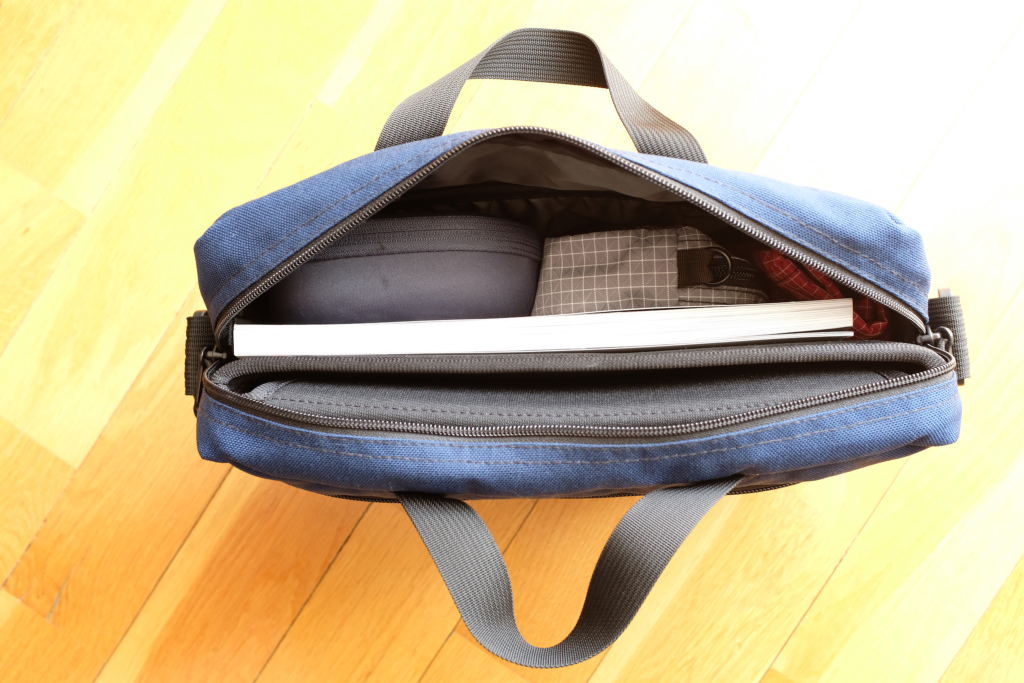 13" MacBook,
Bose headphones,
A pouch full of chargers/cables
My favorite magazine
... and various other bits.
The main compartment has an internal pocket with an elastic top to hold things separately. It's just there to separate things which makes it easier to grab and look for what you need. It also has the cache system integrated, where you can use TB's own proprietary laptop sleeve system (more on this later).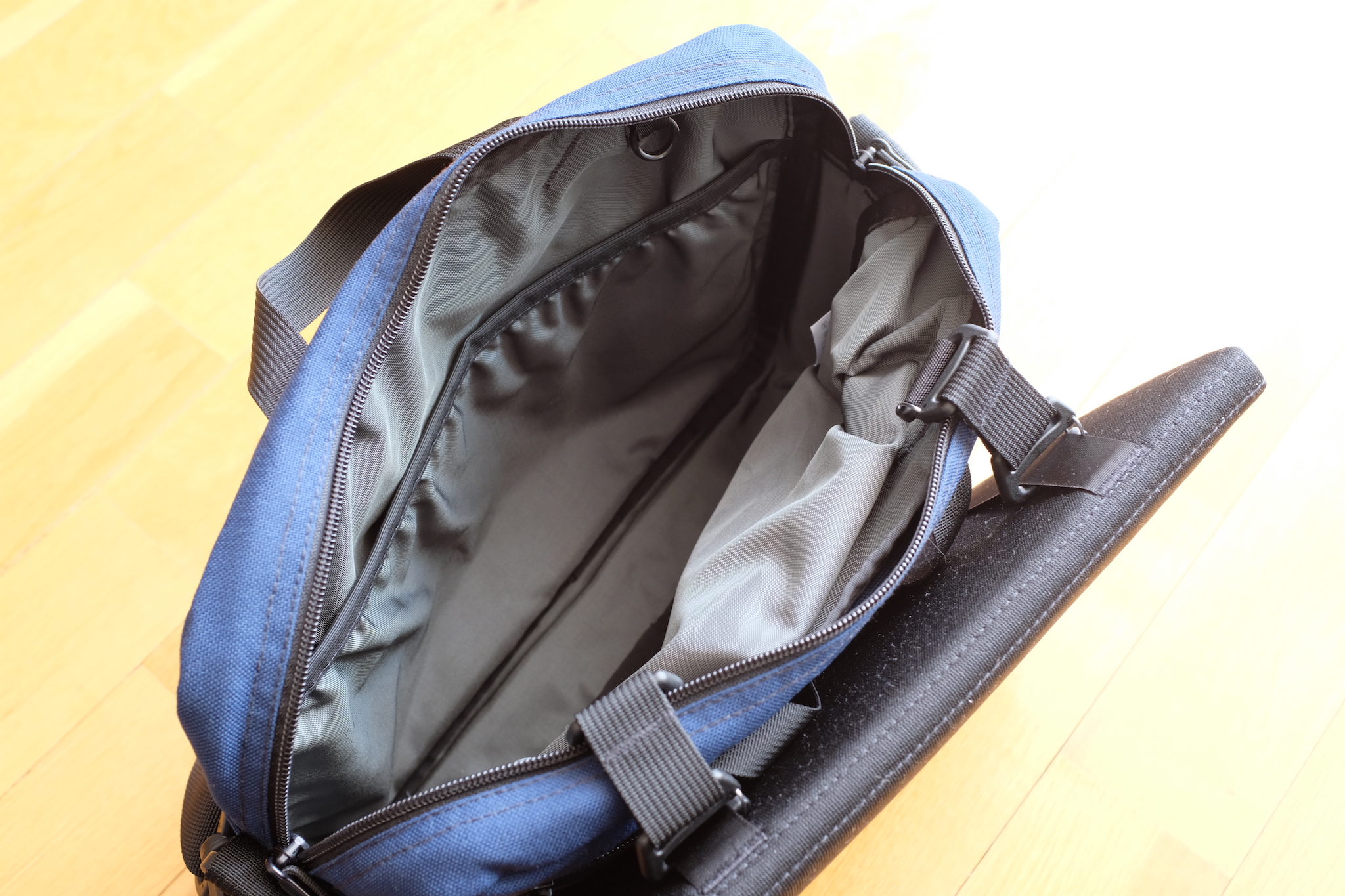 Besides the main compartment, the DLBC has three outside pockets, two in front of the bag, and one big in the back. These are pockets where you can add mainly flat objects and let you organize your stuff better. The back compartment is a one single, big place to put your small magazines, notebooks, pens, etc. It's also large enough to accommodate an iPad or Kindle.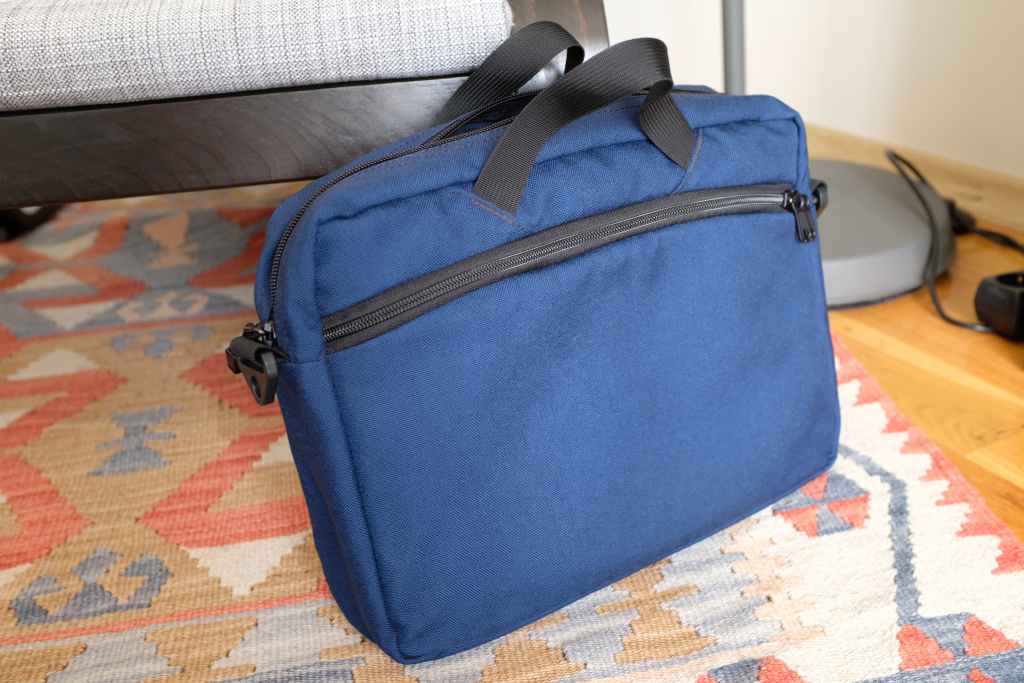 I'm using the upper front compartment to put my phone, keys and small snacks. The upper front compartment itself is separated by an internal stitch. This again gives some organization as it splits it into equal pieces. Sometimes though I wished it wasn't there as it limits what you can put. But then, you have the larger back compartment in those cases.
Lastly, there is a vertical, centered front compartment. This is the place I put things that I use the least. Sometimes it's the place for my boarding pass, passport or anything like that. It's also a perfect place for your small tablet (kindle, iPad mini, etc..)
The DLBC, by design, is only suitable for flat 2d items, such as books, pens, magazines, etc. It has some depth to hold large items as well, but don't be surprised if you can fit it. I can throw in even small water bottle for example, but large ones will not fit.
Cache and rails system
Tom Bihn produces various kinds of protective Laptop and tablet sleeves, which they call "Cache". It's designed to be used with Tom Bihn bags and comes in a variety of sizes and orientations. You can put your laptop horizontally (think of a briefcase) or vertically (think of using a backpack). What is interesting is how their rails system integrates with this sleeve.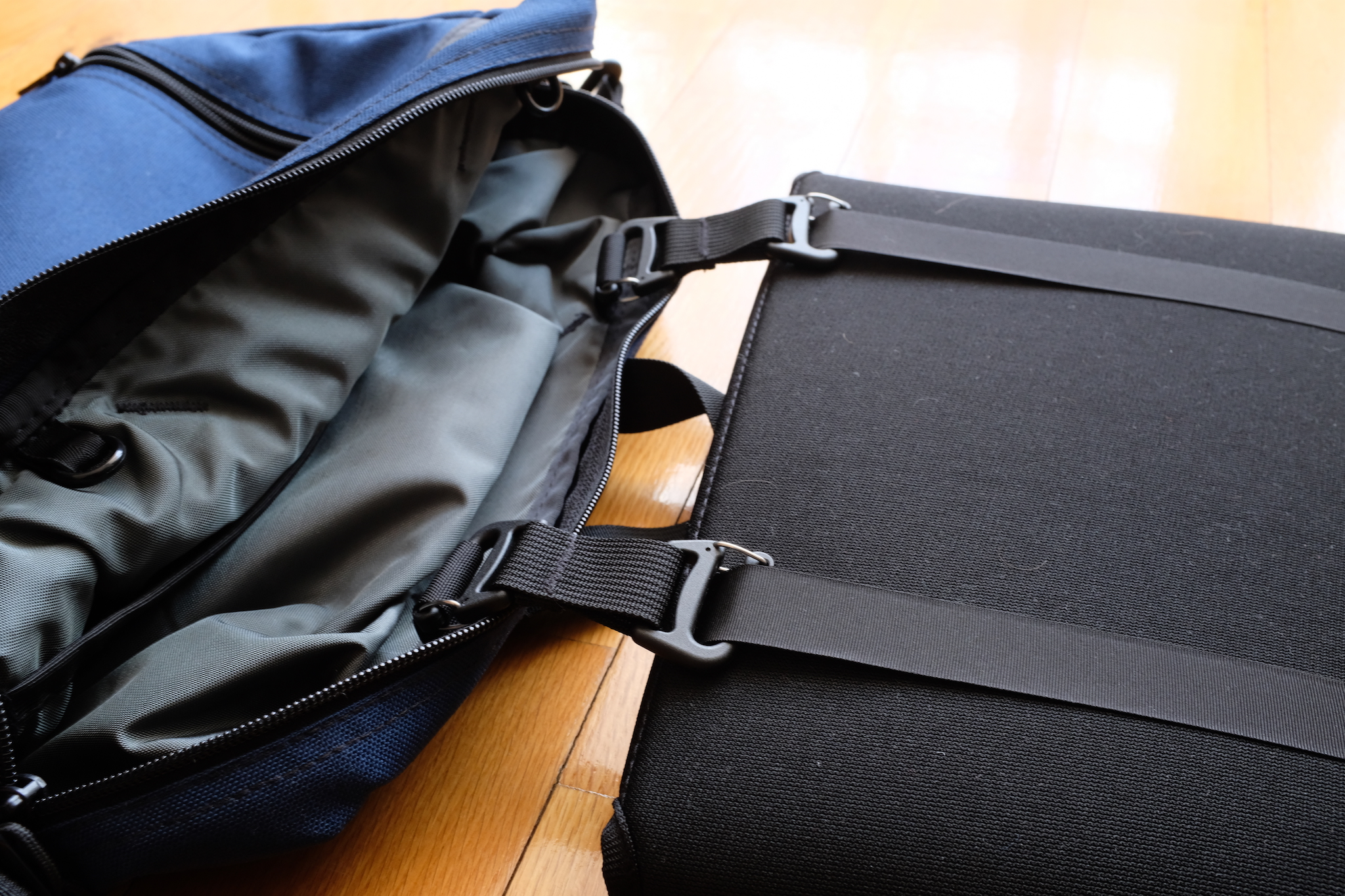 You're free to use this system or just throw your sleeve into your bag. However it's advised to use the rails system as it's really designed in a thoughtful way. So what is the rails system? When you buy the Cache laptop sleeve from TB, you'll find **two parallel nylon webbing loops **which extends from the bottom to the top.  In your Tom Bihn bag (say our Daylight Briefcase which we review now), you'll find two clips that you can attach to these loops.
What advantages does this have? First of all, your sleeve is tight and bound to the loops, preventing it from swinging in the bag freely. It really makes it cleaner. Second, it automatically converts your bag/briefcase into a checkpoint friendly. Below you can see it in action how I take it out: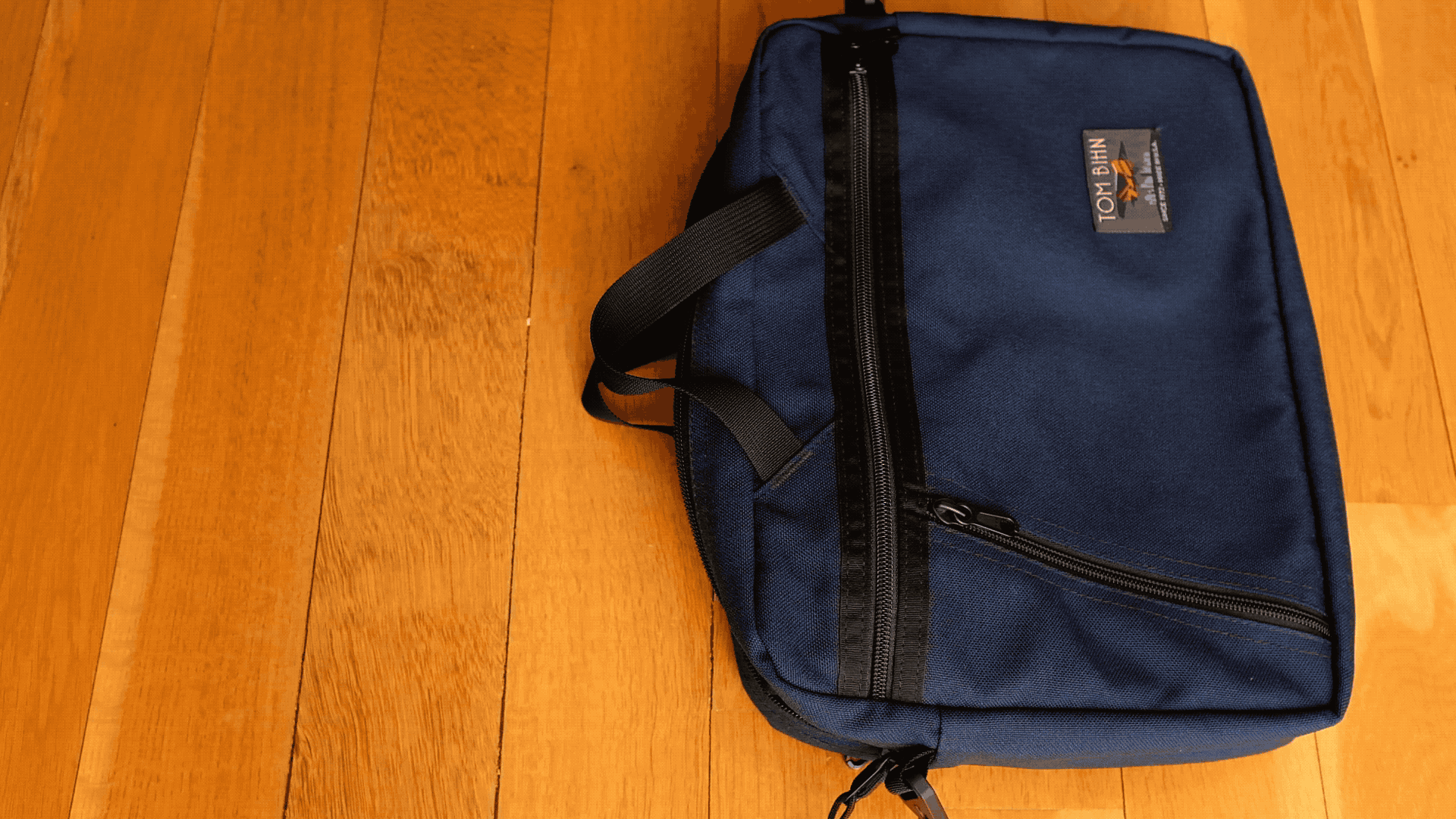 Tom Bihn Accessories system (a.k.a O-Ring System)
The Cache system is not the only organization system built into TB bags. There is also the O-ring system. This system allows you to attach small little pouches, cubes, straps, etc., into plastic rings sewn inside the pockets and compartments of a Tom Bihn bag.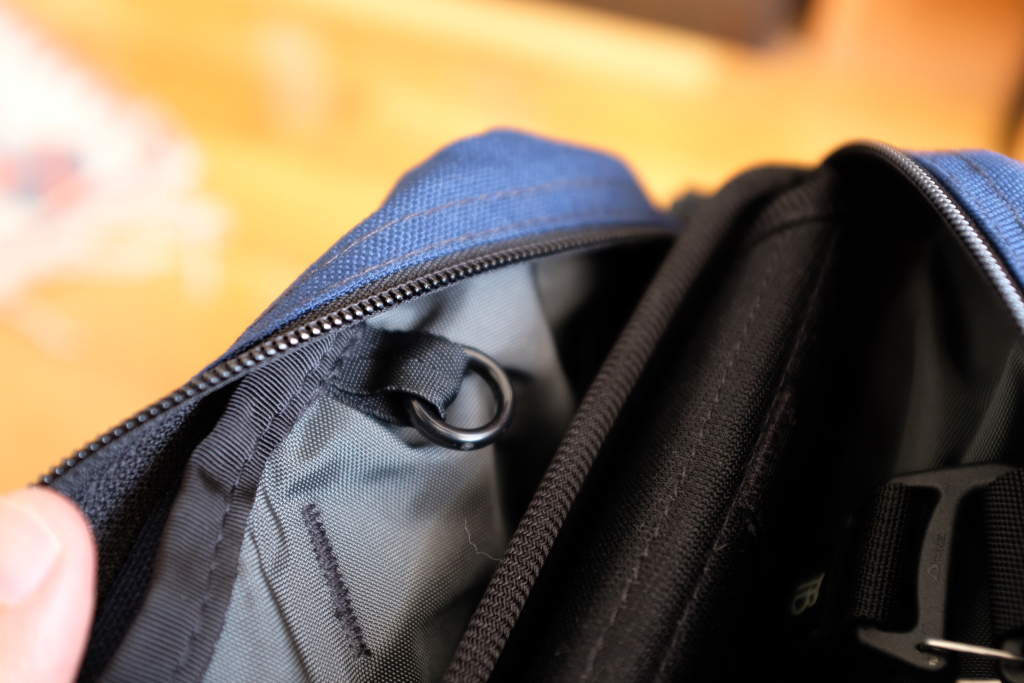 What can you do with these O-rings? In my case I have used them in the following cases:
I have a key strap where I clip my keys so I can find them easily when I need it. It also prevents them from being stolen or falling out of my bag accidentally.
As I travel a lot, I have a **TSA 3-1-1 **liquid bag, which is attached to an internal O-ring. This allows me to show it in case the officer asks for it.
I have another mesh 3D organizer cube which I use to carry various kinds of chargers and cables with me. This is very handy, as they are all in one place. One of the great things about this organizer is that it has an internal hook that I use mainly in airplanes to hook it to the seat in front of me. This allows me to easily access additional items I might need during my flight, such as hearing aids, glasses, etc..
I use a Doubler Organizer Pouch to hold my other small items. Mostly hearing aid batteries, a small Moleskine notebook, USB stick, medication (such as Aspirin, Nurofen, etc..) and various other small bits.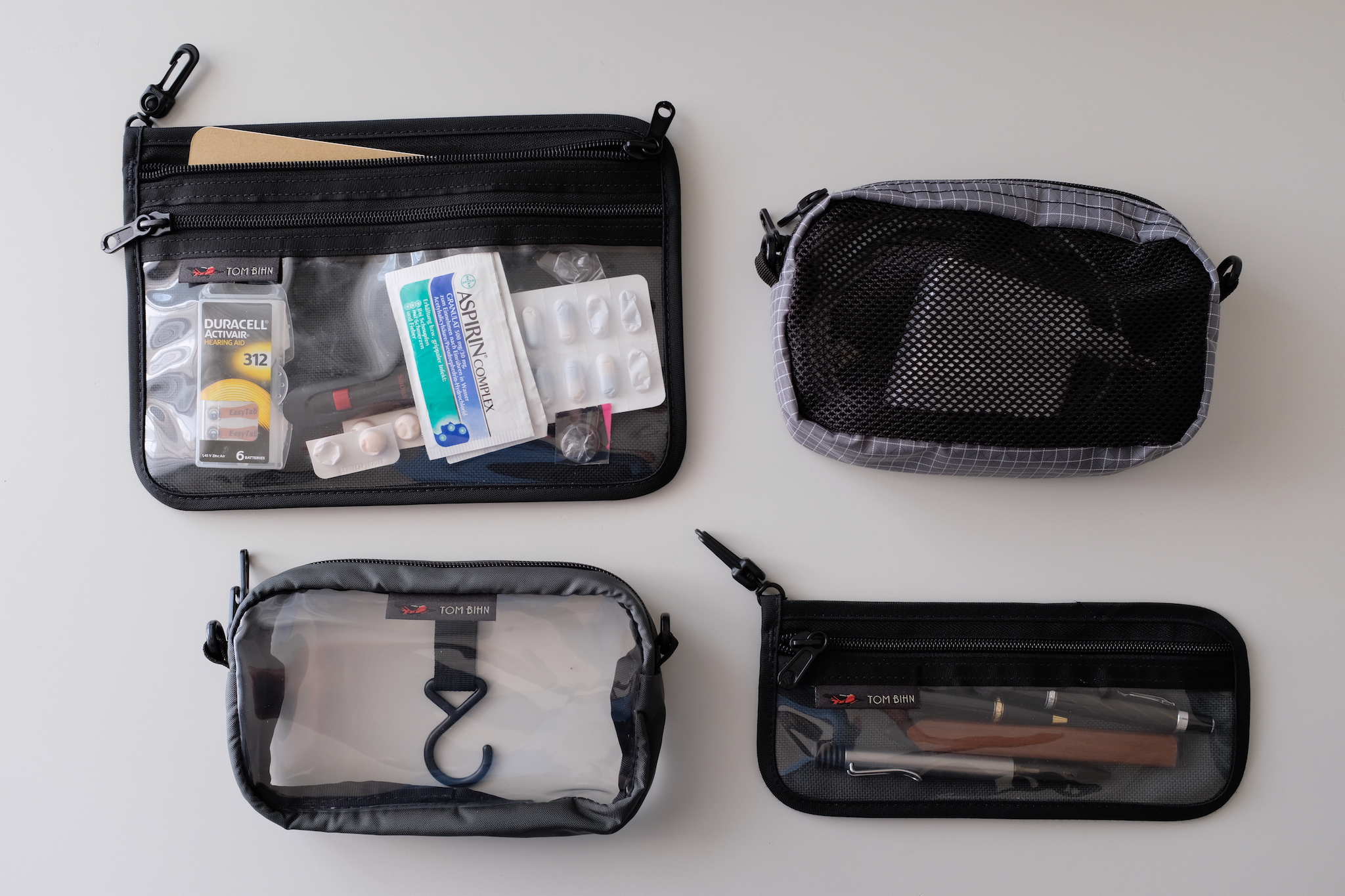 Having these small O-rings is a game changer. It allows you to organize your belongings into small, self-contained containers. The advantages of this are immense. First of all, you don't need to dig into your big bag pocket anymore to find that small thing you're looking for. Instead, you just pull out your small pouch attached to an O-ring and grab what you need. Second, it's much safer against accidental fallout from your bag, which can happen if you forget to close the zipper and also makes it harder for thieves to get stuff out of the bag.
Because everything is attached via a cord to a single O-ring, it is extra work for them. I know it's not 100% safe, but the goal is to discourage third parties accessing our stuff.
Thoughts about accessories
If you're new to Tom Bihn world, you'll find out quickly that every single accessory needs to be purchased separately which quickly adds up and increases the overall price of your bag. But this is just one side of the issue. Once you start using TB products, you'll also be going to discover that all these additional modules can be used in other bags as well. The Cache can be used in your other bigger briefcase or travel bag, the small internal organizers can be plugged into TB bags O-rings, all the accessories can be swapped and used in different bags, can be used standalone or with other third-party bags as well.
So what I'm coming to is that the initial investment sure is a big step, but it's getting better and better once you're starting to invest in the TB ecosystem (which is not bad at all due to the high-quality products TB produces).
Comfort
The DLBC is great to carry around. Because it can't hold too much, you can't overload it , making it handy and easy to carry around.
The **top grab handles **are not heavily padded. To shave some weight, those are made out of simple nylon webbing. How comfortable are these handles? I would say pretty comfortable. When you first hold it, you might judge it negatively. However, now that I've been using it for several months and have used it for hours at a time, I'm pretty sure they hold up and are great to hold.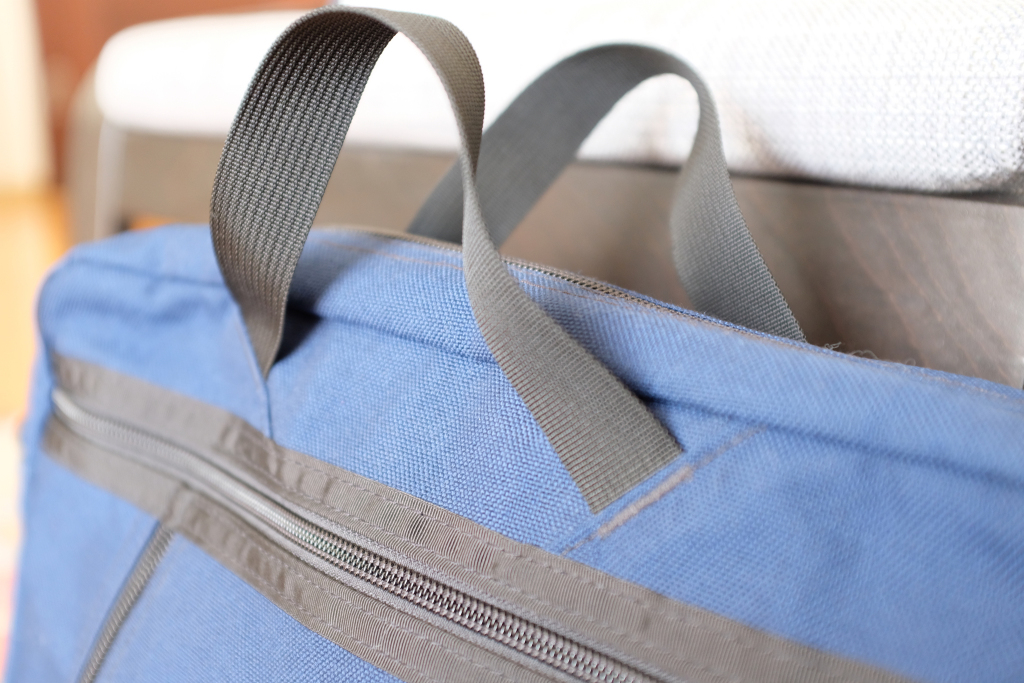 Of course a better padding would be better, but do we need it really? A more padded handle would change the look of the bag dramatically and also add some weight. It would change the look because these webbings are out of your way if you don't use them and therefore if you use a strap with them, it automatically feels like a messenger bag. This** small detail** is one of the important aspects of this bag which is why people unknowable love it.
Another way of carrying the Daylight Briefcase is via the detachable straps. It comes with a Simple Shoulder Strap (also name of the product), which is designed for lighter loads. This is as simple as can be and built of nylon webbing. As with TB's philosophy, this can be also swapped with a different strap if you wish. I'm not using this strap as I've swapped it with my brothers Standard Shoulder Strap. This is is slightly the same compared to the "Simple" version, but has a texturized rubber pad for some additional comfort.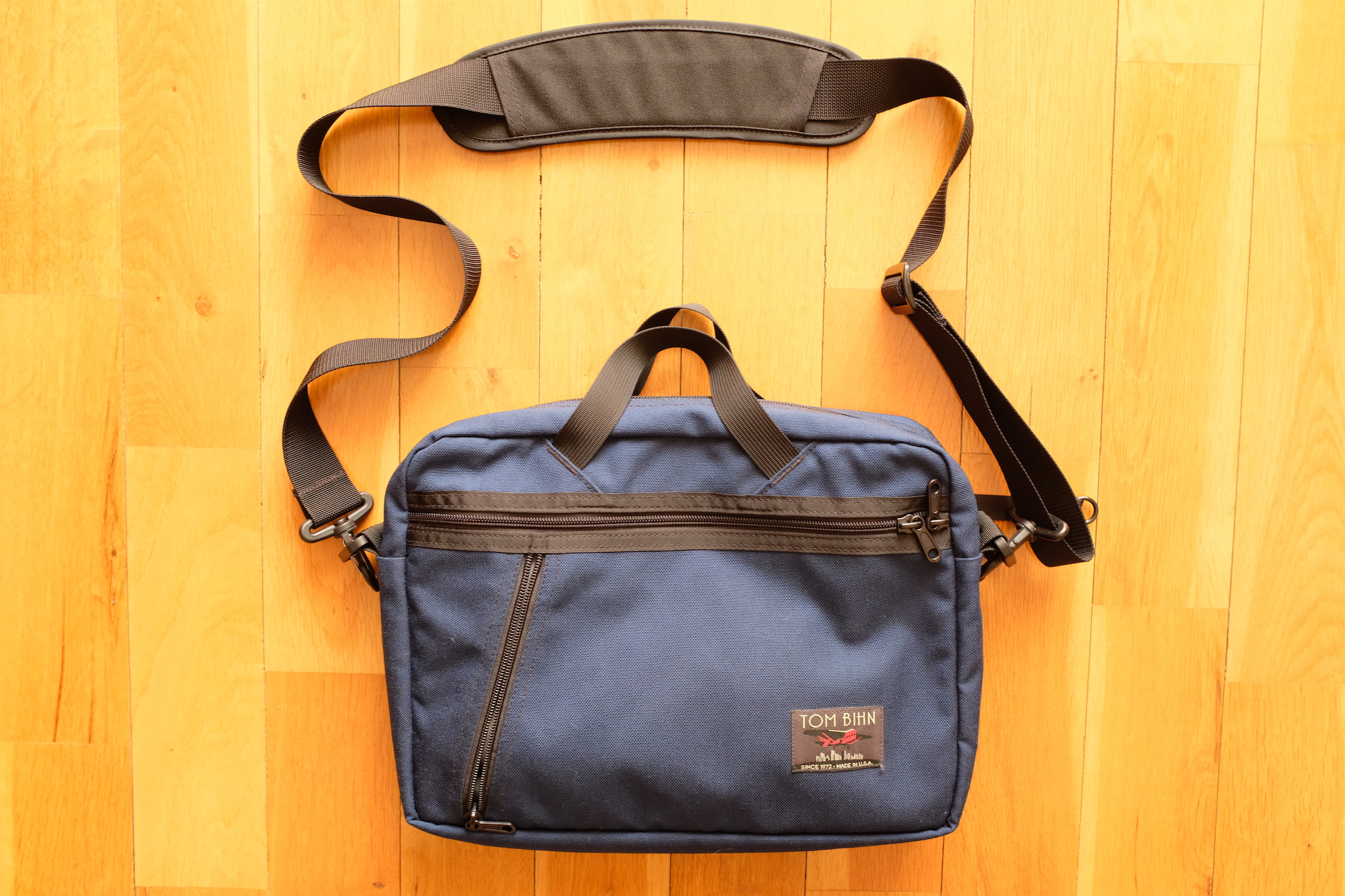 Because I also have another travel bag from Tom Bihn, I bought a larger and padded shoulder strap for carrying more load (hint: will review it later). This bigger shoulder strap is called Absolute Shoulder Strap. I definitely don't like to use this with the DLBC as it's against the mantra of using the briefcase (lightweight, minimalist, etc..). However just for comparison, I've taken a picture of the** Absolute Shoulder strap** compared to the Standard strap: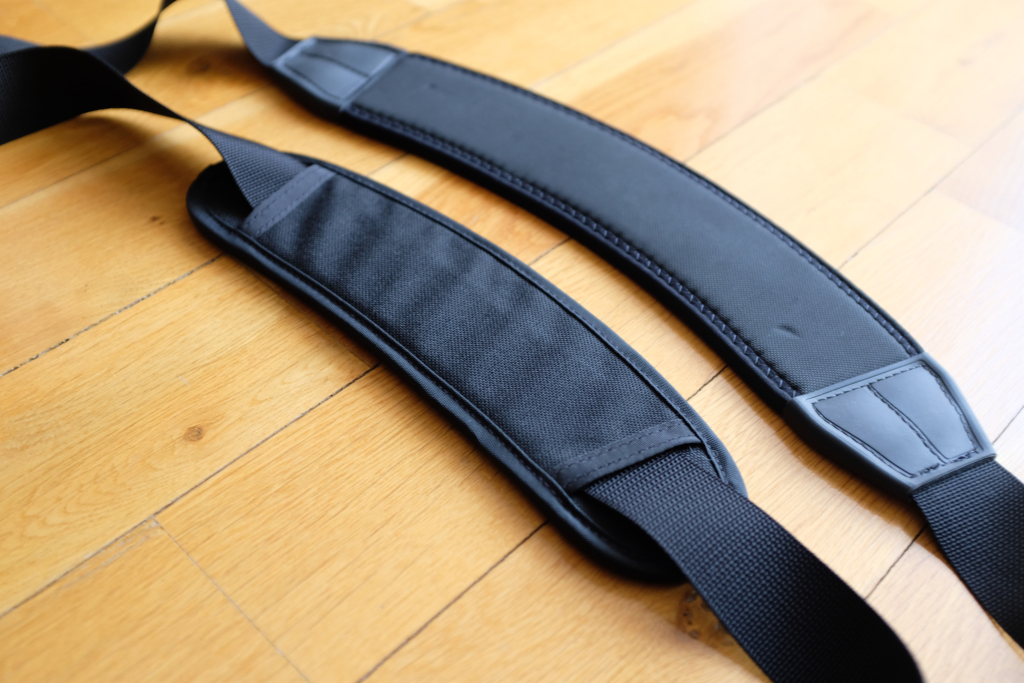 Verdict
The Tom Bihn Daylight Briefcase is a minimalist, lightweight and simple looking briefcase. Its simple looking design is perfect for blending yourself into the crowd. It has tons of organizational options and can be even further customized with Tom Bihn's O-ring system and it's hundreds of accessories. Handmade in the U.S., built with a focus on quality and craftsmanship. But due to its minimalist design, it's a small bag for gear haulers.
So far, I've used the Daylight Briefcase for several months. I've traveled with it to NYC as my personal item, used it during my daily commute to the office, carried it for my local meetups here in Turkey, etc. I have nothing but praise for this little bag. Recently I've started to be more minimalist regarding my life. I've sold things that I don't need anymore and started using more lightweight gears and stuff. The DLBC was in that regards, very functional and useful. The O-ring system is truly awesome if you value organization a lot.
However, I'm not sure how it would excel for people with a lot of stuff they carry with them. The briefcase is not big and therefore doesn't hold too much. For example during my stay in NYC, I had to carry a small jacket with me, which I couldn't put inside the briefcase as it was already full. So it has its own limits. As I said however, those limits are already there and stated during my review. When you buy this briefcase, you already know that you're not going to carry a lot of stuff. So if you buy this with the intention to carry all your belongings, do your calculation if it would hold or not.
In overall though, I really like the bag and it's my everyday bag for various kind of activities. In my upcoming review (for another Tom Bihn Bag), I'm going to share a way how I use this bag in a different context.
Get it if you carry only the essentials, value craftsmanship and the modularity features of Tom Bihn bags. Don't get it if you need to carry a lot of stuff, especially large 3D objects. For those people, there are better alternatives, such as Tom Bihn Pilot or other briefcases out there.
Finally, I want to thank Sneha Inguva, Joonas Bergius, Tommy Murphy and Dan Norris for their much valuable feedback and suggestions.