Tom Bihn Tri-Star Bag Review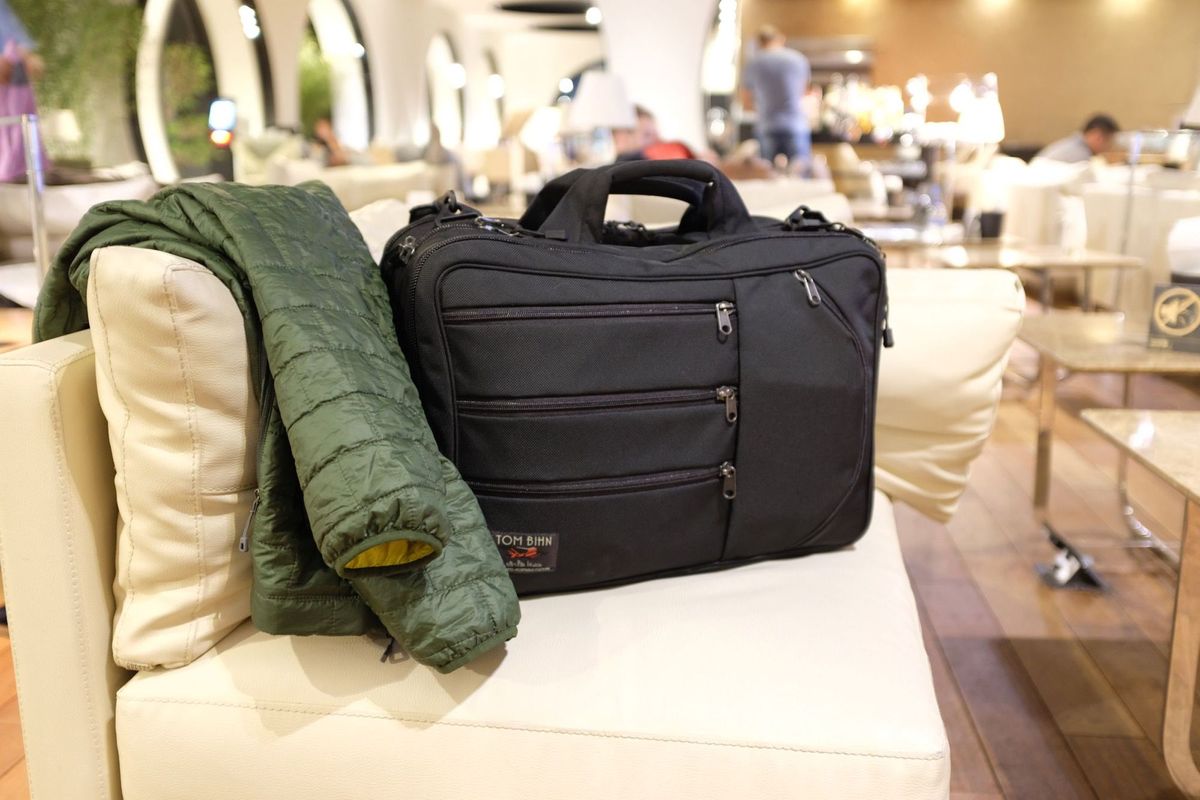 Let me introduce my newest bag, the Tom Bihn
Tri-Star. A midsize carry-on friendly travel bag for the traveler or weekender. The idea of traveling with a single bag, also called one-bagging is a fascinating topic. It always made me curious about how it feels to travel with all your belongings in a single bag.
I already started to travel light and minimalist. But when I started diving
into the world of bags, I saw there are better opportunities to travel light.
People were traveling the world with a single bag. In my case, I was wondering
how it would be to travel with one bag for my business/conference trips. No
checked bags, just a carry-on.
For people who don't know Tom Bihn, Tom Bihn is
a popular, Seattle-based company that produces very high quality, functional
and design-oriented bags. The Tri-Star (also called as TS amongst Tom Bihn
users), depending on the material selected (more on this later), weighs around
1525 grams. It has a 33L capacity, has multiple compartments with a room
for including laptop up to 17" and costs $330.
Look
The Tri-Star has a distinct design that you don't find in any other bag.
It's not like a duffel, nor is it like a backpack. It's a combination of a
backpack, briefcase, and a suitcase.. or not? You have to decide it yourself.
It's not shiny, it's not something that is visible from hundreds of meters
away. This is one of the reasons people prefer it and it's the number one
choice for business travelers because a black Tri-Star bag blends perfectly
into a business environment. It doesn't stand out too much, in a good way.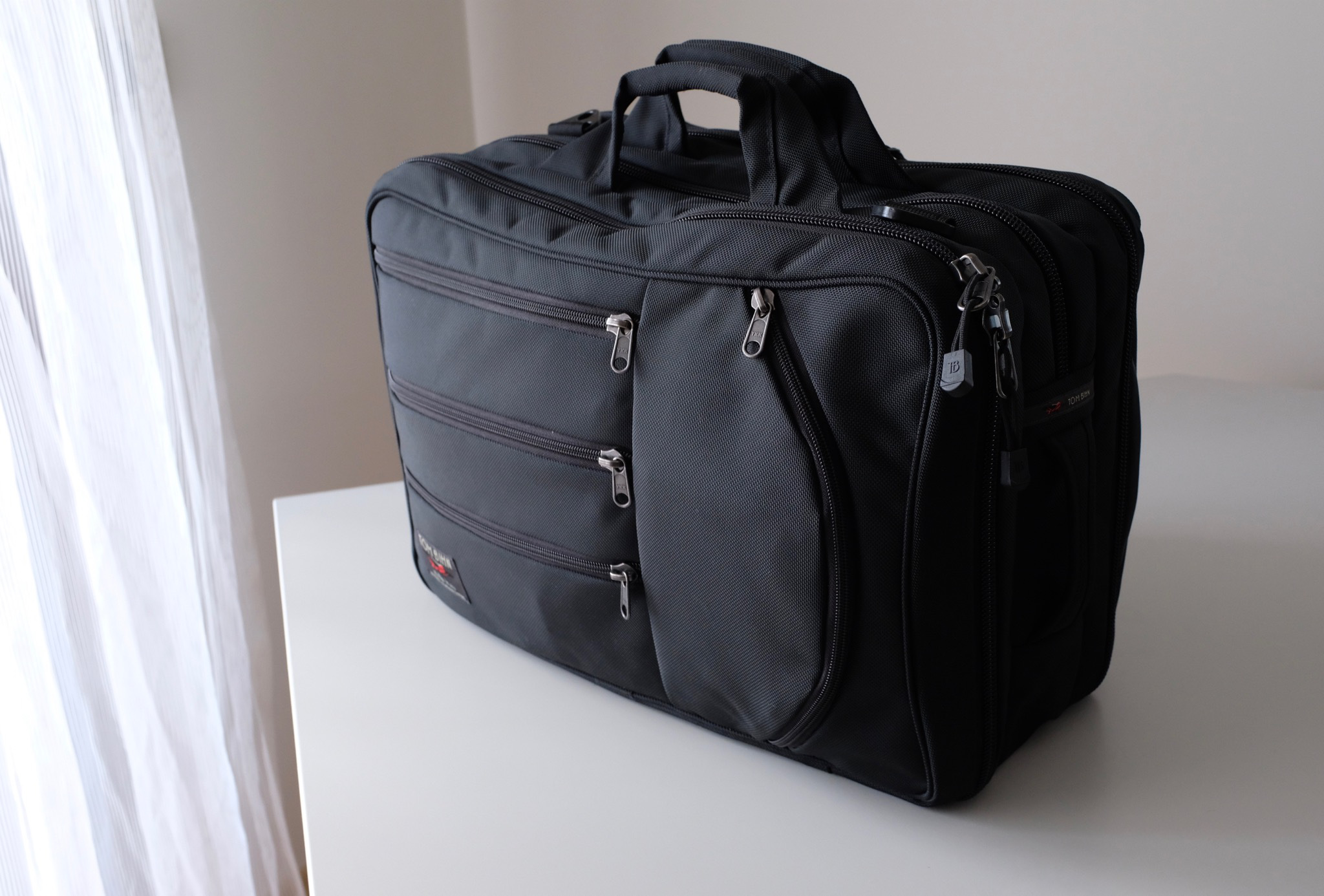 All zippers are YKK Aquaguard
water-repellent zippers and the Tri-Star has a lot of them. In total there are
11 zippers. Four of them are on the front, six of them open the compartments
and ,one to reveals the backpack straps (more on this later).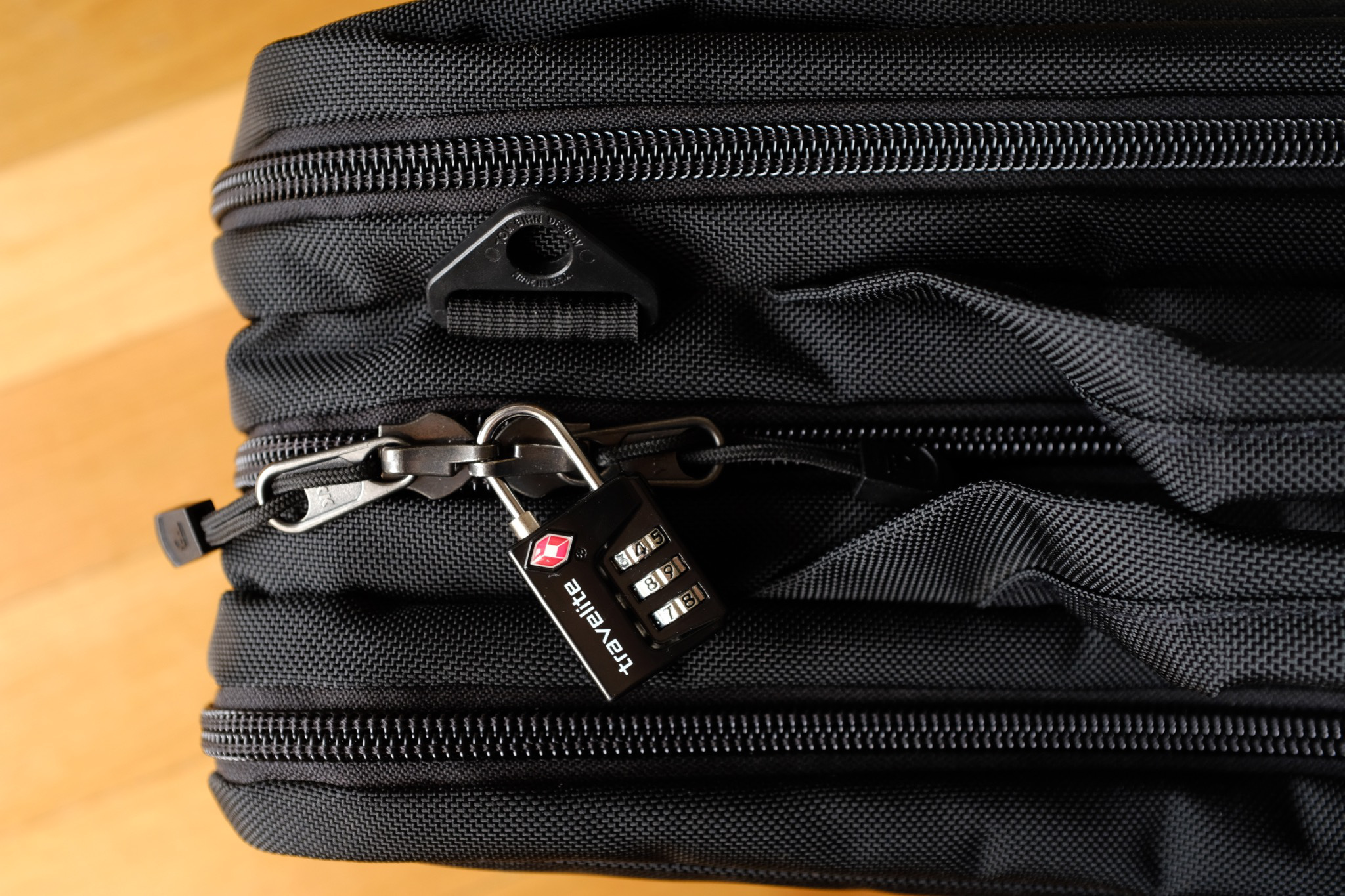 Also, the zippers have lockable sliders. Having the lockable sliders is really
great as I've used it several times when needed. For example, when I'm in a
hotel room, I'll lock the middle compartment with a TSA lock if needed. The
problem though is, the zippers of the main compartment as not smooth as it
should be. They are difficult to pull because of their heavy size. They break
in after a certain usage though and gets smoother with time.
It comes with two different choices for exterior fabric. The one I have is made
of 1050d high tenacity ballistic nylon. It's a durable material (originally
designed for use in bullet-proof vests) and is super-though. The bag can also
be purchased in a more lightweight material, called Halcyon 400 Denier.
This is lightweight nylon fabric with a good kind of abrasion resistance.
Because of its lightweight materials, it's 300 gram less. As always, more
information about the materials can be found in Tom Bihn's excellent materials
page.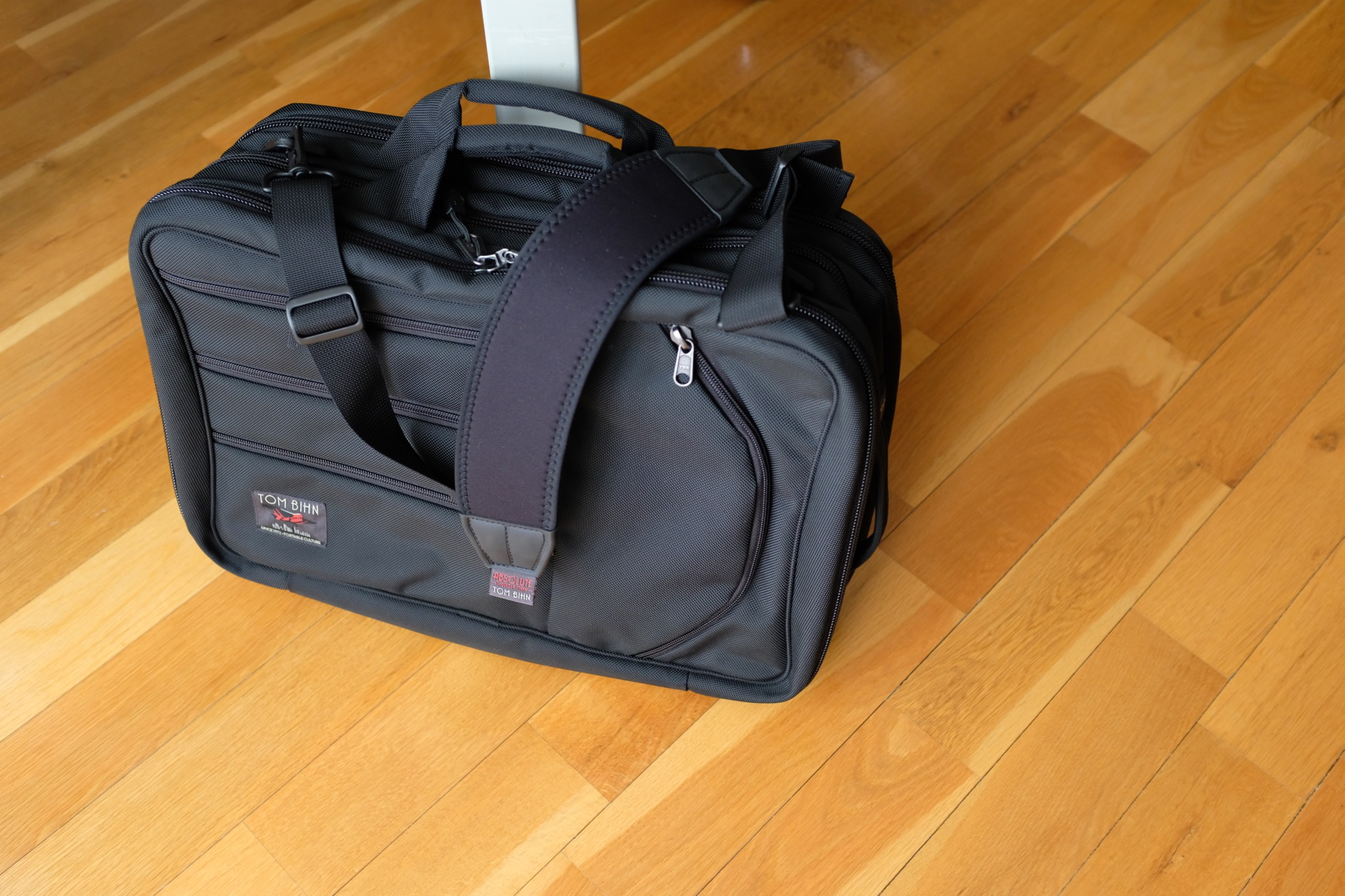 Most people I've seen choose the ballistic nylon version due to its tough
materials. Also, because of the way the Tri-Star is built, it holds its shape
better with the ballistic nylon. As with all Tom Bihn products, it's
excellently built. It's a piece of art work. I'm not sure there is a single
reduntant negative thing I can say about the build quality. Everything is top
notch.
Usage
The Tri-Star was designed for traveling with your tech gear and clothes.
Every single small detail is geared and fine-tuned towards this end goal. As I
said, it holds around 33L, so it has plenty of space to carry all your
belongings.
One important aspect though, is that the Tri-Star requires the traveler to be
organized. What does this mean? Each of the main compartments is designed
in a way that it can fit custom fitted packing cubes and Tom Bihn accessories.
All compartments have O-rings to attach small Tom Bihn pouches (see my
previous
review about
the Tom Bihn Daylight Briefcase where I explain it in more detail). If you want
to use the Tri-Star without thinking about how to organize your belongings, you
won't maximize the most of it. If you intend to buy this bag, you should also
buy into the organizational system it provides you.
Compartments
There are four front pockets and three main compartments. These three
main compartments can be used in various ways.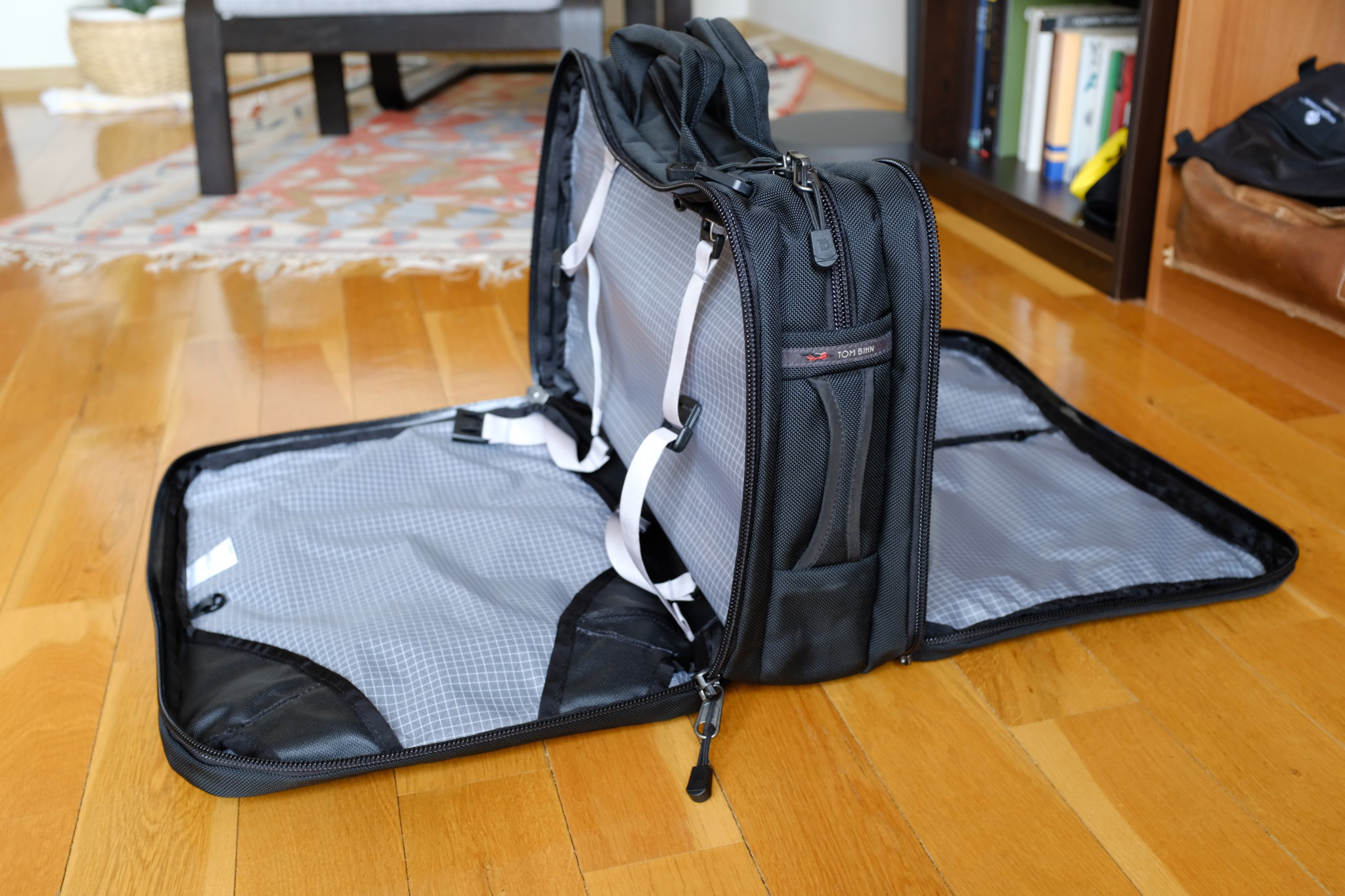 The front compartment is a big open space and can be laid out flat,
just like a suitcase. It also has a special zip-out divider that you can
use to divide the front compartment if needed. This allows you to separate your
clothing from your shoes for example. It's a quite useful feature and it's
there if you need it. There are special packing cubes that can also fit into
each of the divided sections (I'll explain more in a bit about these packing
cubes)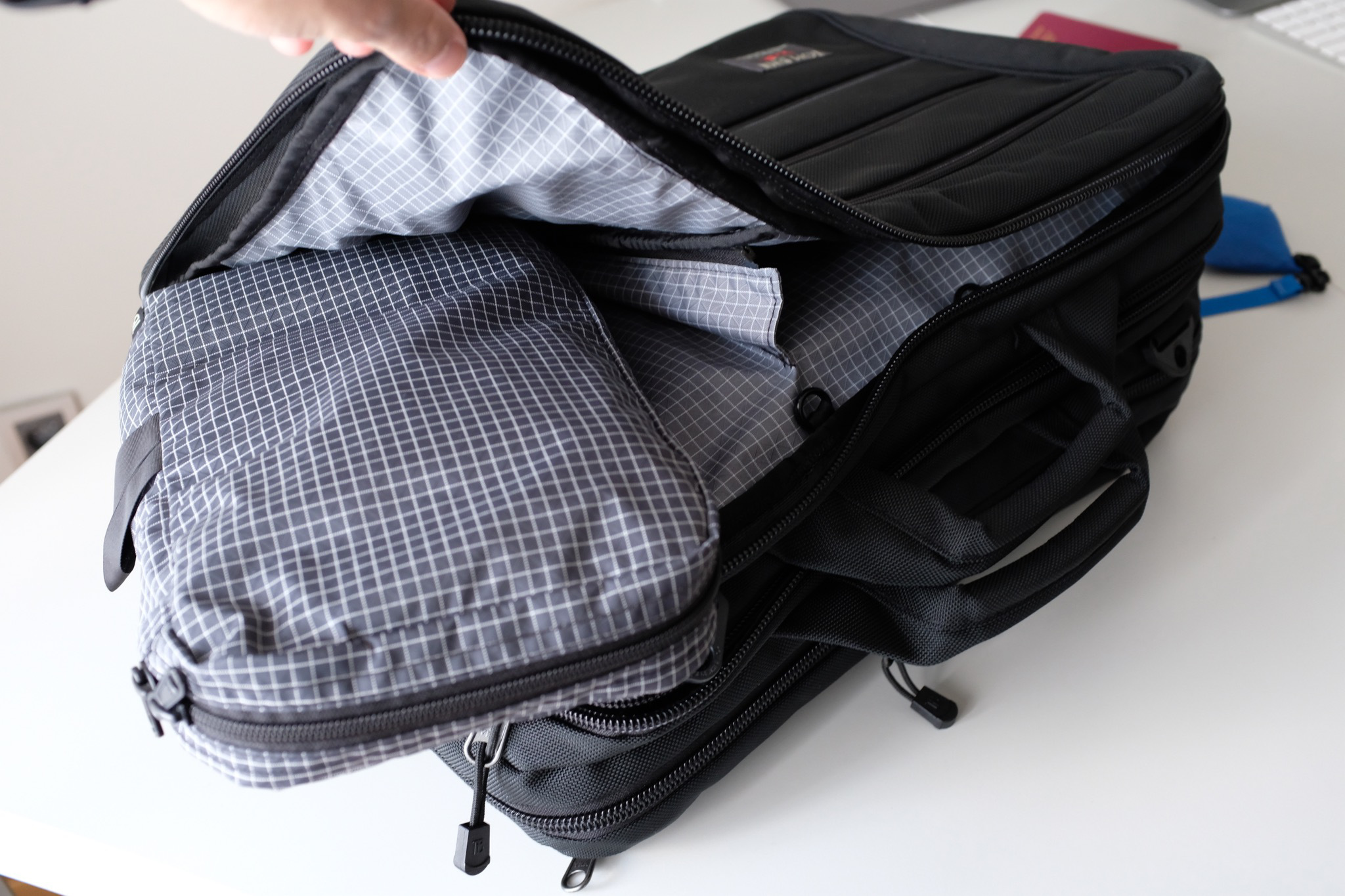 The middle compartment has support for attaching a laptop sleeve (called
Cache) via the rails system.
I've explained more about this in my previous
review. The
rails system lets you convert your bag into a TSA checkpoint friendly bag,
which is really cool. And as with the divider in the front compartment, this
feature is there if you need it. Don't carrya laptop with you? You can take the
sleeve out of the middle compartment and just use it for your clothes!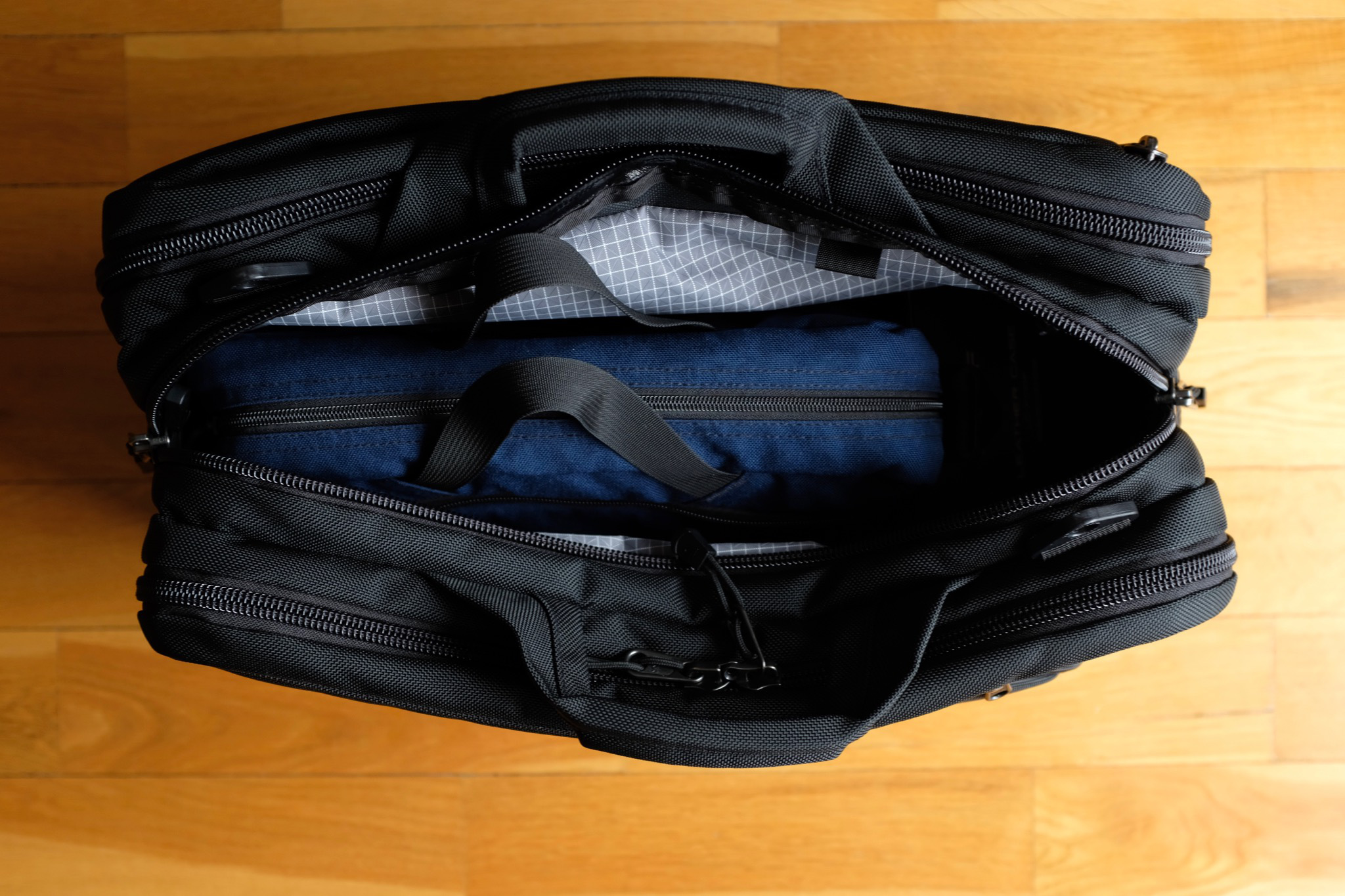 However, the middle compartment is also big enough to carry another small
bag. In my case, I put my Daylight Briefcase inside it and carry it with me.
Later at the destination, I pull it out and use it to commute to the office or
conference.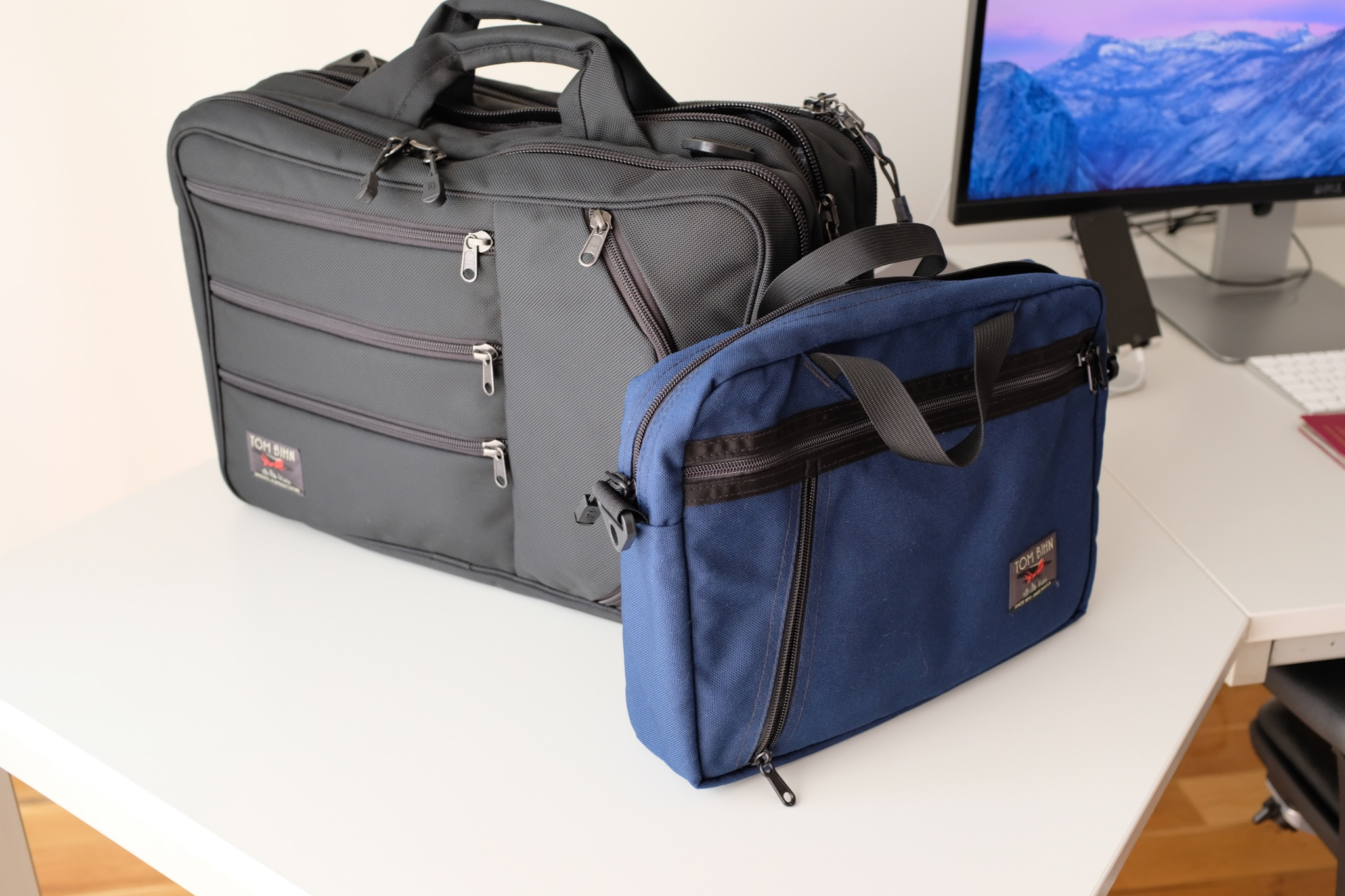 The back compartment is just like the front compartment: full of space able
to be laid out. Unlike the front compartment, this doesn't have a divider. But
it has something the front compartment doesn't: two compression straps to
keep your clothing in place and wrinkle-free. And you probably know I'm going
to say, but these straps can also be removed in case you don't need it. Most
people prefer to use packing cubes (more on this later), so they don't need
the straps. In my case, I always use the straps. Even with packing cubes, the
straps allow me to compress the cubes even more.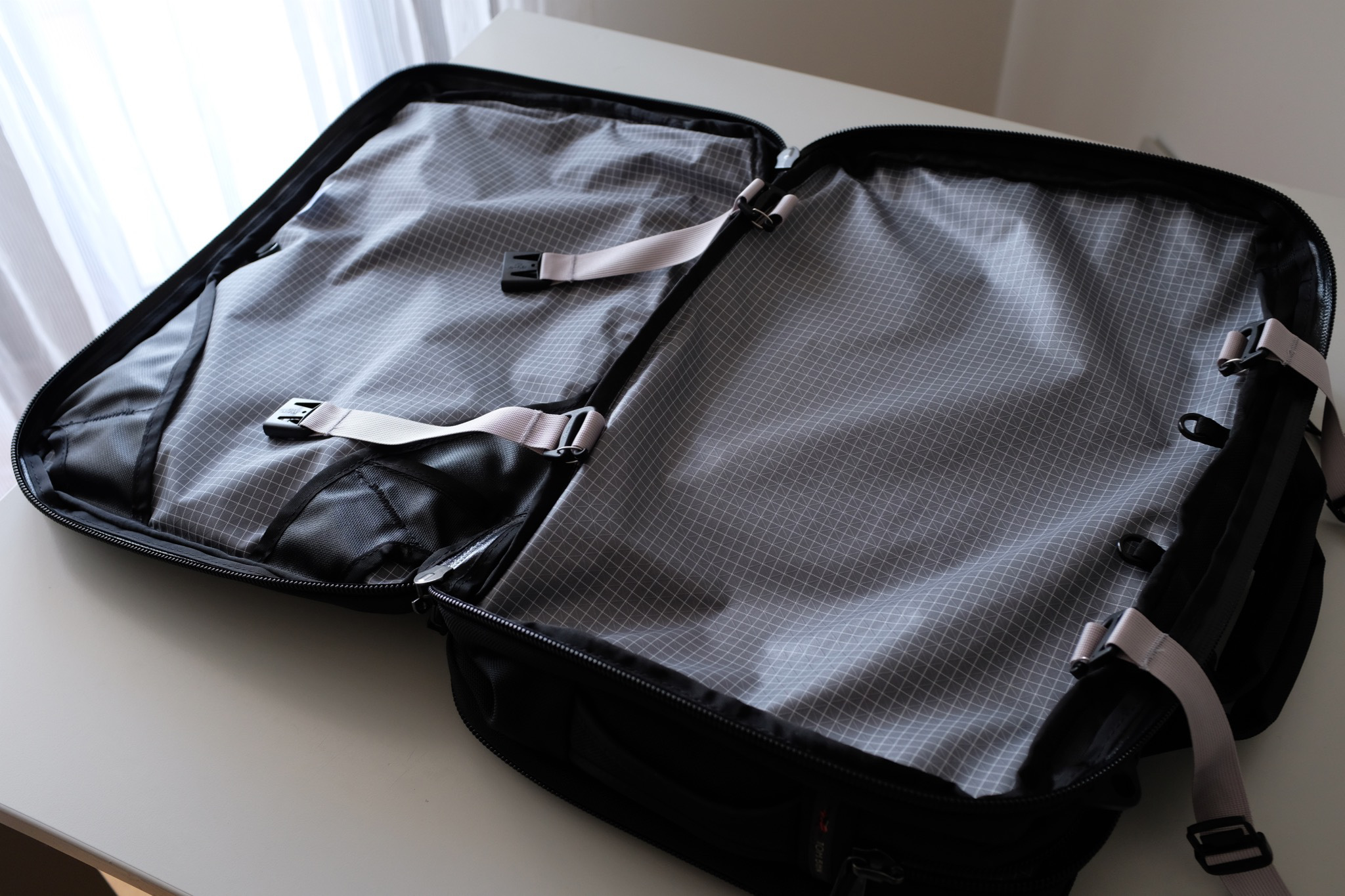 While using all three compartments extensively over the last few month, I came
to the conclusion that I have to be very careful not to over-pack the main
compartments. If you over-pack the front and back compartment, the middle
compartment will be squeezed, making it hard to put or pull things in or
out of it. There is no rigid structure between the compartments, meaning each
of them can take space from another one. One solution I've found to mitigate
this problem is to put some items that can't be squeezed inside the middle
compartment (such as a water bottle). This allows me to take out or put in
items without a big hassle.
There are also four zippered front pockets, each with its own depth. The
**three horizontal **pockets on the left side can be used to store various kind
of small items. I put there two clear organizer pouches with various kind of
items and a TSA lock I can use later. These pockets are the perfect place for
your small items that you don't want to put inside the main compartments.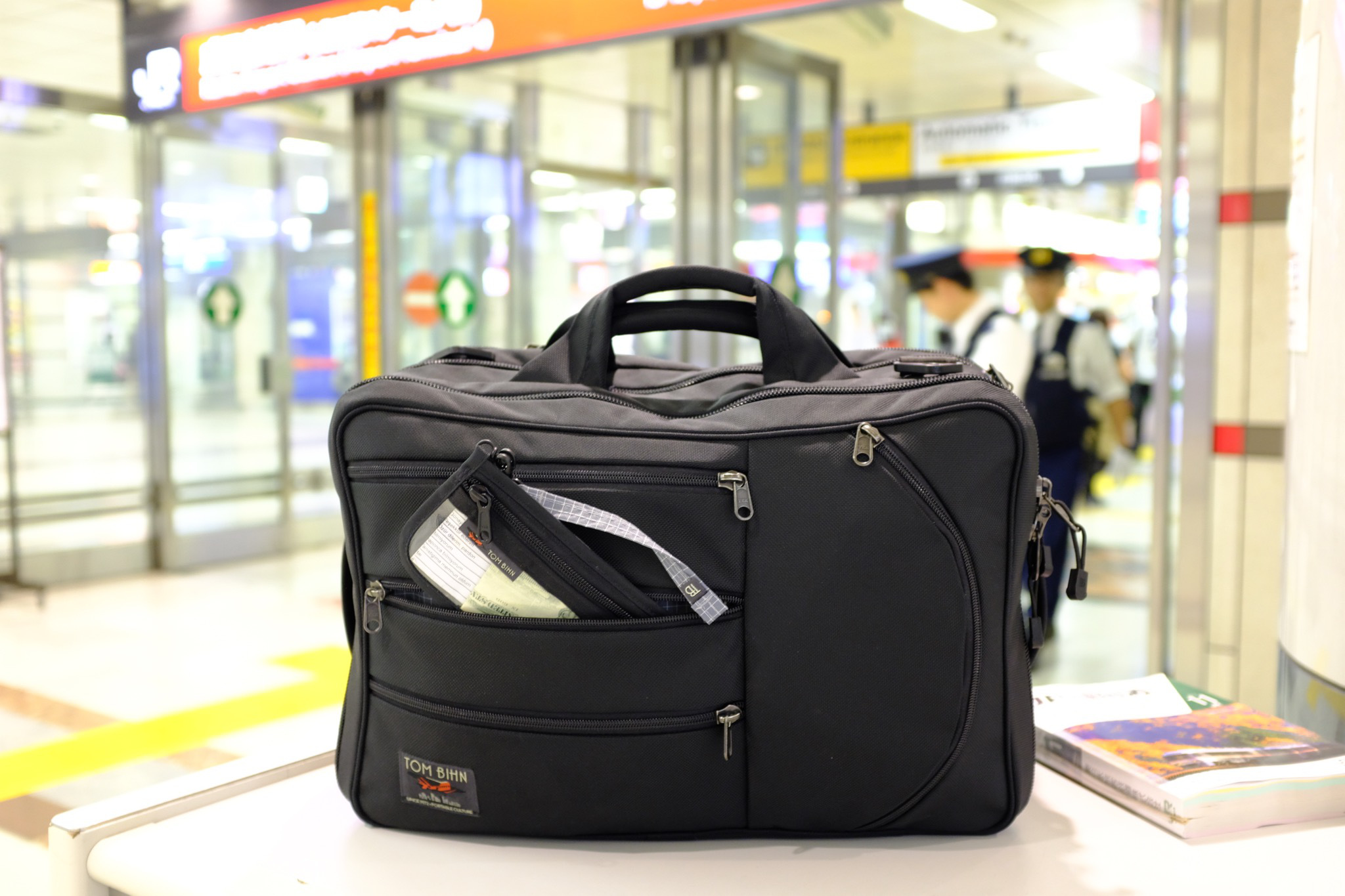 On the right side, there is only a single zippered pocket. This is designed
very differently. If you unzip it entirely, it can be expanded to accommodate
a water bottle. If you don't unzip it fully, it has a great vertical space,
just like the other three pockets. I use this pocket mainly for my passport and
boarding passes. However, sometimes if I have a water bottle with me and I have
to carry it, I'm happy it's there If I need it.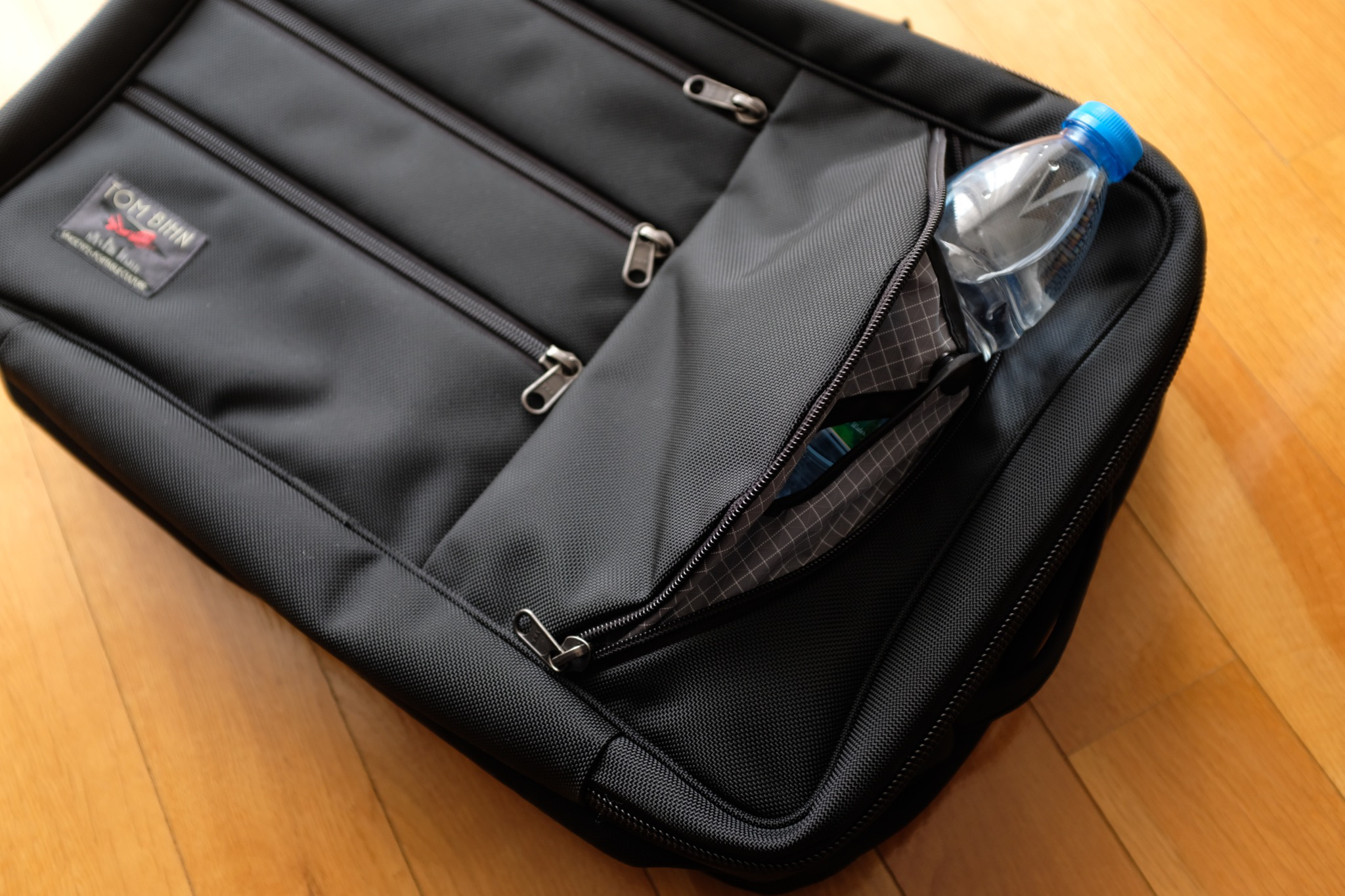 One issue I have with these pockets is it's hard to access and pull your items
out of it if your bag is fully packed. The Tri-Star can be quite bulky if you
fill it or if the packing cubes are overpacked. This problem is persistent in
any other bag as well. Outer pockets have space that is used by the inner, main
compartments. I'm not sure how to solve it, but I believe the Synapse from Tom
Bihn has a great design that prevents this.
Packing Cubes
The Tri-Star is a perfect bag to carry packing cubes. Packing cubes allow you to put your clothes in an organized and tidy way.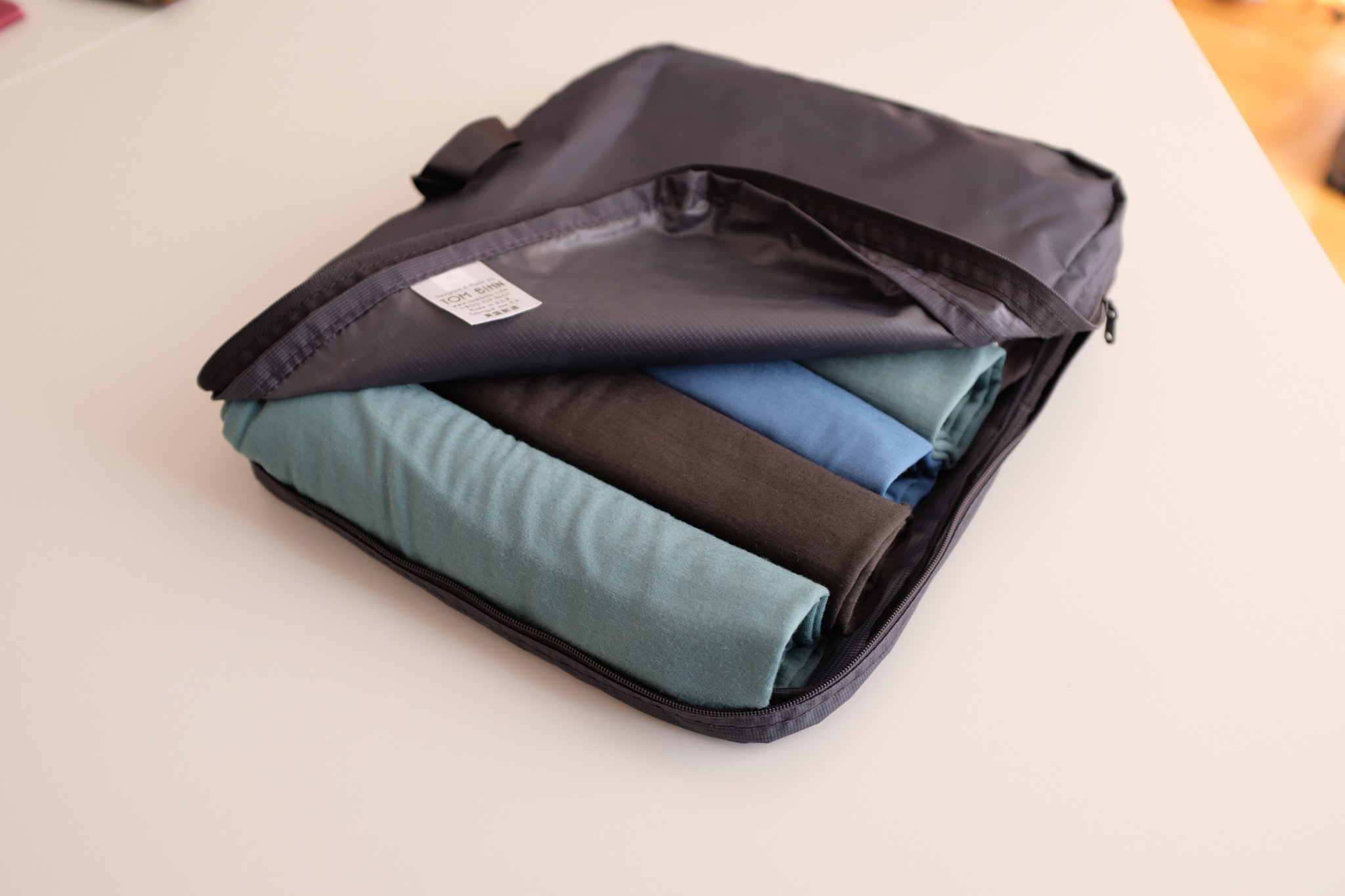 This has several advantages:
It allows you to roll your clothes which earns you space.
Because of the tidy organization, your clothes will be wrinkle-free
It's very easy to pack and unpack at the destination.
Because your clothing is now a single piece of a pack, it's easier to move it around
Travelers, especially who one-bag can't live with them. I've especially started
using packing cubes when I've bought several, high-quality packing cubes from
Eagle Creek. They have them in
several sizes. Of course, Tom Bihn also has their own packing cubes. What makes
them special is they are custom fitted to your bag. In the case of Tom Bihn,
there are several of them: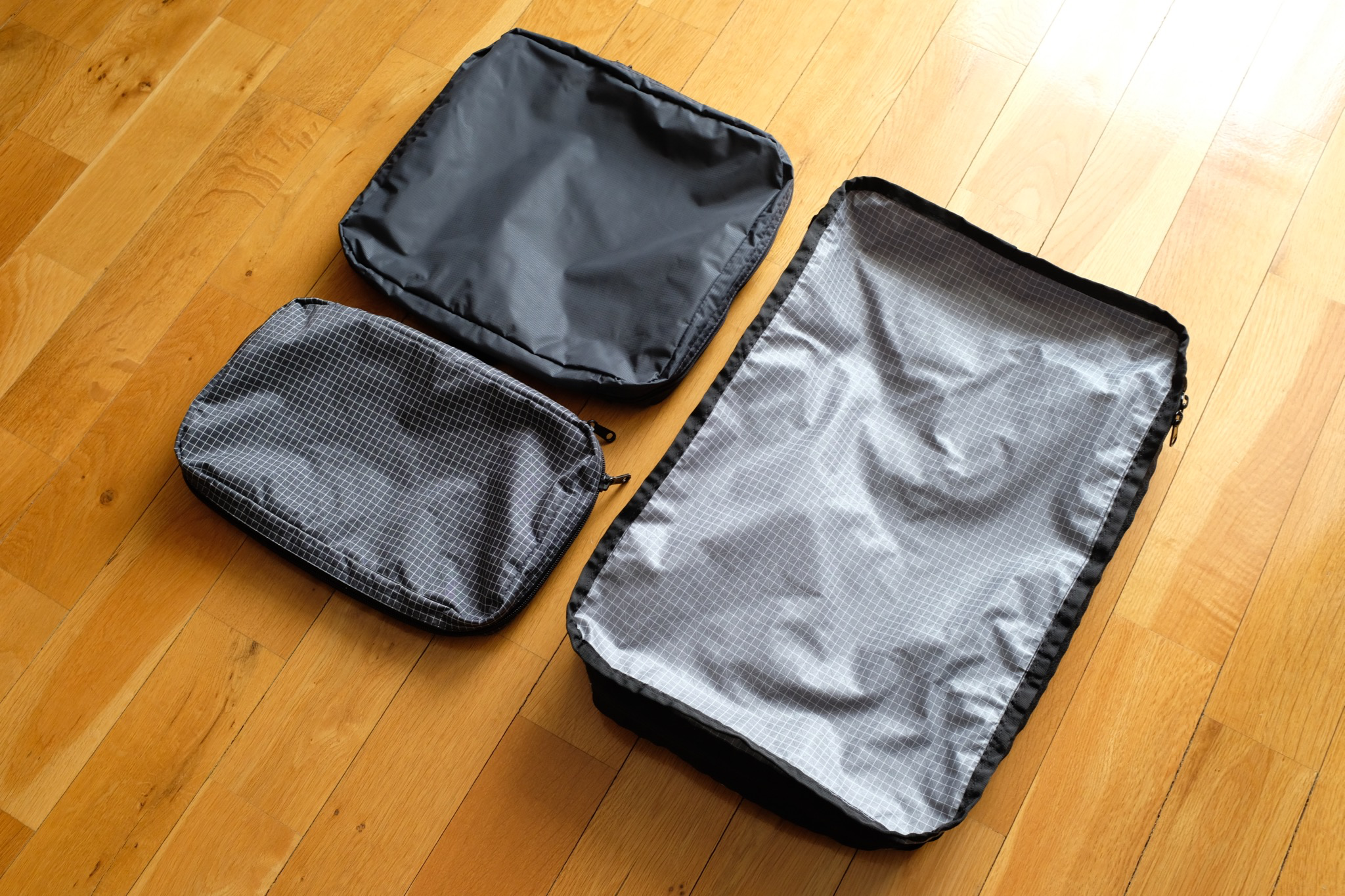 Small and Medium size: This fits into the front compartments left and right
side when the divider is closed. You can also use them without the divider
for all compartments if you wish.
Large size: This fits into the front or back as a single piece. There is an
even a special packing cube that also converts to a backpack (more on this
below).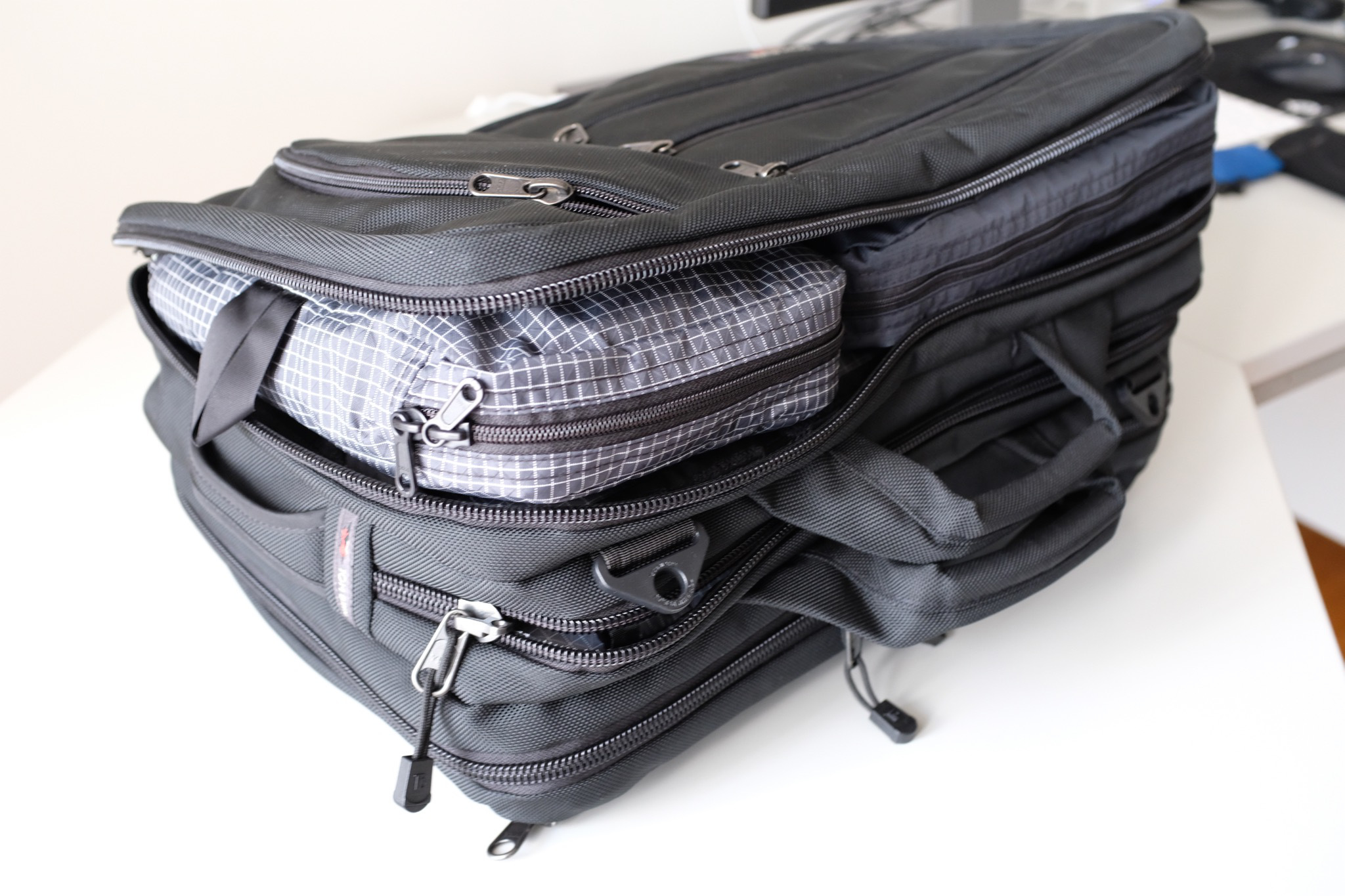 Tom Bihn provides several packing cubes in different materials and colors. The ones I have are Aether (super light) and Halcyon (light). There are also mesh based packing cubes, which are good if you want to let air, also they can be compressed even better because air can flow out.
Packing Cube Backpack
Instead of buying a plain large packing cube, you can also opt-in to buy a
packing cube that is specially **designed to be a backpack **as well. It's
called Packing Cube Backpack (also called PCBP amongst TB users). This item
is one of my favorites.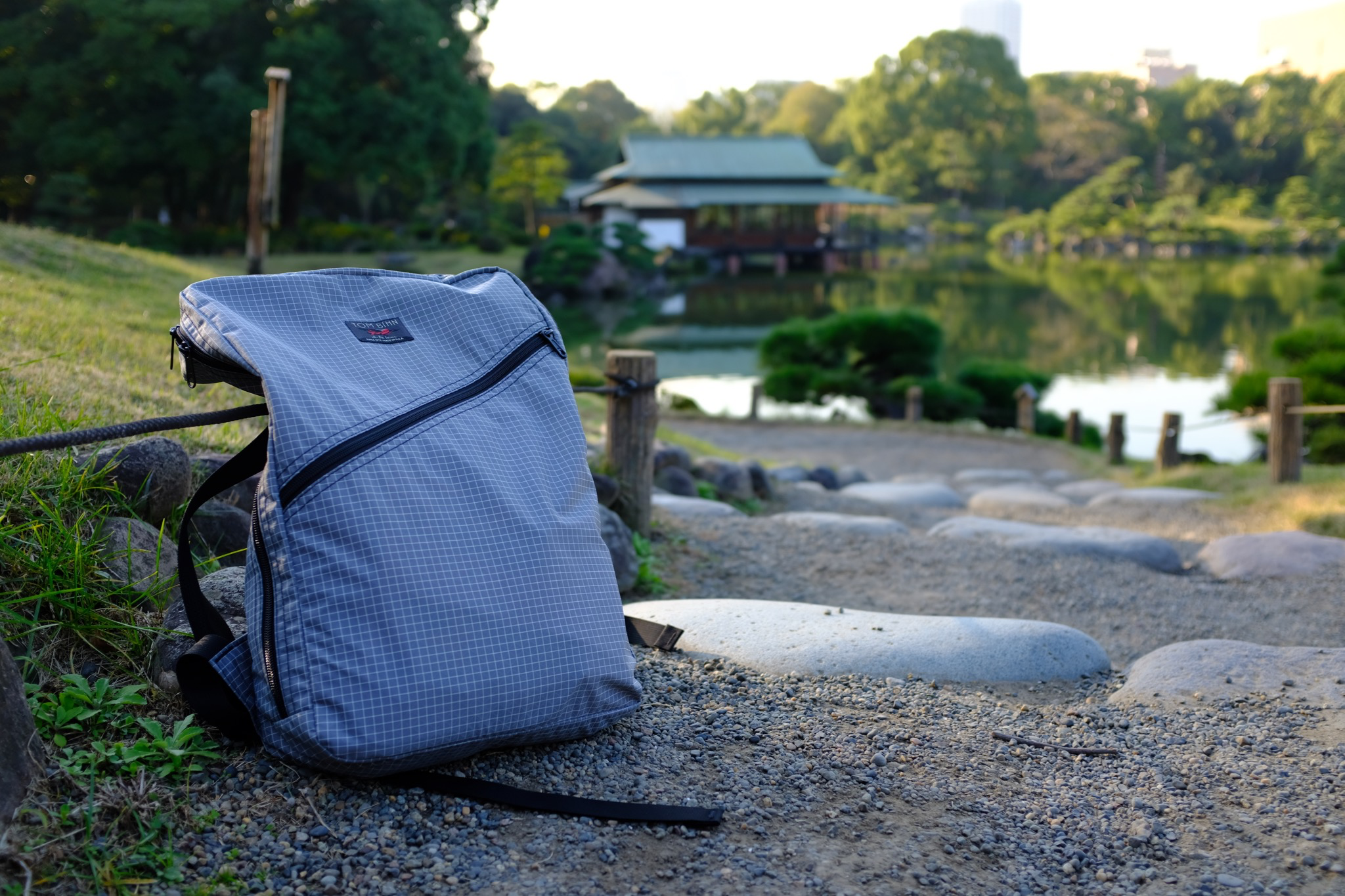 Don't be deceived by its look. It's actually a packing cube. It's of
size** "Large"** which is custom and perfectly sewn for the front and back
compartment. In its packing cube mode, it can hold all your clothing if you
travel light. In my case, it can hold two pants, several t-shirts, underwear,
socks, co. However because it's that big, it also makes it hard to organize
your clothing.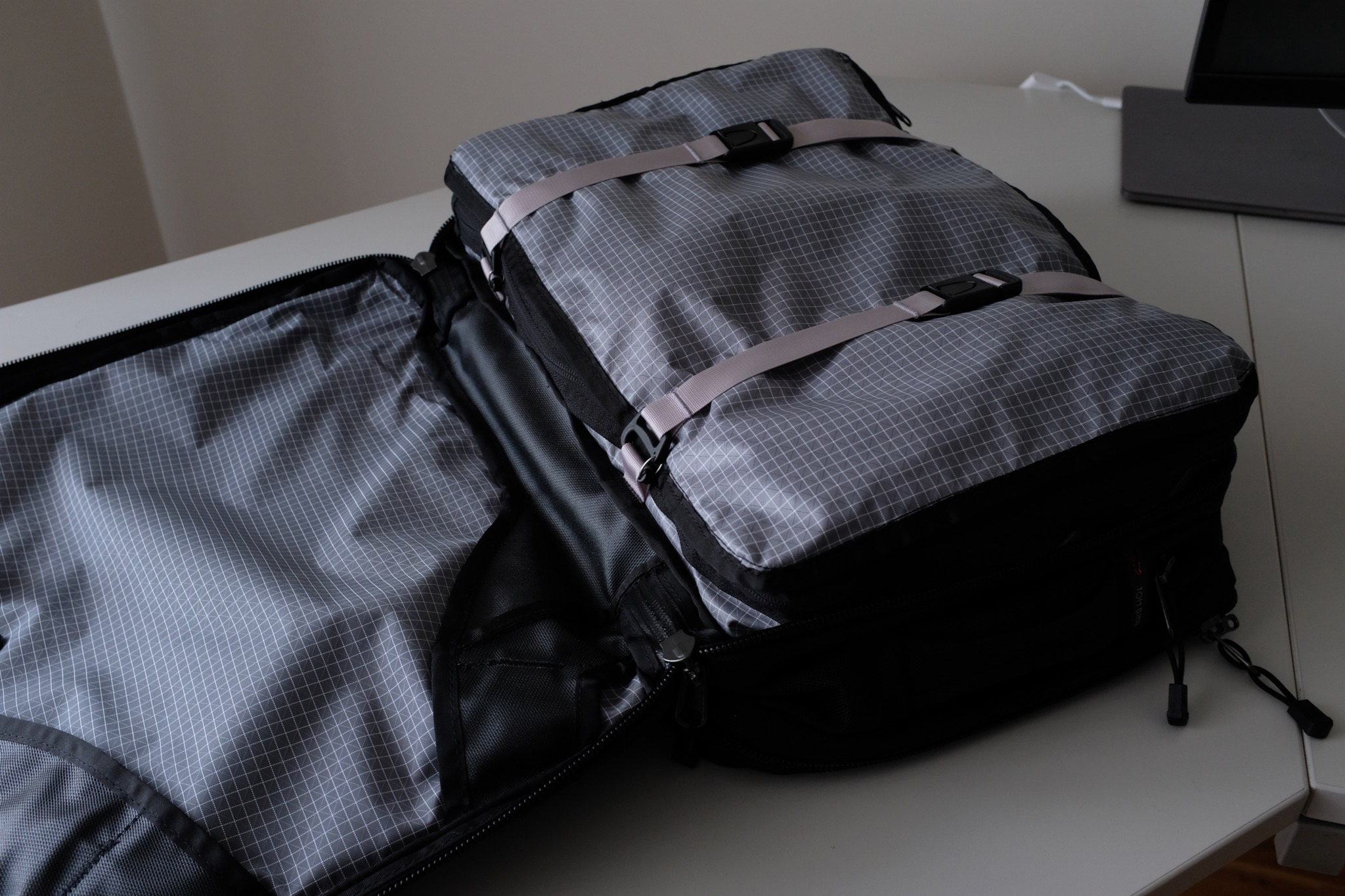 Once you pack all your clothing, it can** fit into both the front or back
compartment**. I think it better fits into the back compartment though as
it also has compression straps you can use. At the destination, you take out
your clothes and just reverse the packing cube (there are special zippers that
can be used in each way)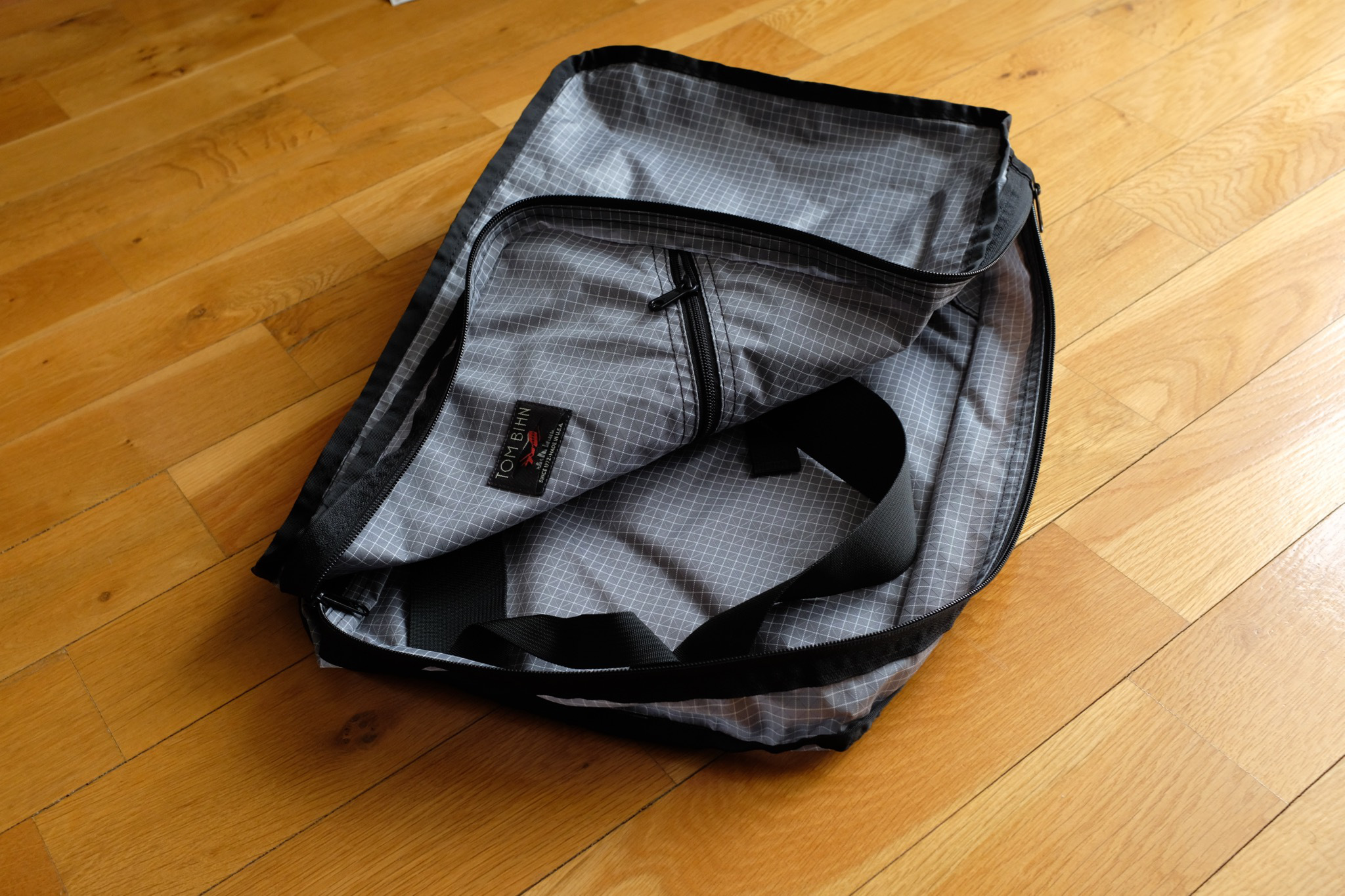 Beside the main compartment, there is also another front compartment to put
items for quick access. And as with all Tom Bihn bags, the PCBP also has
multiple O-rings you can use to attach various pouches.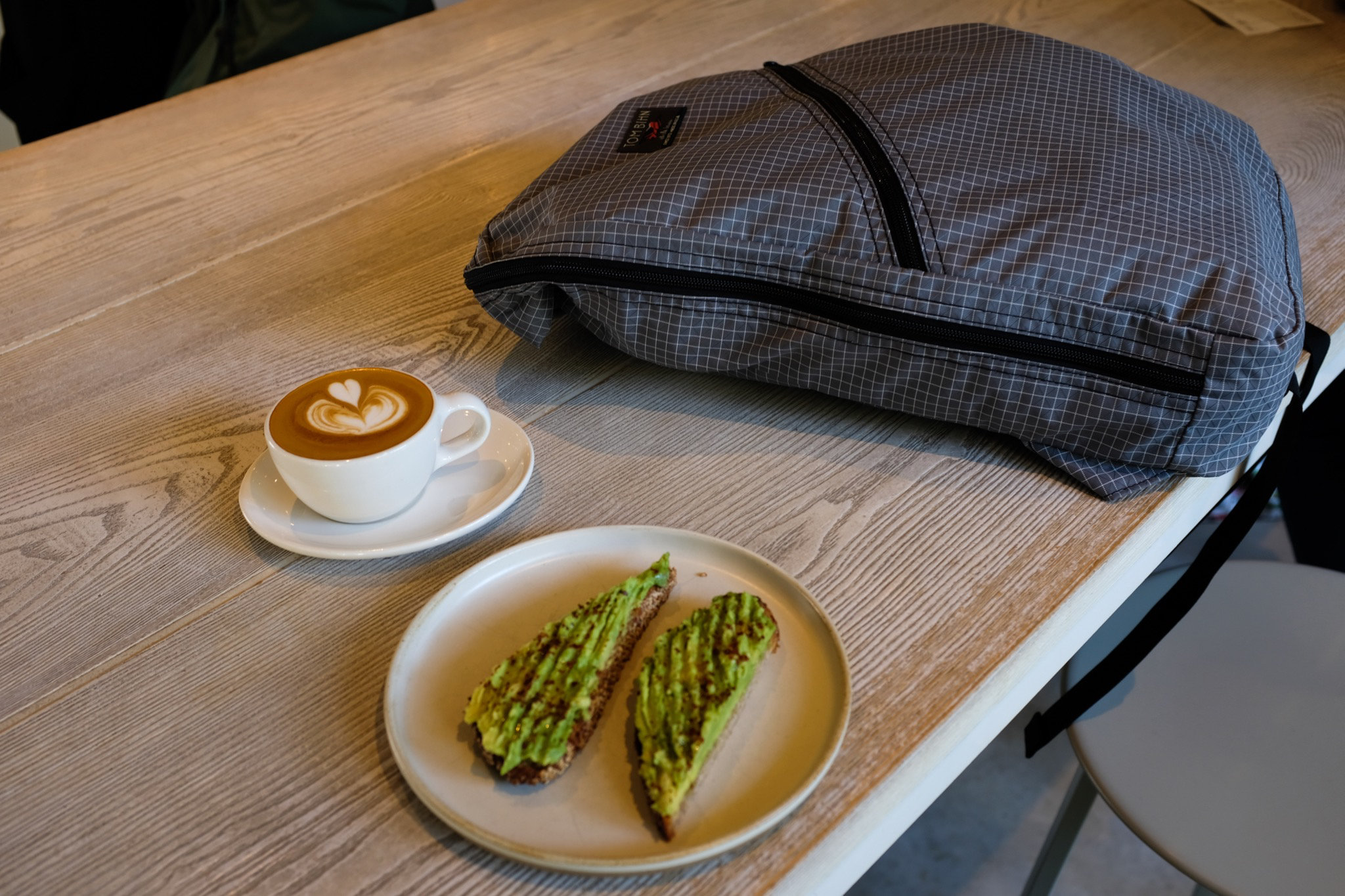 I'm using it in the backpack mode at my destination. Whether it's our family
vacation or conference visits don't matter. I use it to hike through the city
or use it to carry the toys of my little son :) While I'm traveling I put a
lightweight jacket, a bottle of water and some small snacks. The straps are
very comfortable and in overall the backpack, even though it's build materials
is very comfortable to carry.
The backpack is made out of 200 denier Halcyon and just weighs 260 grams. It is
really lightweight. However, this light material also means there is not much
back padding support. Sometimes I wished it had some kind of padding as some
of the items I've put into the backpack would poke from inside. A fix would be
to add a small sheet of plastic, just something that would add some structure.
Accessories
The Tri-Star is heaven if you like packing cubes, pouches to organize your
stuff and you like to know exactly where your items are. I use the following
pouches and packing cubes (starting from top right corner):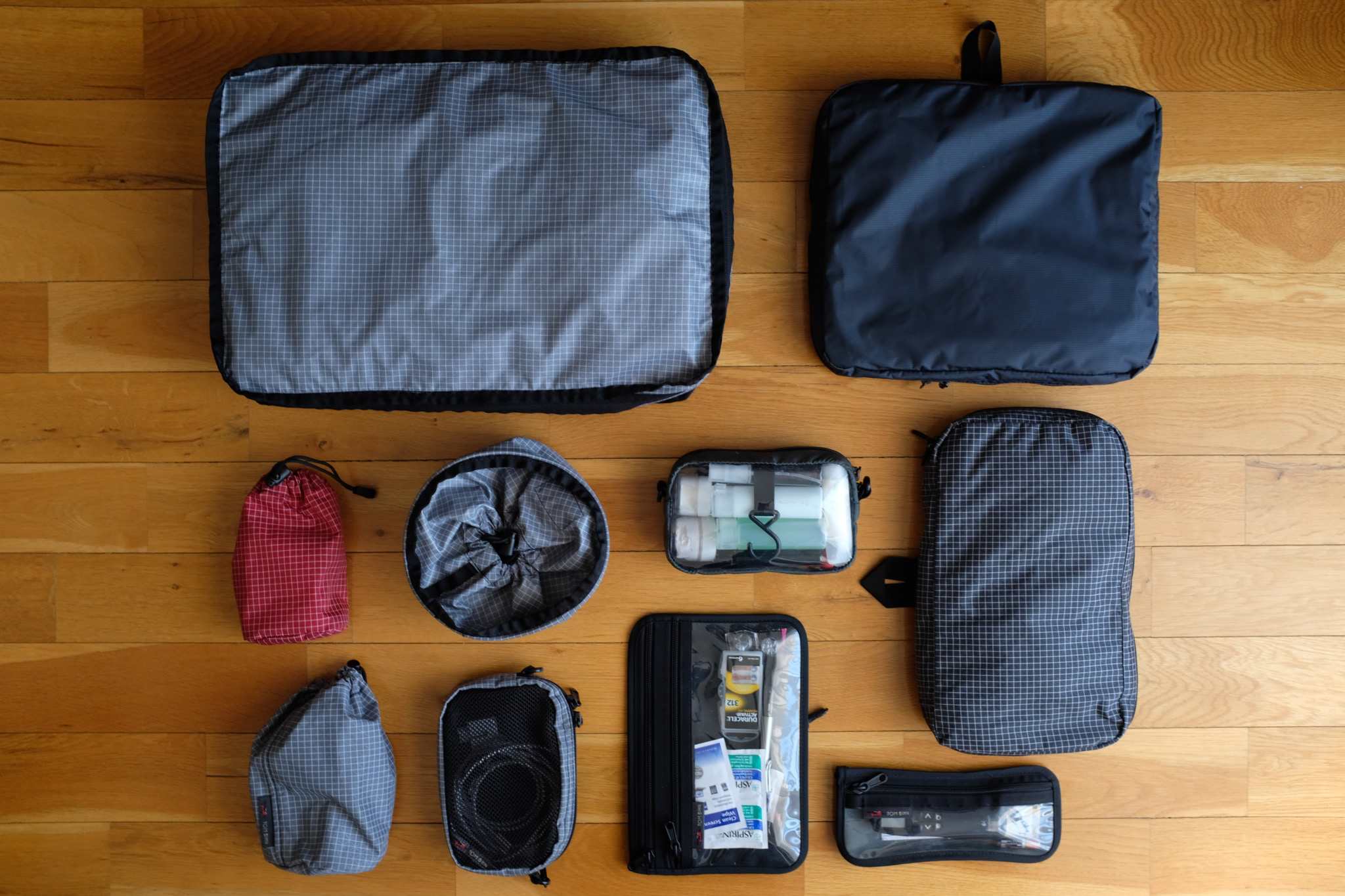 The above pouches and packing cubes all fit perfectly inside a Tri-Star with some spare room for my camera and couple of small pouches. I usually bring coffee with me when I travel, so it also holds a couple of coffee bags (a bag is around 250grams) in addition to all accessories listed above. How are the pouches and cubes distributed:
Front compartment: The small and medium packing cube
Middle compartment: Both stuff sacks, 3D organizer cube, Travel Tray, Toiletry liquid bag, Daylight Briefcase or just the cache itself (depends on the travel), Fuji X100F camera
Back compartment: Packing Cube Backpack
Top front pocket: Double Organizer pouch
**Middle front **pocket: Clear organizer pouch
Bottom front pocket: TSA lock and keys
Front water bottle pocket: passport and boarding passes
As you see there is a lot of ways to organize all your stuff. What the best is that it makes the Tri-Star or any other Tom Bihn bag highly modular. All these pouches or packing cubes can be used also in other bags. This means you can use the same gear for your commute, for a weekend travel or your upcoming 1-2 week vacation trip.
Comfort
There are many ways to carry the Tri-Star. One of them is in briefcase mode. The Tri-Star has two heavily padded handles that provide a very good comfort and stability. If you didn't pack a lot or you just want to carry it with your hands, this is the way to go.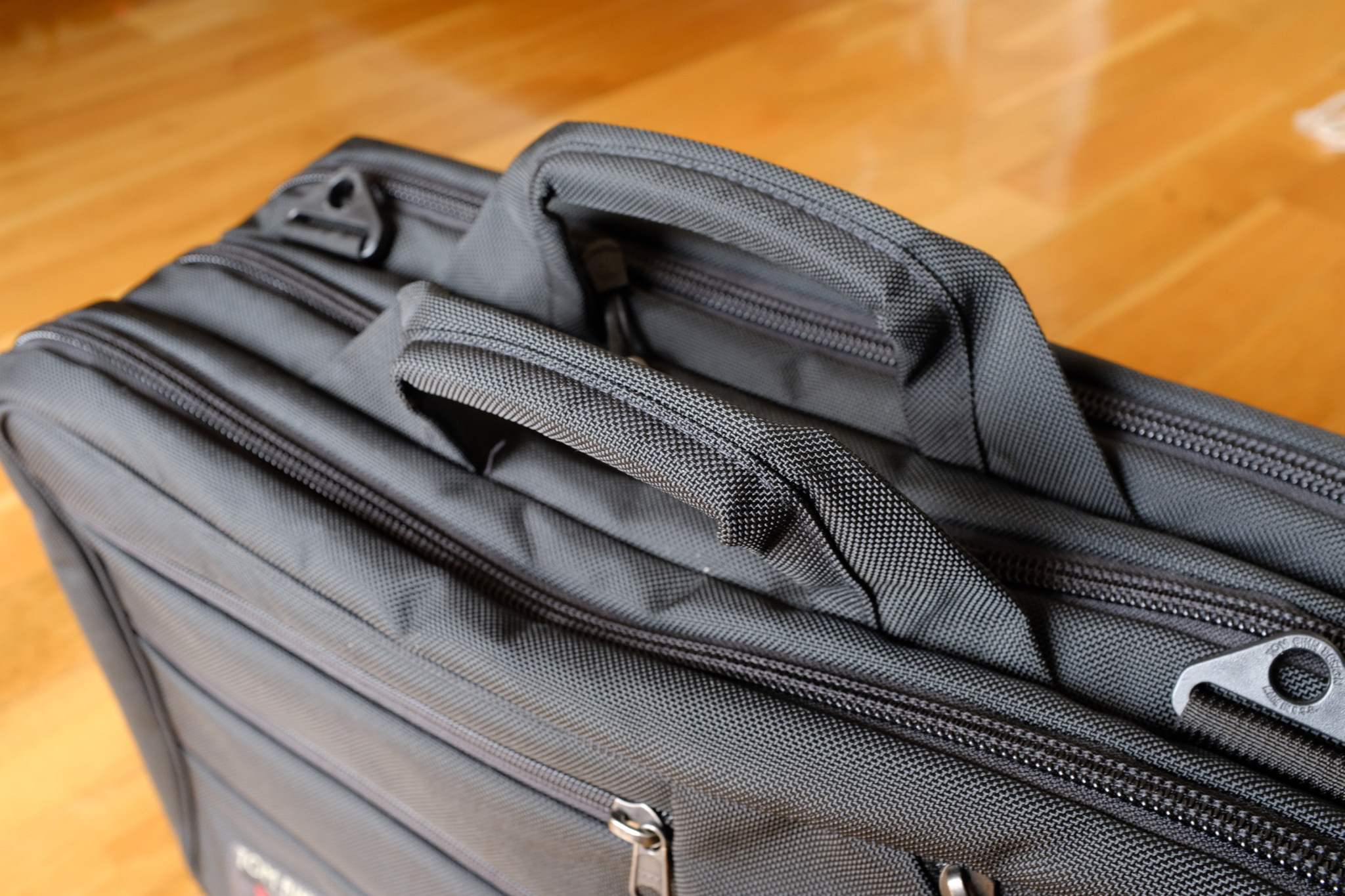 There are also two additional attachment points for an optional shoulder strap to carry it as a shoulder bag. You can use your own strap or use the much recommended Absolute Shoulder Strap. I can definitely attest that it makes it very comfortable to carry in shoulder mode with this trap. This strap has a unique, patented,** internal control-stretch system** that stretches itself under heavy load.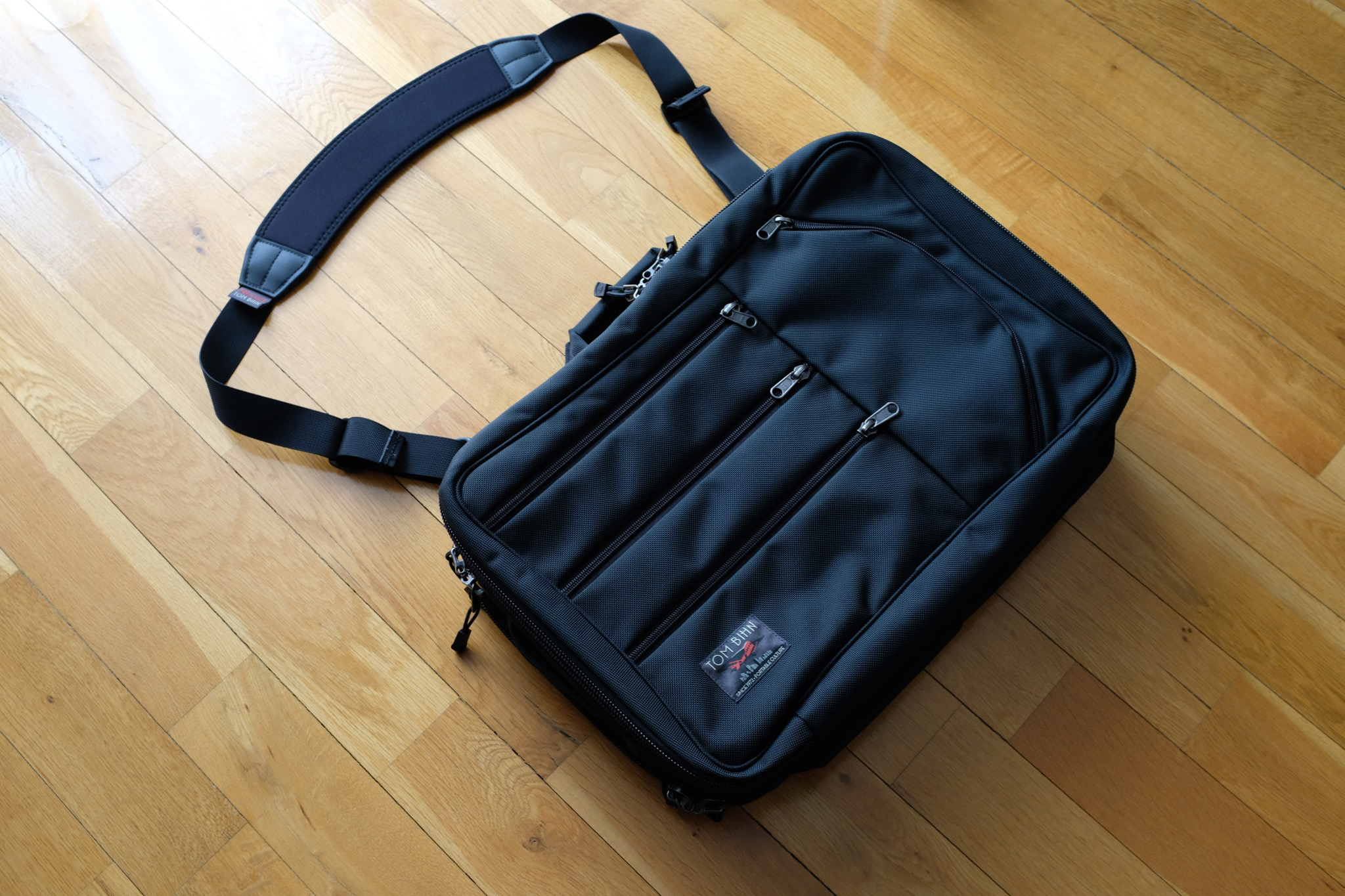 Finally, there is a backpack mode as well. On the back of the Tri-Star, you can find a hideaway backpack straps. All you need is to unzip, pull out the straps and snap them into the hidden holes. And voila, your Tri-Star is now converted into a fully functional backpack.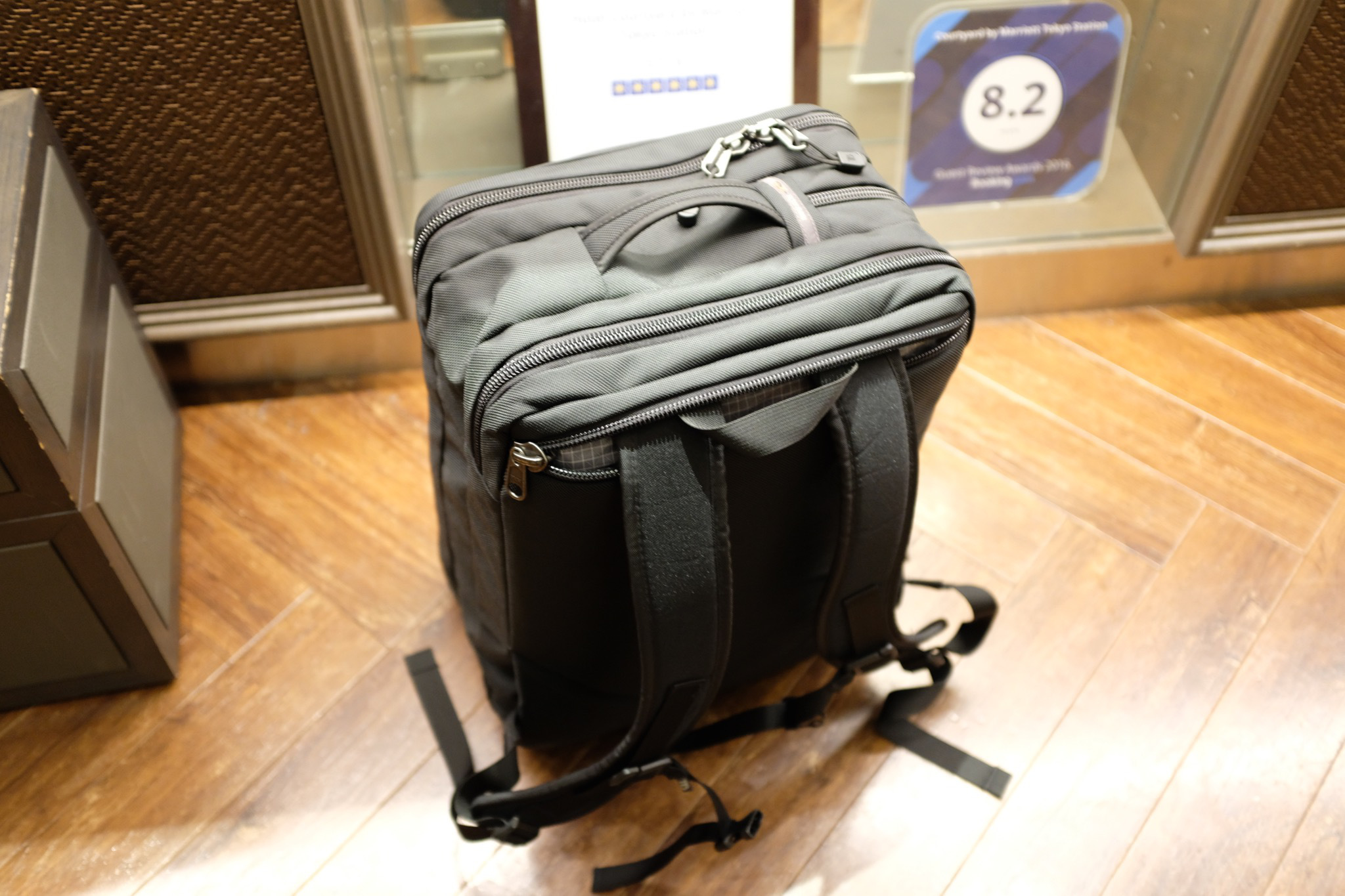 The backpack is surprisingly very comfortable to carry. The straps are padded and contoured. They feature a removable sternum strap and you can even enhance it with an optional removable waist strap. In my opinion, the sternum strap is a very welcome addition. I've bought the additional waist strap as well, but I think it's not that useful as it's not padded and therefore doesn't transfer some of the load to your hips. But it could be helpful to stabilize the bag to your body.
When you start using this bag, you'll encounter many **small design details **that makes you love this bag a lot. One example of this is left and right ends of the Tri-Star (on the sides of the bag), whose have padded grab handles that allow you to easily grab and pull your bag out of the overhead compartment.
Without these handles, it would just make everything more difficult. Suppose you're using the bag in backpack form, you'll see immediately there is another handle coming out of the strap compartment, which you can use to hang your bag if needed. These small details are what makes this bag a joy to use.
Verdict
The Tri-Star is a great bag for one-bagging and business travels. It's amazing capabilities to organize your items is unparalleled. If you like organization, you'll see that each item has its own place. If not, you're going to like the organization it provides. The bag is highly modular, can be carried in every way and is built on quality and craftsmanship (I know I said it before).
However, the Tri-Star is also not for everyone. Due it's designed it can be quite bulky if not packed carefully. If you just want to throw your belongings into it, you won't maximize your usage. There are other Tom Bihn bags that are better suited for those cases (such as the famous Aeronaut) Second, It's not cheap at all, it requires a serious investment compared to other bags. If you buy into the accessories system, that will even cost more.
But you get what you pay for,** a bag you can use for decades**. And if you travel a lot, all the small details and organization will make your life just easier. So you have to decide whether this is something you want or not. I travel a lot. To our office in NYC, to conferences around the world, to family vacations. In all these cases the Tri-Star was a joy to use.
Finally, I want to thank Dan Norris for his much valuable feedback and suggestions.