Tom Bihn Guide's Edition Synapse 25 Review
A unique design and one of the most beloved onebag backpacks out there. Now in limited edition. Let me introduce: Tom Bihn Guide's Edition Synapse 25.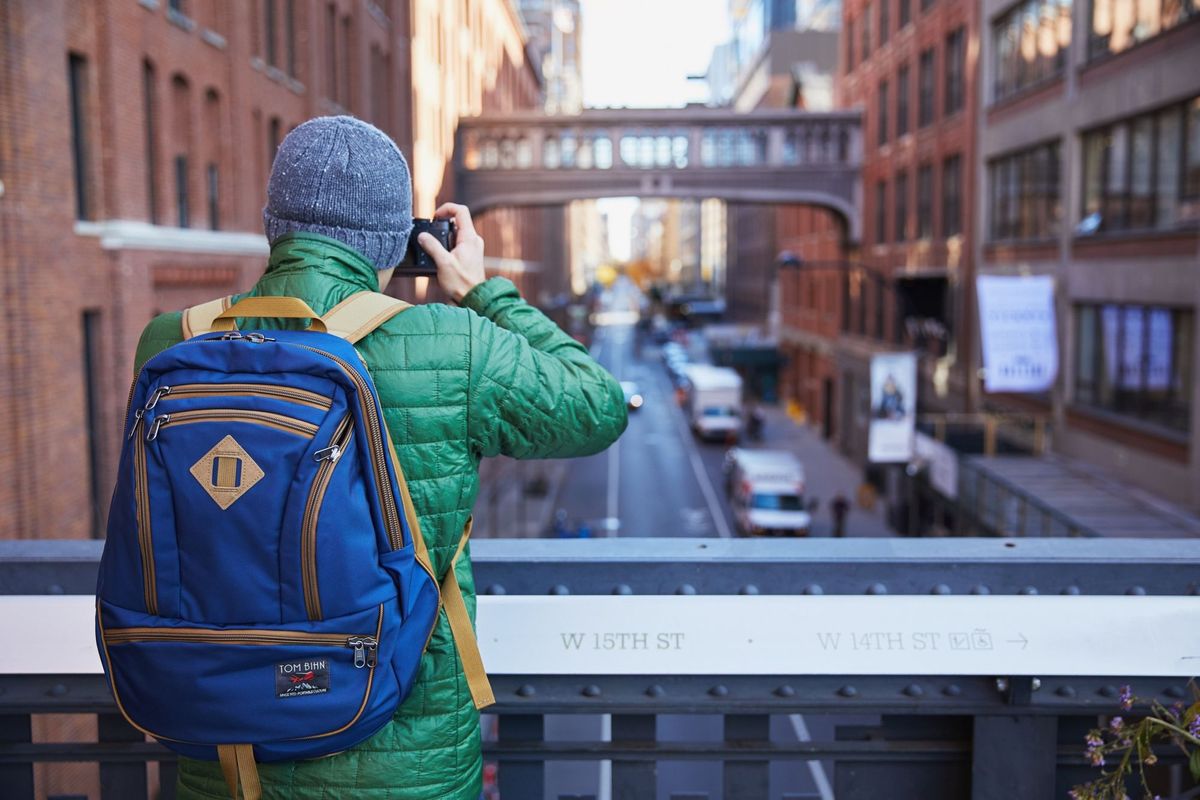 I have a new bag in town. One of the most famous one-bagging bags out there. The Synapse 25 in limited Guide's Edition theme from Tom Bihn.
I always wanted to try this bag out for two reasons. First, it's one of the bestseller bags from Tom Bihn. Second, it has a very different design compared to any other bag out there. Combined with Tom Bihn's approach to modularity, you'll get something that can easily adapt to any situation.
The Synapse 25 is such a bag. Now in the Guide's Edition, with the new  additional frame sheet and external accessories holder additions, its abilities to adapt other terrains are unmatched. Just, like a Chameleon.
Tom Bihn was kind enough to send me a Guide's Edition in Deep Blue color
before its official release date. My intention in this review is to show how it looks like from outside, how it can be used in various environments and how much comfortable it can be due it's several features. I'll show how I used this during my commutes to the office in NYC, day hikes in the mountains of Turkey and during my overall trip over several airports.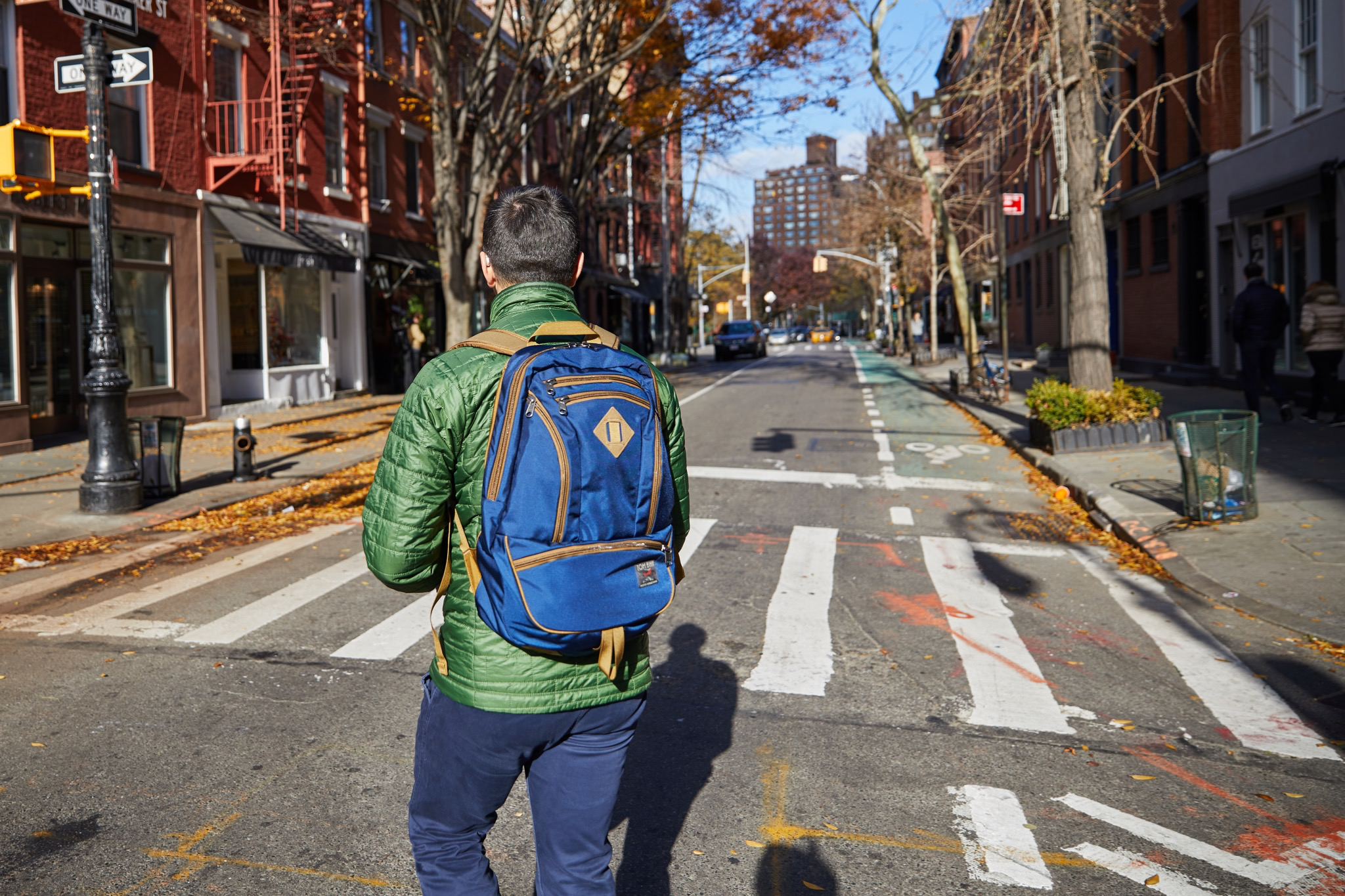 The Guides's Edition Synapse 25 has a unique design. This design language is actually a copy of their hiking bag, The Guide's Pack. Hence the name "The Guide's Edition". What makes the "Guides's Edition" different compared to the base, classic Synapse 25 though?  This will be answered one by one as we're going to check all features more in detail.
For people who don't know Tom Bihn, Tom Bihn is a popular, Seattle-based company that produces very high quality, functional and design-oriented bags. The Guide's Edition Synapse 25 (also called as S25 or GES25 amongst Tom Bihn users), weighs around 938 grams (or 1210 grams with the included frame).
It has 25L capacity (hence the name Synapse 25) and has multiple compartments with a room for including laptop up to 15"/17" and costs $240.  (The classic Synapse 25 costs $200, but doesn't have the internal frame (note: can be purchased later))
Look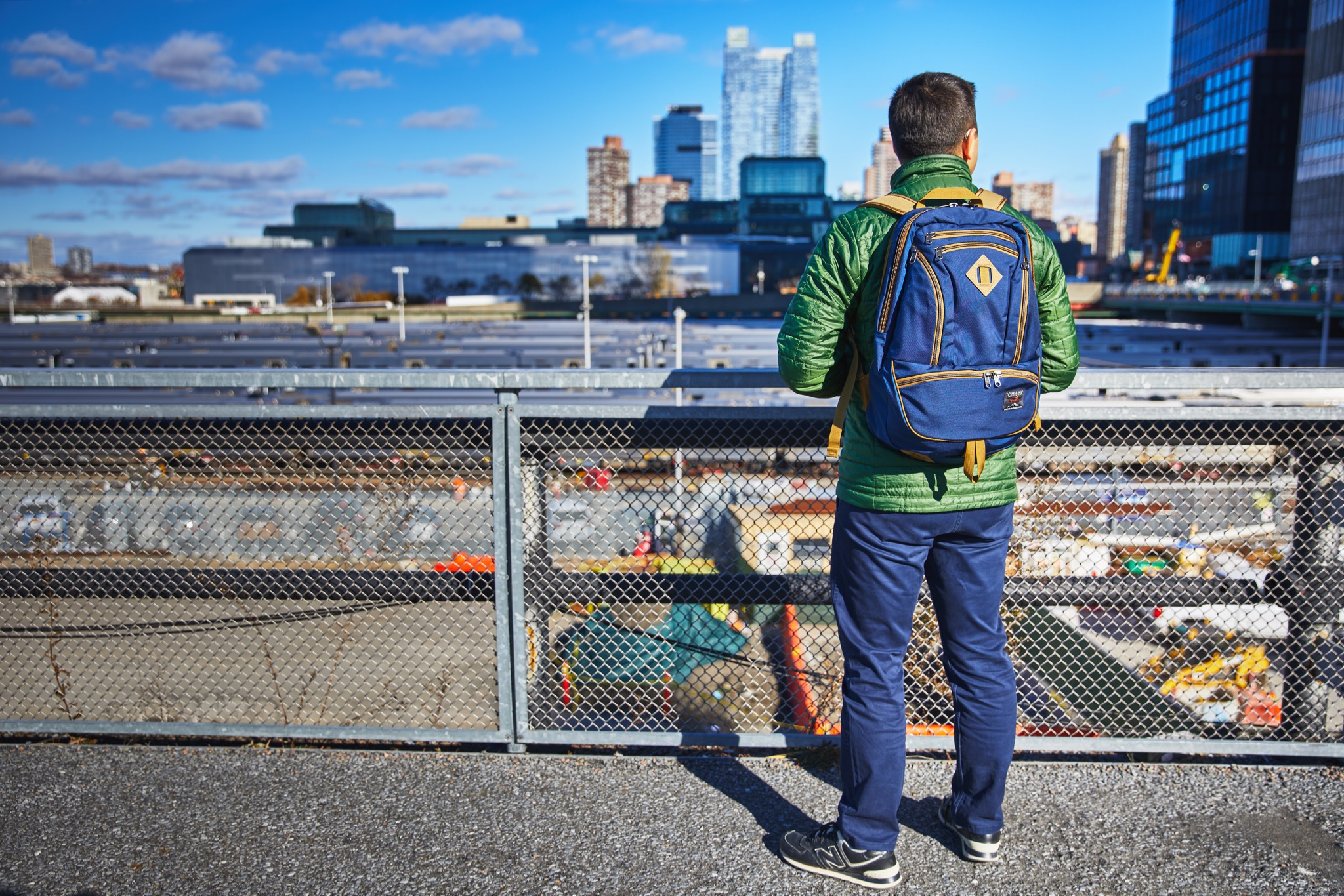 The Guides's Edition Synapse 25, as opposed to the classic Synapse 25 has a wonderful color theme. The coyote brown trims transformed the classic S25 into something that wants you to carry it to the mountains or your next adventure. The S25 was already one of the most favorite one bag choices for many due to its functional design. The new color theme and the additions levels up the game.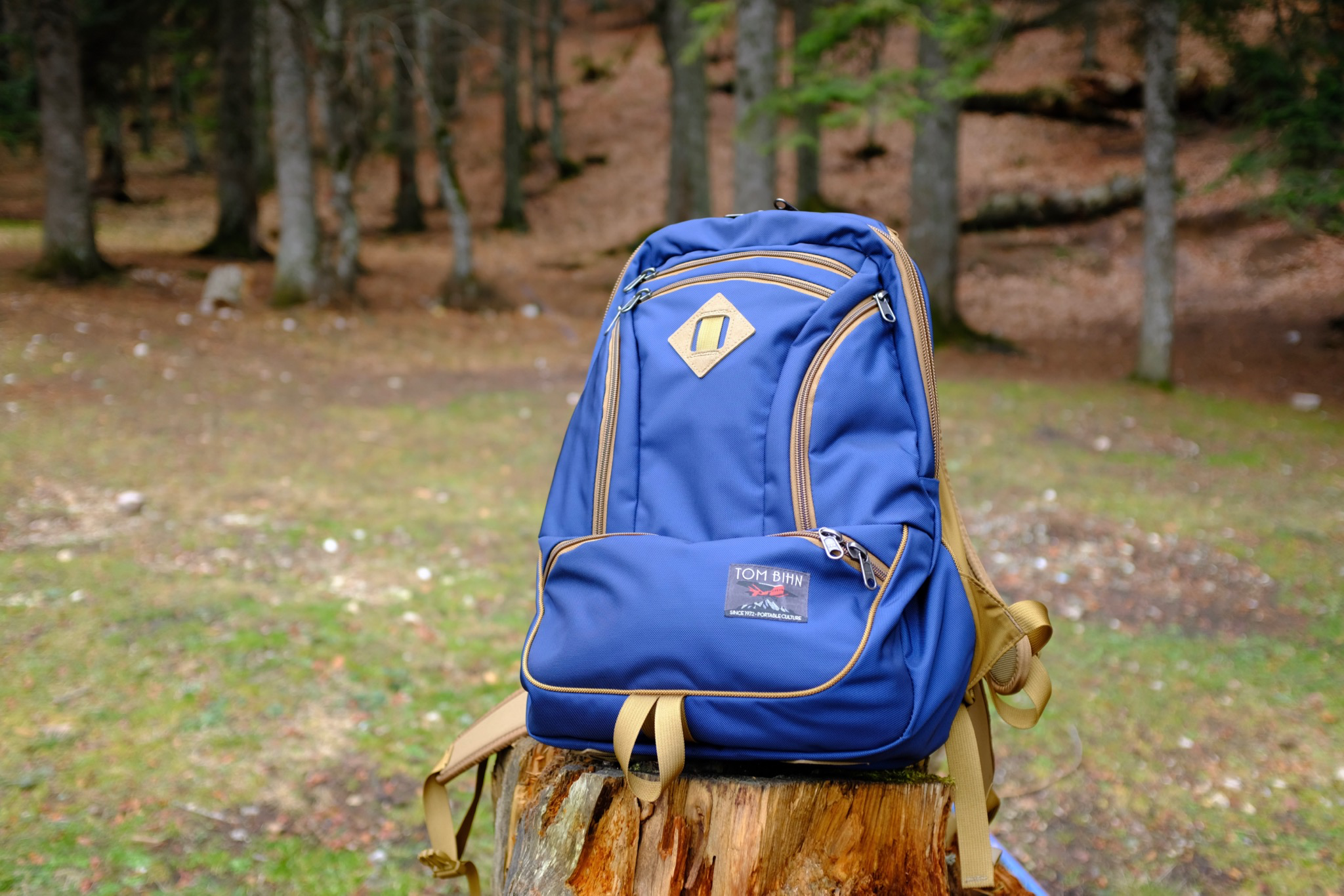 The Guide's Edition Synapse 25 comes in three colors. Deep Blue (the one in
this review), Mars Red and Black. All three have the coyote brown
trimming as part of its signature design.
The coyote brown trimmings with the blue color is not for everyone. I know many
people want a more serious bag, preferable with a black color. Luckily you
can get that as well, but this review and photos are all about the Guide's
Edition Synapse 25. If you don't like the look, you can get a classic black
Synapse 25 (you'll find a comparison photo at the end of the review)
Unlike the classic S25 that you can buy in three different choices for exterior
fabric, the Guide's Edition is only available in 525d High Tenacity Ballistic
Nylon. It's a very durable material, just like its bigger brother the 1050d
Ballistic Nylon. However, it's shinier and softer compared to it. I have bags
of both materials and I really liked the 525d version.  As always, more
information about the materials can be found in Tom Bihn's excellent materials
page.
The Guide's Edition Synapse 25 weights 938 grams without the removable
internal frame. If you include it (which I think you should) it weights around
1210 grams. Due to the design of the bag, it would get bulky and change the
look a little bit. With the internal frame, the look, however, is now much
better. It no more looks bulky or you don't look like a turtle. Instead, the
bag holds its structure much better.
As you probably noticed in the photos, it's flat and doesn't bulk out. This is
not the case if you don't have the internal frame. So for those who originally
didn't like the Synapse 25 because it would bulk out and get an egg shape.
That's not the case anymore with the internal frame!  (I'm going to talk more
about the comfort aspect of the internal frame, this section was how it changes the look of the bag)
A side note about the colors in the pictures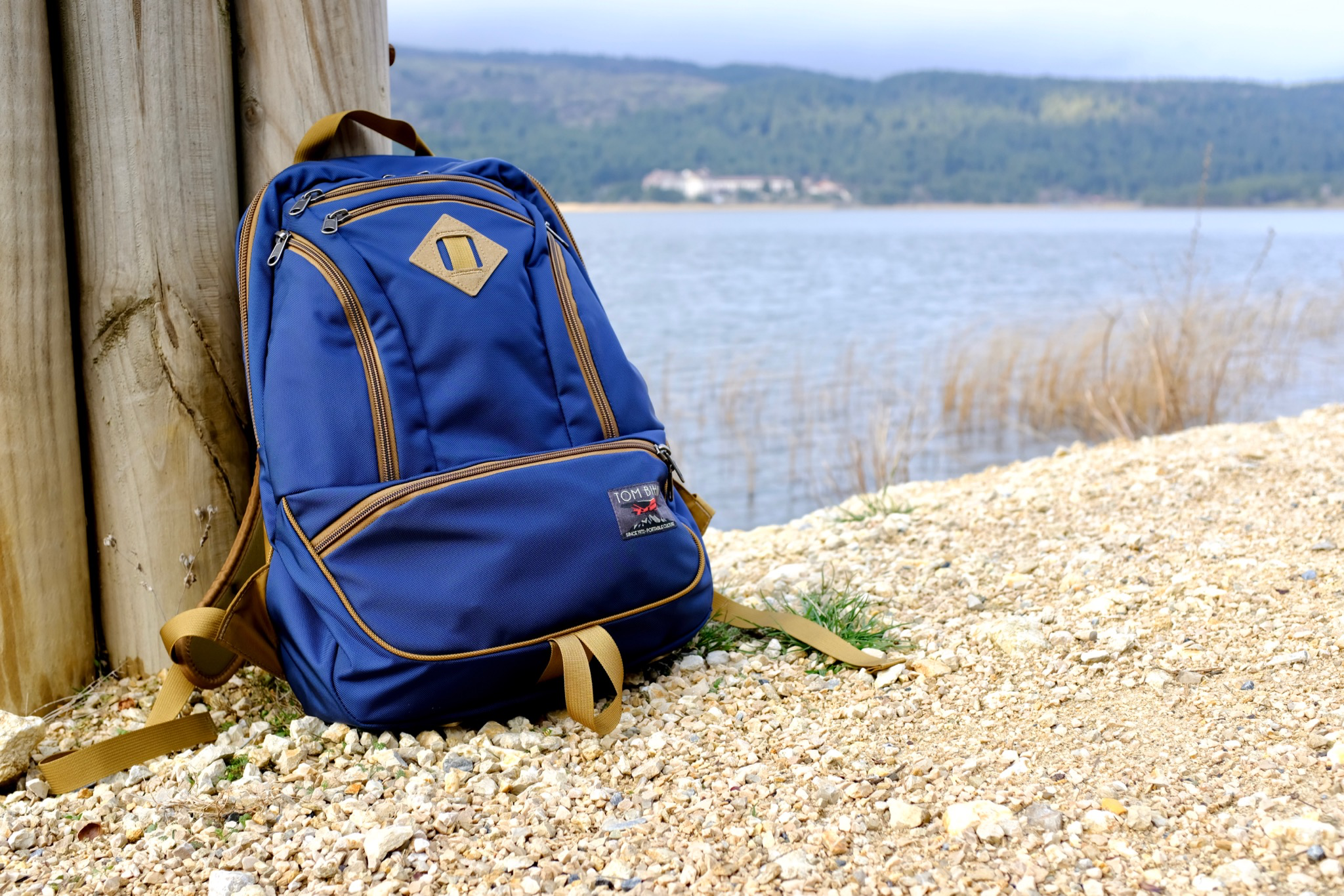 Another note is that throughout the review you'll notice that the blue of the
"Deep Blue" color is different in each photo. This is due two main facts. First,
the photos are with two different cameras. With my Fuji X100F and a friend's
Canon 5D Mark IV (thanks Nan for the model photos!).
If you're into photography you'll know that each sensor produces a different
image and can change a lot in post-processing (such as editing the photo for
corrections, colors, crops, etc..). Second, due to the shinier material, the
"Deep Blue" looks very different under various conditions and sunshine.
Sometimes it really looks very saturated, in certain conditions it's more
muted.
Usage
How does it feel to use the Guide's Edition Synapse 25?  It's safe to start
with the front compartments, with the part that basically defines the design
itself.
Compartments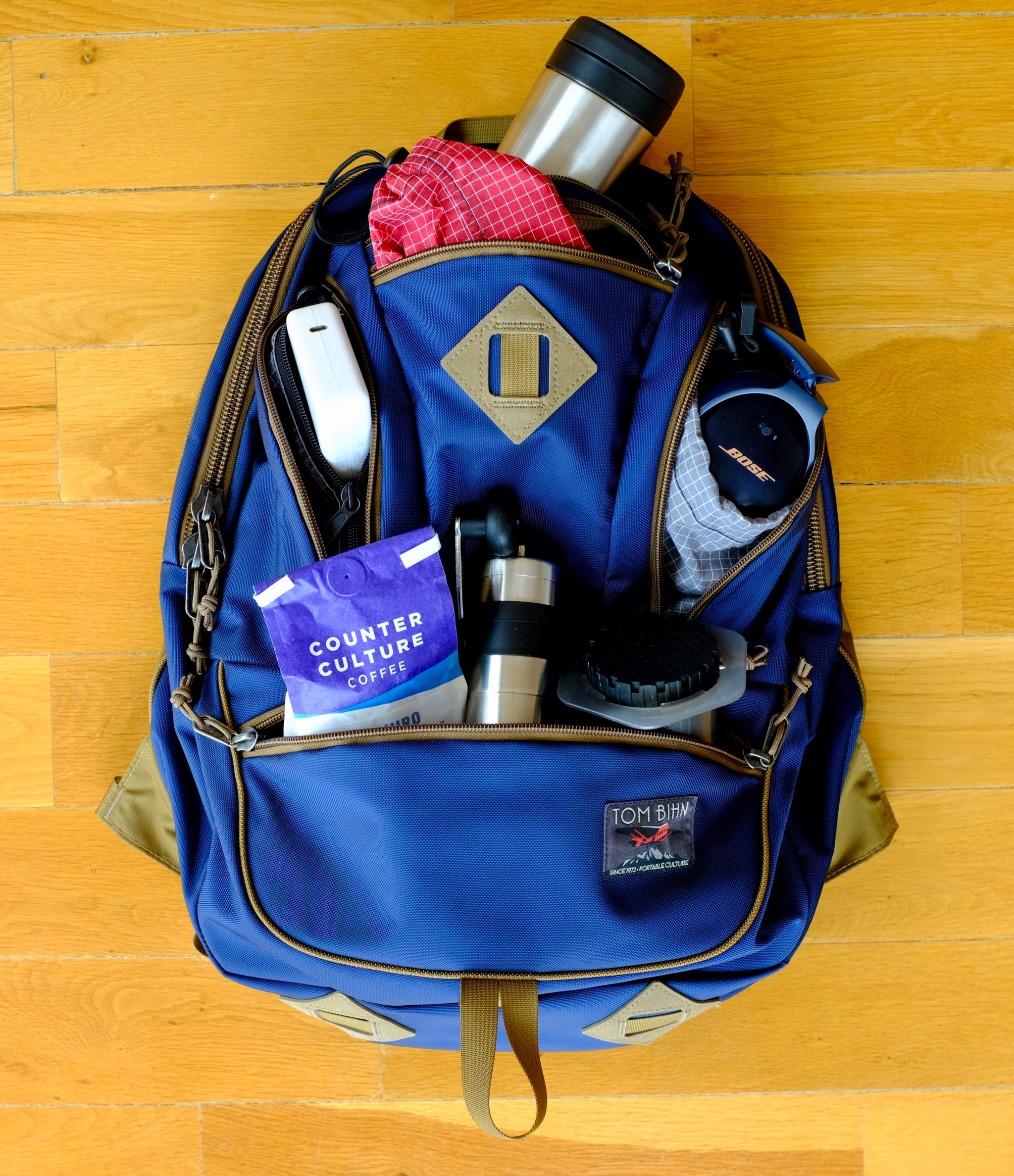 The GES25 has five pockets on the front. Two in the center, two on the
sides and one at the bottom. The one in the middle is meant to hold a
water bottle. Because it's aligned perfectly in the center, the weight of the
bag is also balanced. Other bags require you to put the water bottle on the
side (and is usually an afterthought).
The reason why the S25 is so popular is because of the number of pockets it
provides. And these pockets are not small. Those are really big and let you
carry a lot of stuff, especially 3d shaped items. Normal front pockets in other
bags are shallow, but that's not the case for the GE Synapse 25.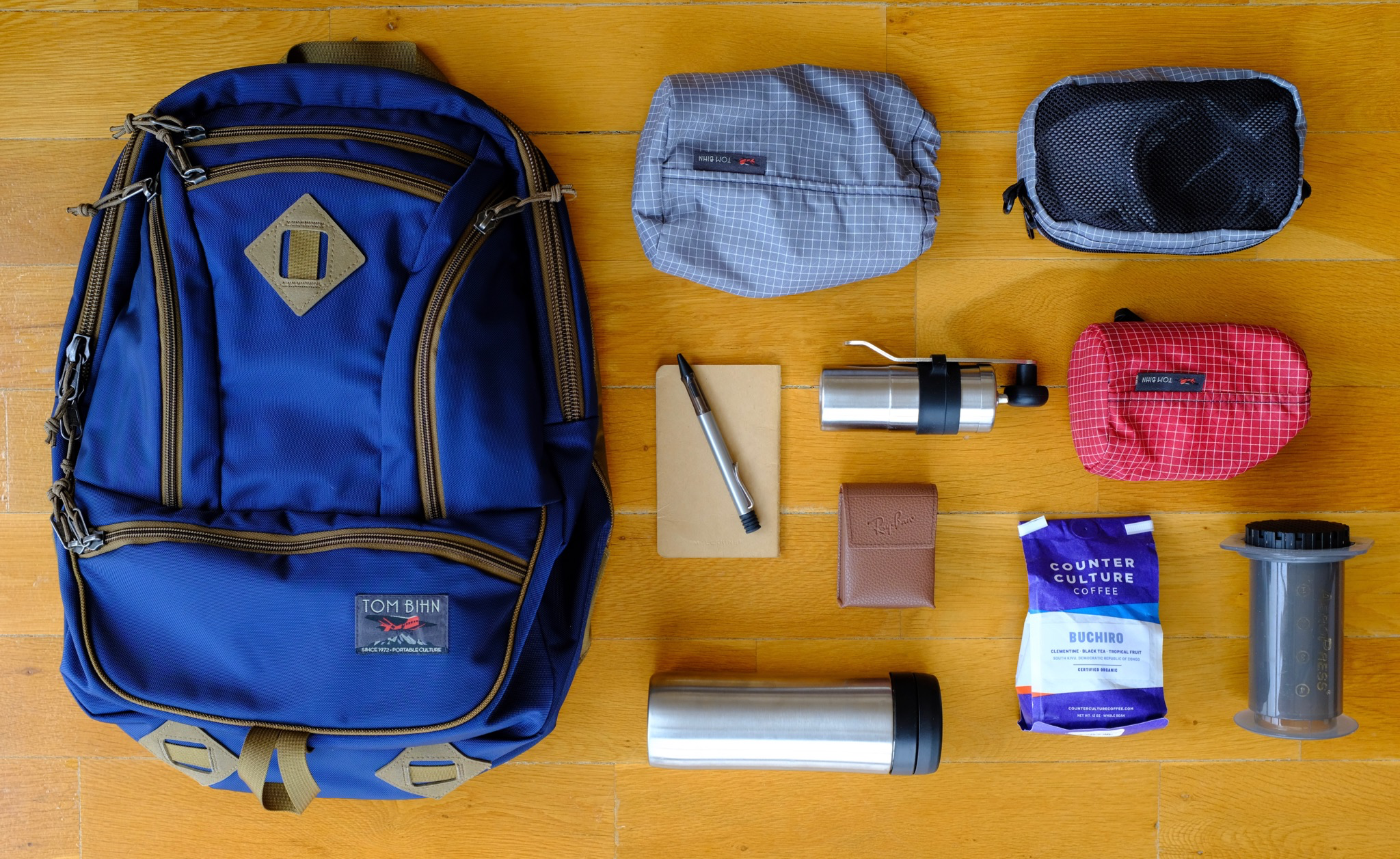 How are the items distributed:
Front water bottle compartment: This holds an insulated tumbler. Sometimes I add a water bottle with some snack as it's big enough to hold lot of things.
Center small compartment: Medicines and first aid items in a Travel Stuff Sack (Iberian, Size 1).
Left compartment: 3D organizer cube (Mesh, Northwest Sky Halycon) with various kinds of chargers and cables. This fits my MacBook 13" charger, additional USB-stick and other cables (such as micro-usb for charging my headphone)
Right compartment: I put my Bose QC35 in Travel Stuff Sack (Northwest Skye, Size 2) The Bose has its own case, but it's bulky. The Travel Stuff sack is more modular. I can use it for my headphones, if needed I can use it for something else.
Bottom compartment: This is the biggest one. This holds my coffee equipment: my grinder, the AeroPress (Coffee brewing device) and beans (and yes, coffee is very important for me).  Because it's so big I also put my camera or any other items.
When you start using the Guide's Edition S25 you appreciate how great these
compartments are.  All of them have O-rings (which means you can attach key straps or accessories with straps). All the items above fit perfectly inside the GE Synapse 25's front compartments. It even has some spare room at the bottom compartment where I usually put my camera.
Another benefit of these compartments is they are very modular. The front and bottom are perpendicular to each other, which means you can carry various kind of objects.  Basically, the bag adapts to your needs, whether it's a commute to your work or a hike to nature.
Water bottle compartment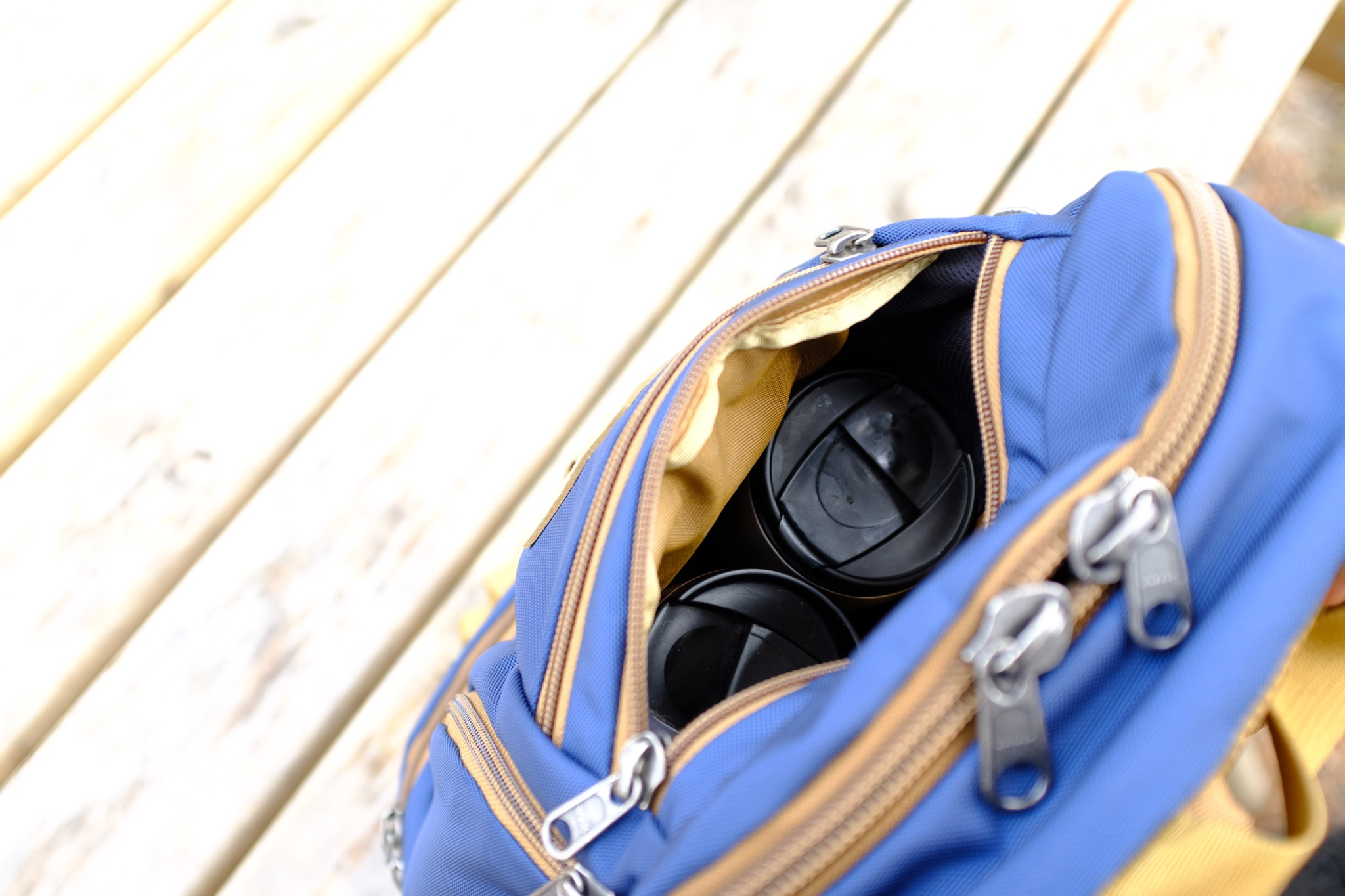 The water bottle compartment is really big. It can hold a 1-liter wattle
bottle or even two insulated coffee tumblers (which I've done on a recent day
hike). When you put two tumblers in the center compartment, you also take some space from the side pockets. But this is totally ok because you have total control over your bag.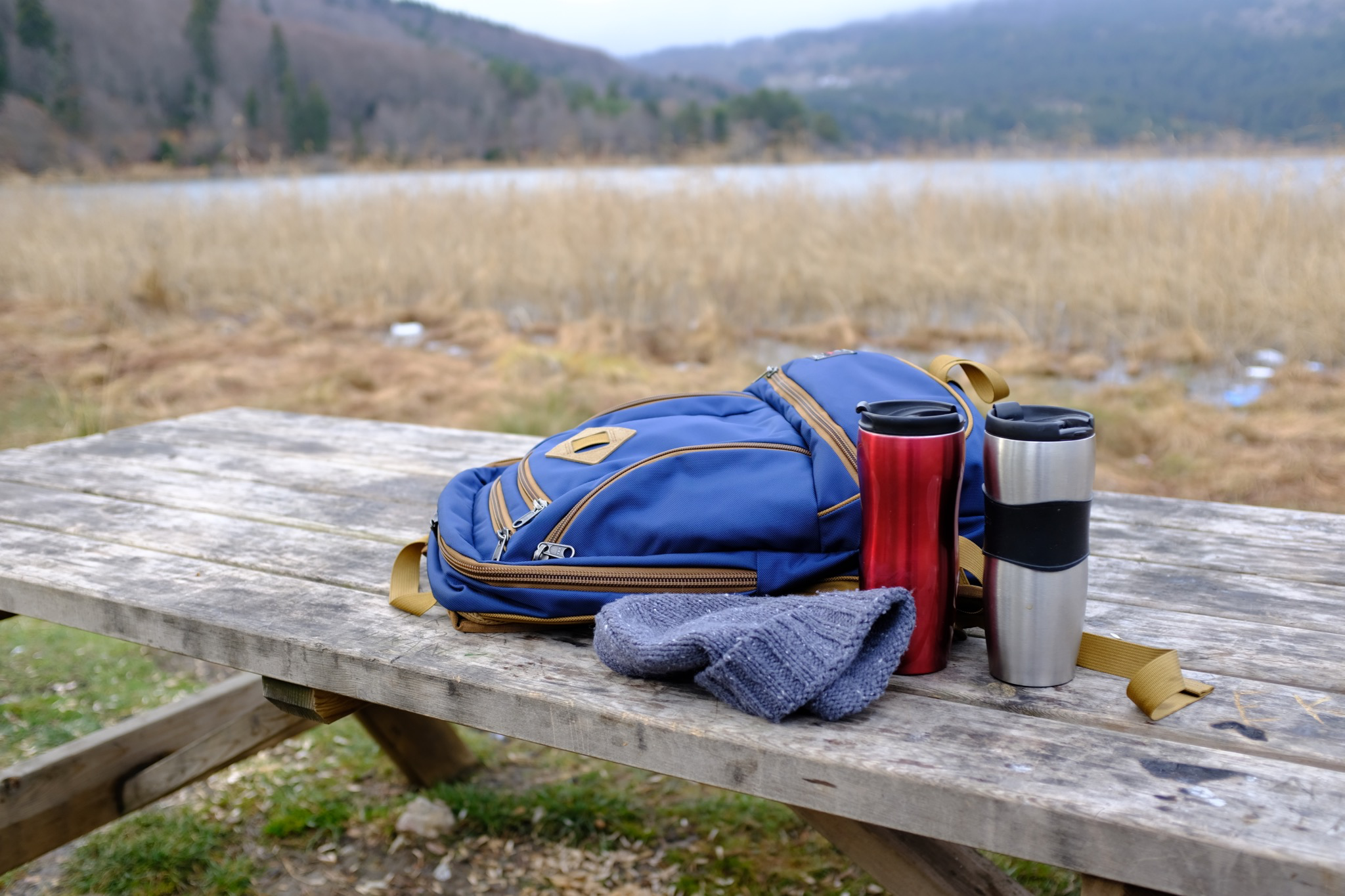 For example, if you travel alone, you can just put a single bottle and reclaim
the other portions of your bag. If you travel with your friend or partner (as we did in our recent hike to Lake Abant in northwest Anatolia, Turkey) you can put two bottles very easily. It even had some spare place to put my beanie on top of it.
Bottom Compartment
The bottom compartment has now two zippers instead of one. This is a new
addition and only available in the Guide's Edition version. One advantage his
has over the one zip version is you can open it from two sides. During my
city hike in NYC, I've found this very useful. But the real reason is due to
the fact you can attach an ice axe or tripod on the front of the bag. In this
case, two zippers will make it easier to access the content of the bottom
pocket.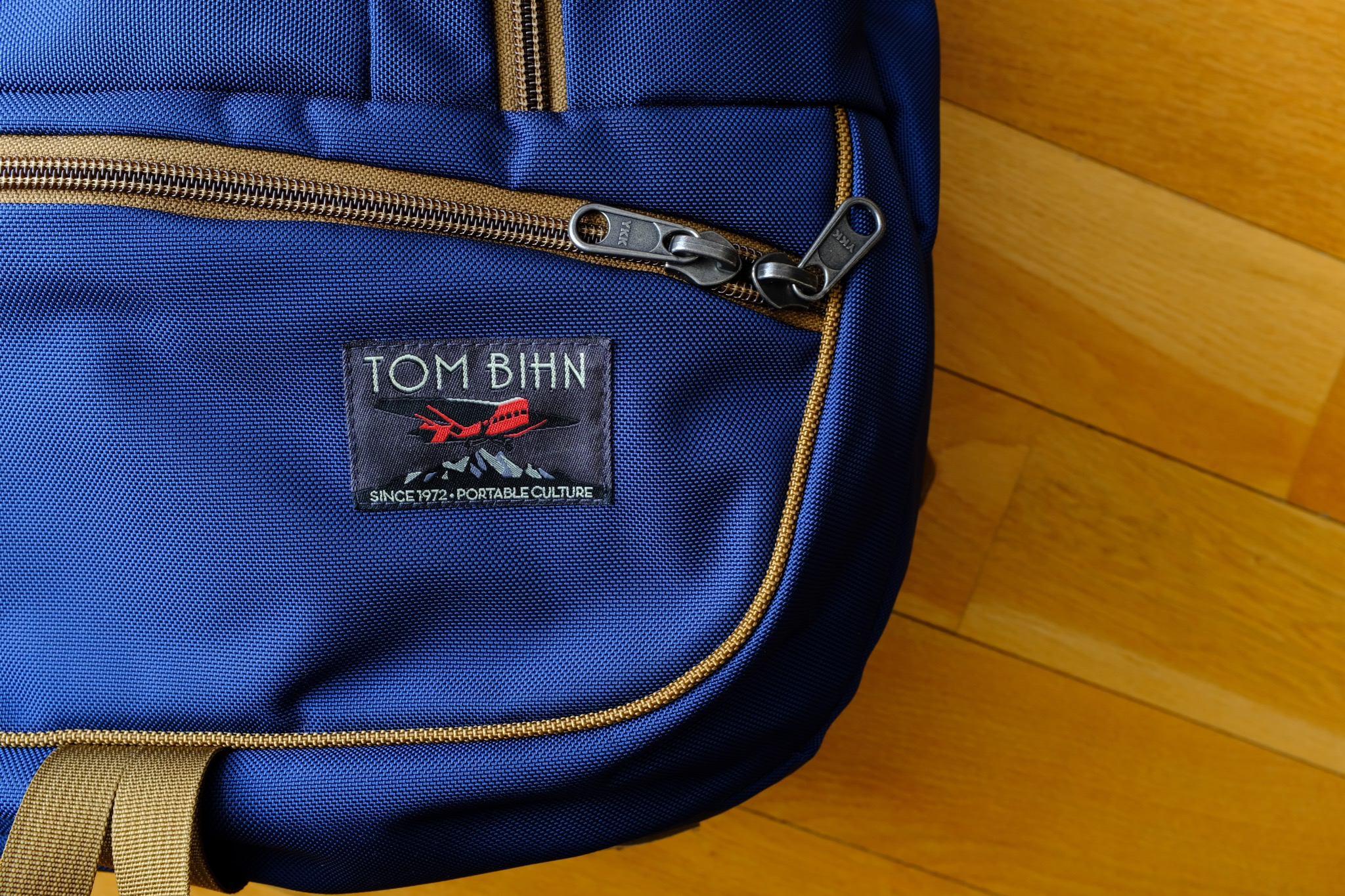 One thing to note about the bottom compartment is how big it is. Again it
feels like it won't hold too much, but it's so big that it can handle a pair of shoes, socks, and snacks. During another travel, I've put my coffee equipment to the bottom, which had an AeroPress, Coffee Beans, Grinder and also my Camera. This compartment IMHO is one of the best features of the S25. It could be easily your only reason to buy this bag.
Main compartment
Beside the front compartments, there is one big main compartment where you can put all your clothing, laptop and various other items. It's big enough to hold multiple packing cubes as well. However, due to the shape of the Synapse packing cubes can't be stacked well like compared to other rectangular shaped bags. If you're a packing cubes person, you're probably going to struggle with it.
The main compartment also has a small divider where you can put your lightweight jacket or any magazine, documents and similar items.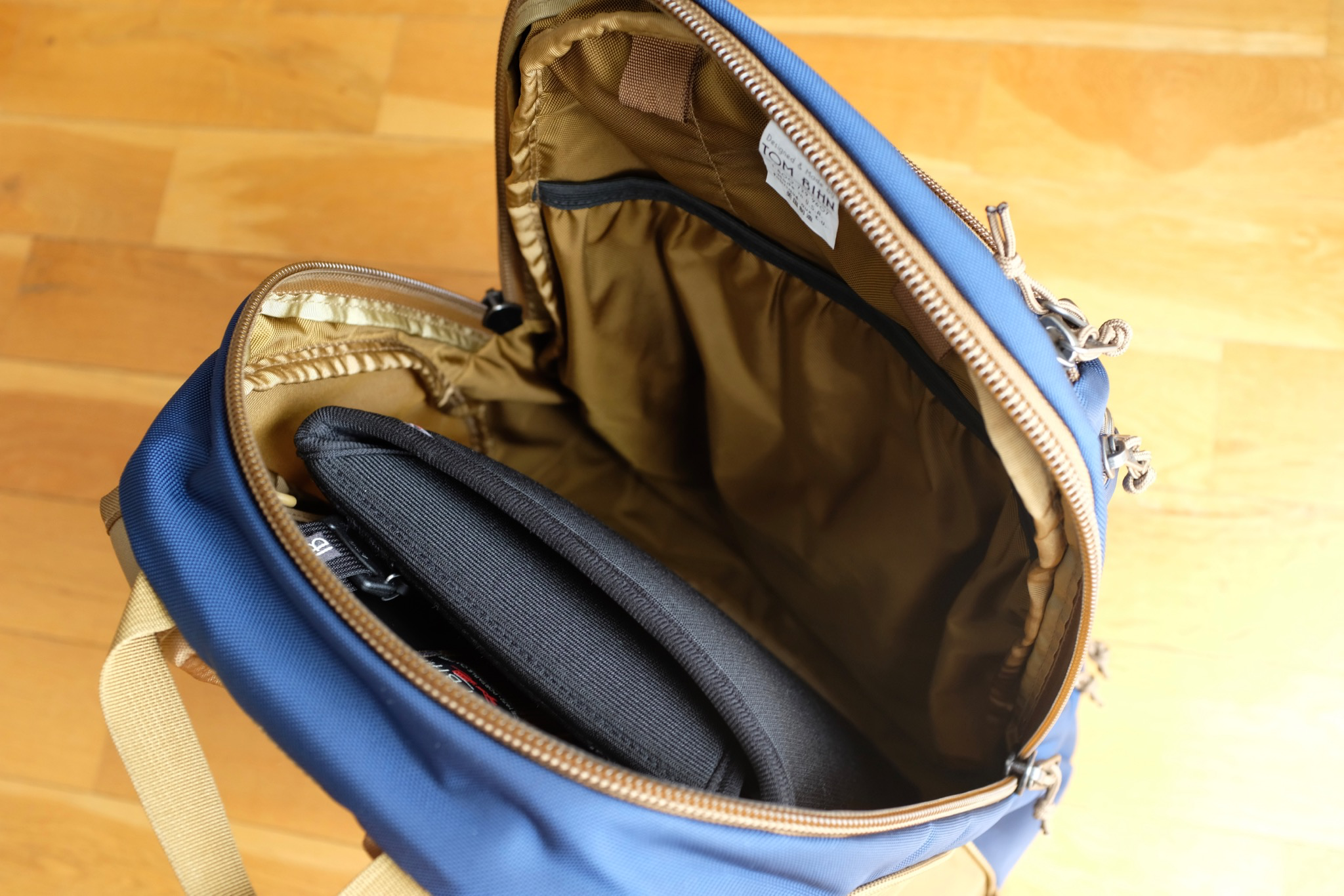 This compartment also has loops on each side to attach your laptop Cache. This means that you don't have to put your laptop to the back of the bag (some prefer it like that). In overall this compartment is for all your other big items that don't go to the front compartments. It's really big and can accommodate many things.
Freudian Slip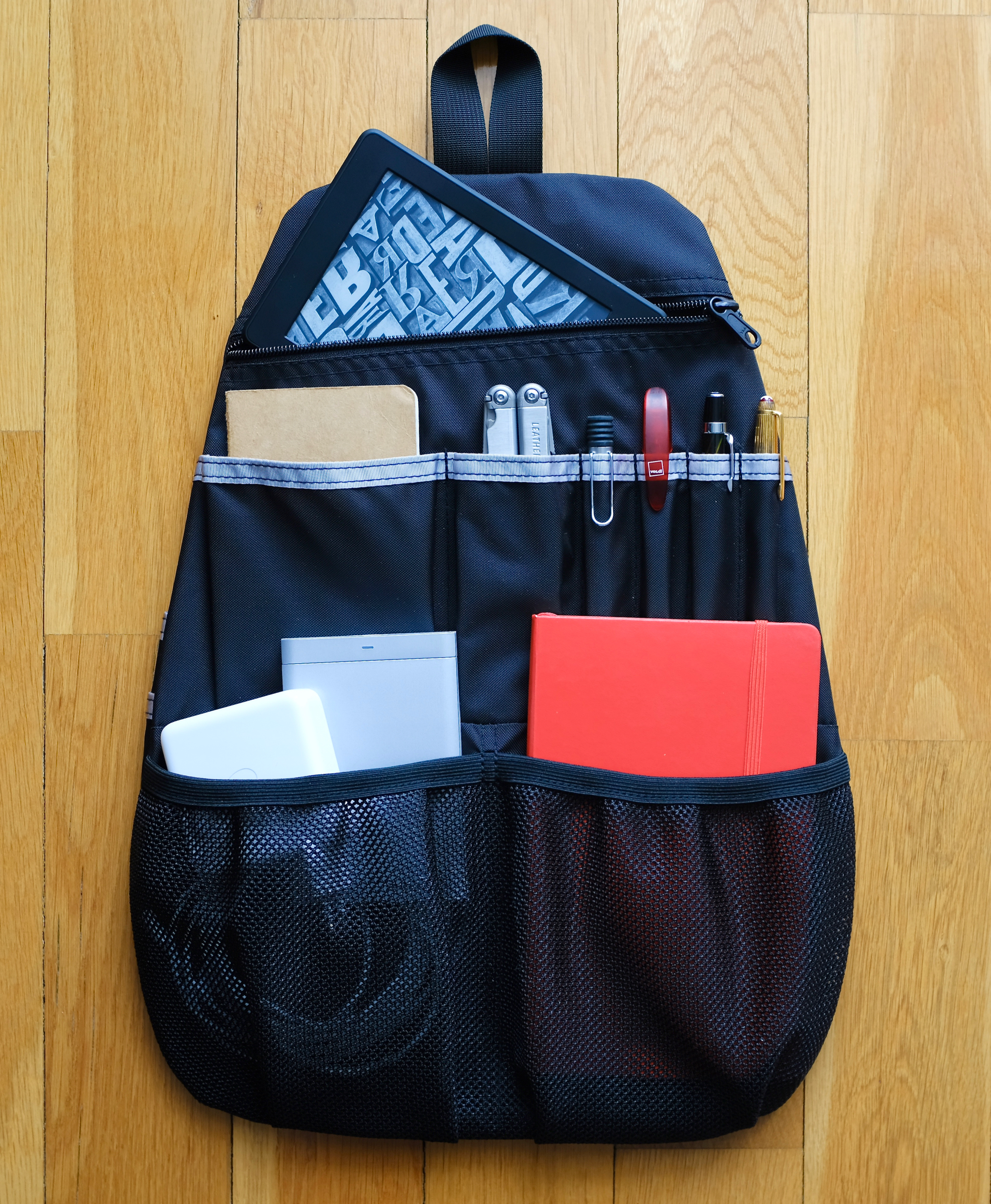 Too much organization doesn't hurt. The Freudian Slip is an organizational insert which is custom and specially designed to fit exactly inside the main compartment of the GE Synapse 25.  This is not included with the bag and can be purchased in addition for $50.
This insert enhances your bag in two ways. First, it allows you to add
additional pockets to your bag. Second, this gives you an exceptional
organization that you otherwise wouldn't get for small items, such as pens,
notebooks and various other similarly shaped items.
The Freudian slip is especially useful if you are involved in lots of paperwork or have a lot of small items. There are many versions of the Freudian Slip that are designed for different kind of Tom Bihn Bags. The one for the Guide's Edition Synapse 25 has 15 organizational pockets.
Both sides have multiple pockets that you can start using. In the front, you
can see that I put my Kindle in the zippered pocket.  Next, there is a business
card slot, which I use to put a small Moleskine notebook for sketches and random notes. Next to it, I add a multitool which comes handy sometimes. It also has four pen slots for easy access. The most useful are two mesh pockets for putting your chargers, external hard disks, cables and other bulky items.
The other side of the Freudian Slip has folder pockets to put your folders and
papers. It also includes another large zippered pocket.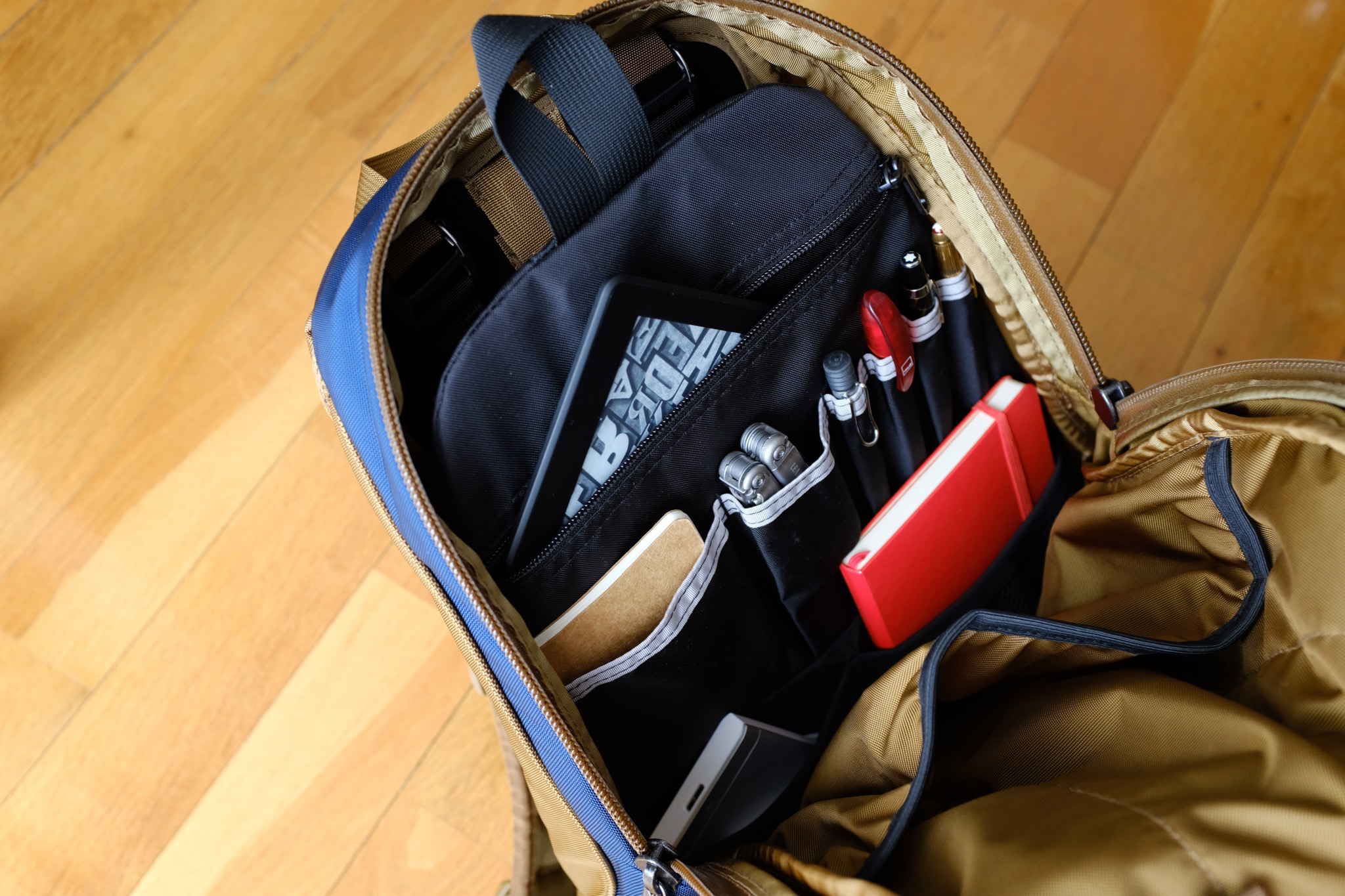 In overall, the Freudian Slip is really a nice addition, especially if you
have a lot of documents and small items. It really brings the bag to
another level. And what's the best? You can take it out if you don't need it!
I think this is the most undervalued feature of Tom Bihn bags. You might say that every single accessory needs to be purchased separately which quickly adds up and increases the overall price of your bag. That's true indeed. But as I always say, you don't buy the accessories, you buying the ability  to swap accessories on to go and adapt the bag to various other conditions (day hike, business meeting, one-bag traveling, commute, etc....
Strap holders
The Guide's Edition Synapse 25 has a diamond accessory strap holder on the front of the bag. This can be used to attach various kinds of items. With the corresponding ice-axe loop in the bottom, you can even attach large items, such as ice axe or camera tripods. On top of these, there are two additional strap holders on the bottom.
These diamond strap holders are a famous design pattern that also can be found in various other bags and believe originated in the 60/70/80's (not sure). I really like it as it completely changes the nature of the bag. It feels more adventurous.
The strap holders can be used in various ways. For example, one way is to
attach a water bottle with a carabiner for easy access during your hike (or
a second additional clean water bottle).  The imagination is up to the person
who uses it. In overall it makes the bag very modular.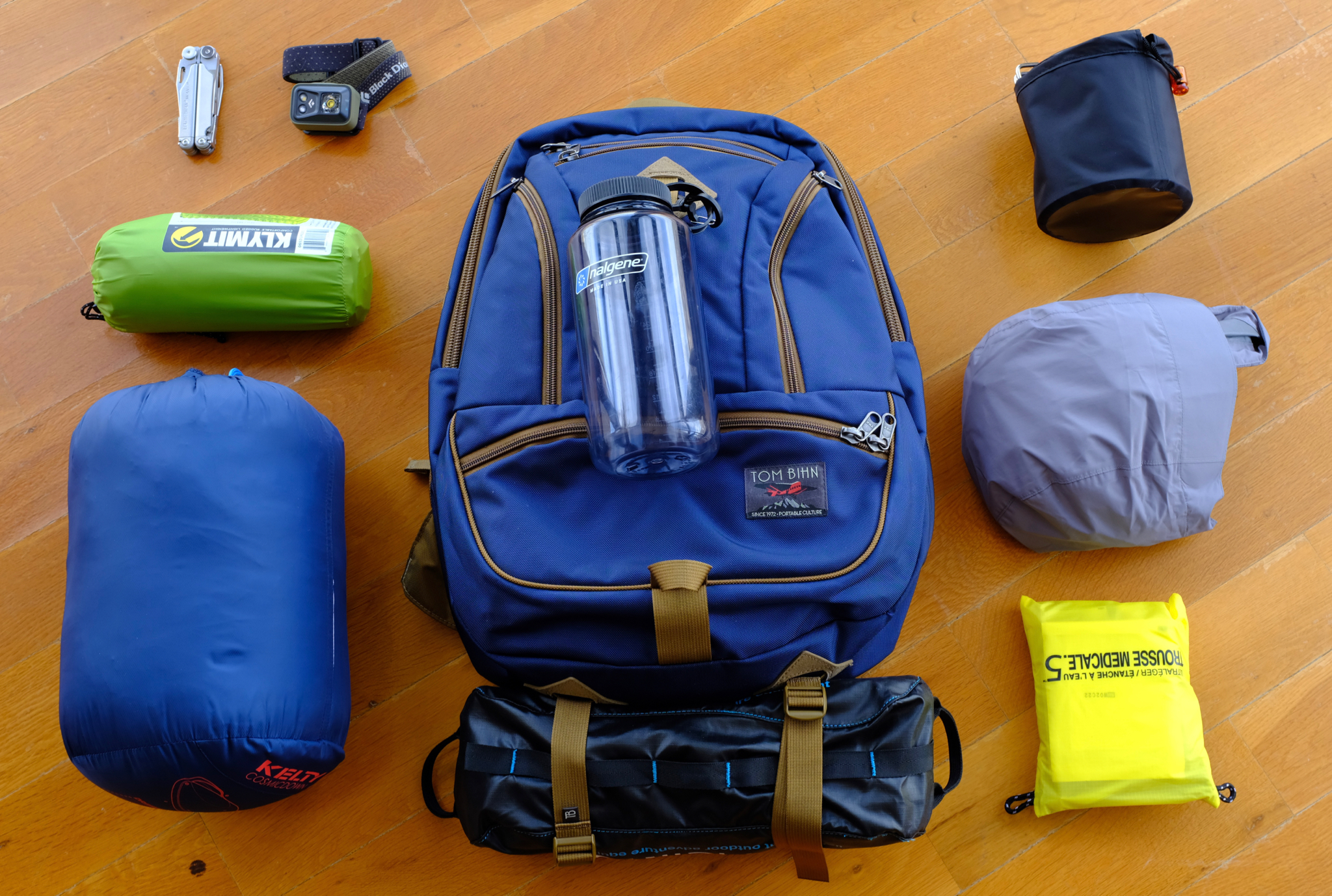 The carabiner in the photo above is called Swivel Biner and made from a company called Tyny Tools. I definitely recommend getting one of these as the rotating head is really genius and  puts the carabiner to another level.
Tom Bihn sells optional straps to secure items to the bottom, such as folding
chair, hiking poles or a sleeping bag (small size).  An additional pair of Lash Straps (costs $10) for the bottom of the Guide's Edition Synapse 25. In the photo above you can see that I've attached a very ultralight chair The ultralight chair is from Helinox and is called Chair One. I also highly recommend it (if you like sitting one chair ) as it's lightweight and perfectly fit to the bottom of GES25.
Business?
During my return from NYC to Ankara, I had a small rolling carry-on bag with
me. I usually try to travel with a single bag, but sometimes I buy gifts for my
family and friends (or they want something from me). Nevertheless, in those
cases, I use a rolling bag in case I need to carry a lot of stuff. I've tried
to put the Synapse on top of my rolling case and it was very comfortable to
carry.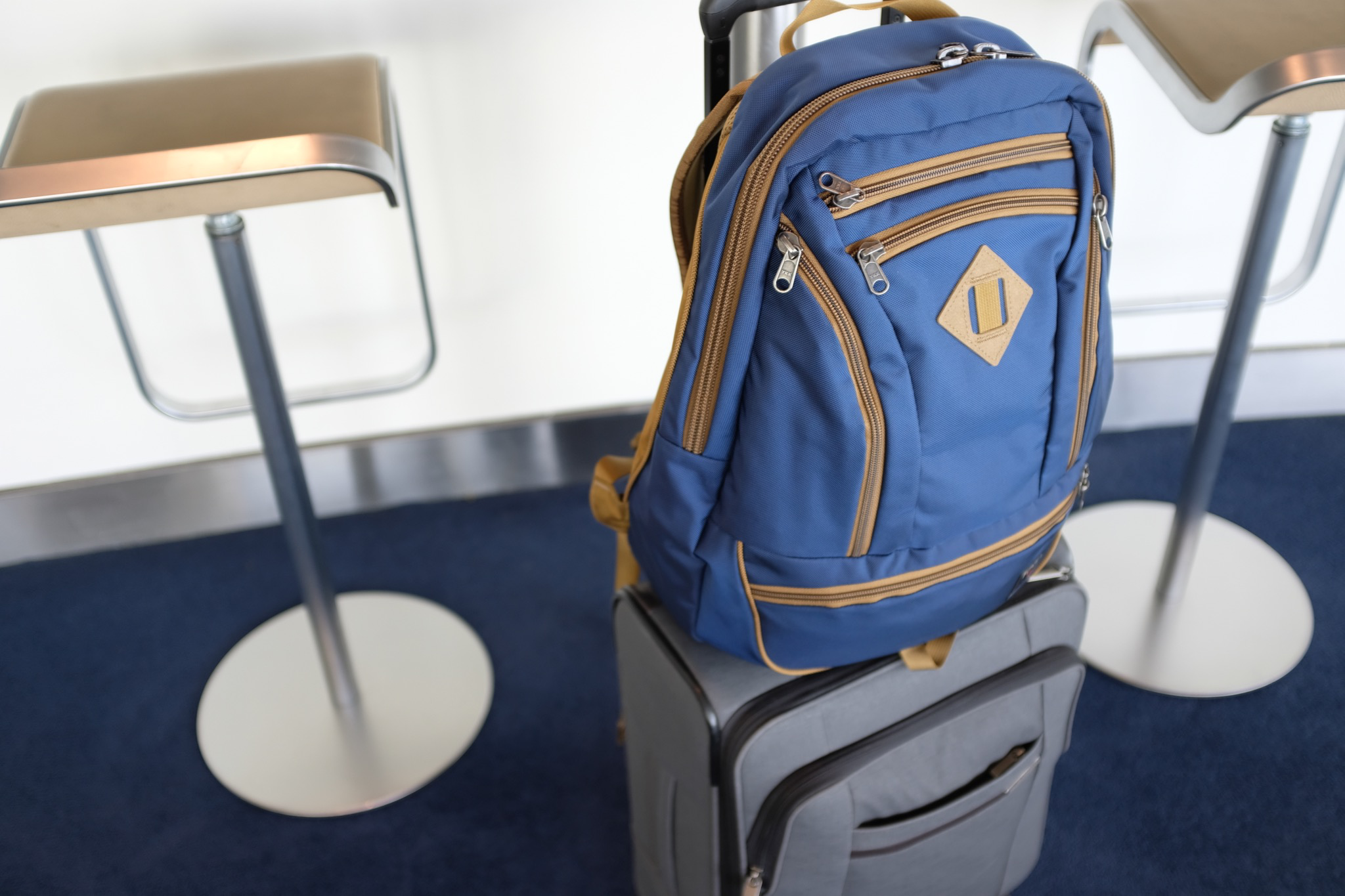 The GE Synapse 25 is not intended to be used on top of a rolling bag though. This means there are no loops to secure the bag to the luggage handle. Do I wish it had them? I'm not sure, to be honest. The Guide's Edition Synapse 25 is a bag for the city, for nature, for the dweller. Sometimes less is more. Of course, frequent travelers with their Tumi or Rimowa rolling bags will opt in for more serious looking bags, no questions here.
The Guide's Edition color theme is meant for nature and your day hikes. Of course, nothing prevents you to use it for other usages. However, I'm not sure the color would fit in a more business serious environments. For those situations, the classic synapse 25 with its black color, paired with a Freudian Slip is a much better option. The Black color always wins in those situations! (note: there is a photo I  took at the end of the review, check it out later)
Comfort & Carry
Due to its several weight reducing features, such as padded shoulder
straps, sternum strap, hip belt and internal frame, the Guide's Edition
Synapse 25 is very easy to carry. Let me start by explaining the internal frame
in more detail.
Internal frame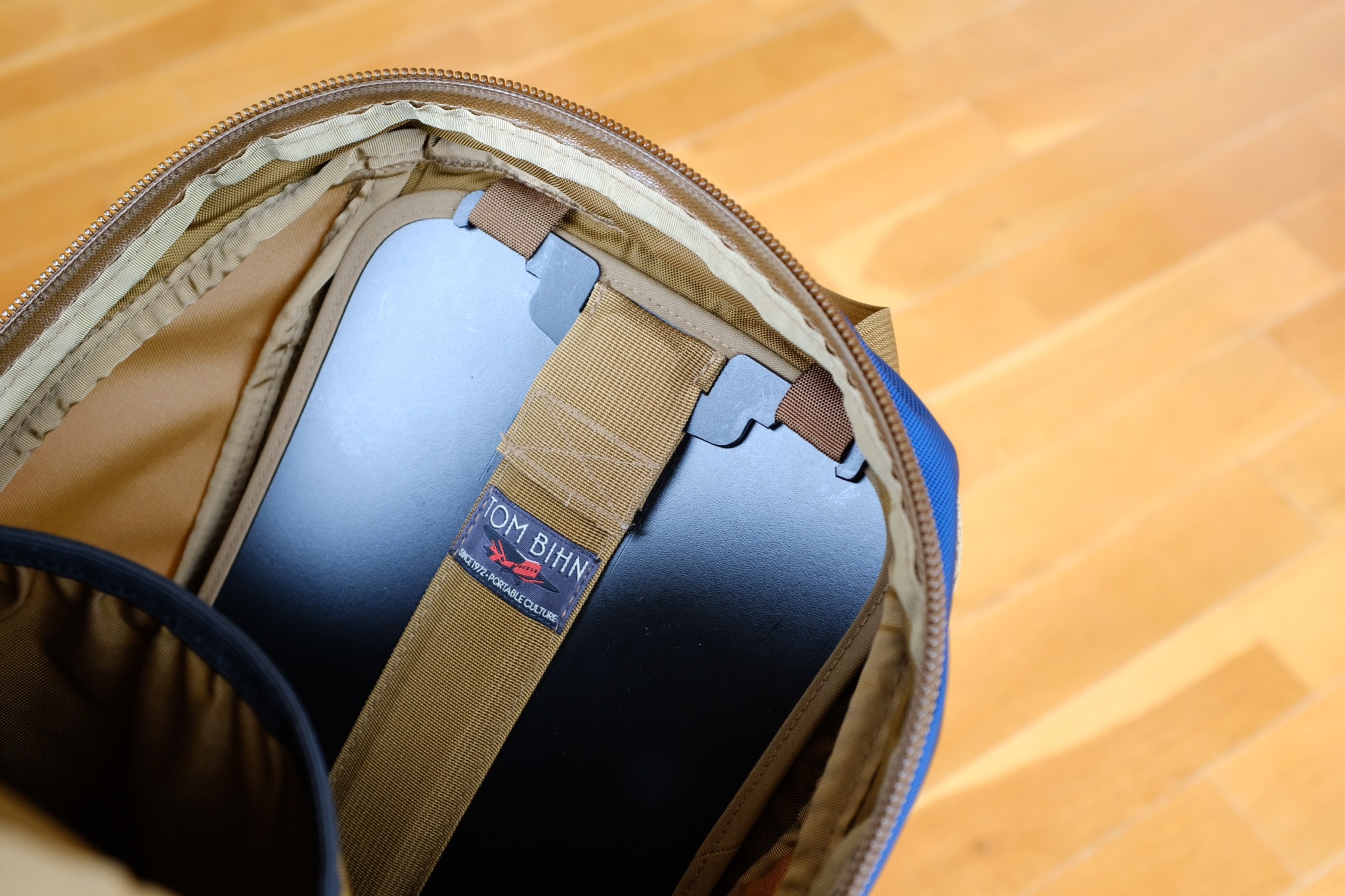 Beside the design addition to the Guide's Edition, the internal frame is the biggest addition to the Synapse family.  The internal frame is made out of Polyethylene (Plastic) and has a nylon webbing sleeve down the center with an aluminum stay. So it's actually made out of two parts (and yes you can remove the aluminum stay if you wish).
The aluminum has a little curve to fit the most common back. However, Tom Bihn also provides instruction video on how to bend the aluminum for your own back (if needed). I didn't do anything yet and just use the default way I've received it.
So what makes the internal frame so good? First of all it gives you some
structure. This is very important as you can pack your stuff more carefully
and near to your back. This further allows it to shift the weight to your hips.
Tom Bihn has a very detailed and extensive guide and documentation on the
history of internal frames and how they apply. I definitely suggest to read it
to get an idea: https://blog.tombihn.com/guide-backpack-frames.
Second, the internal frame creates a hard wall between the bag and your
back. The classic Synapse 25 doesn't have it (instead it's heavily padded
with a foam). The benefit of this wall is that it, even if you overpack the
bag's back will not bend and will keep straight. It also means (which is IMHO
the most important thing) that items from the bag will not poke you from the
inside.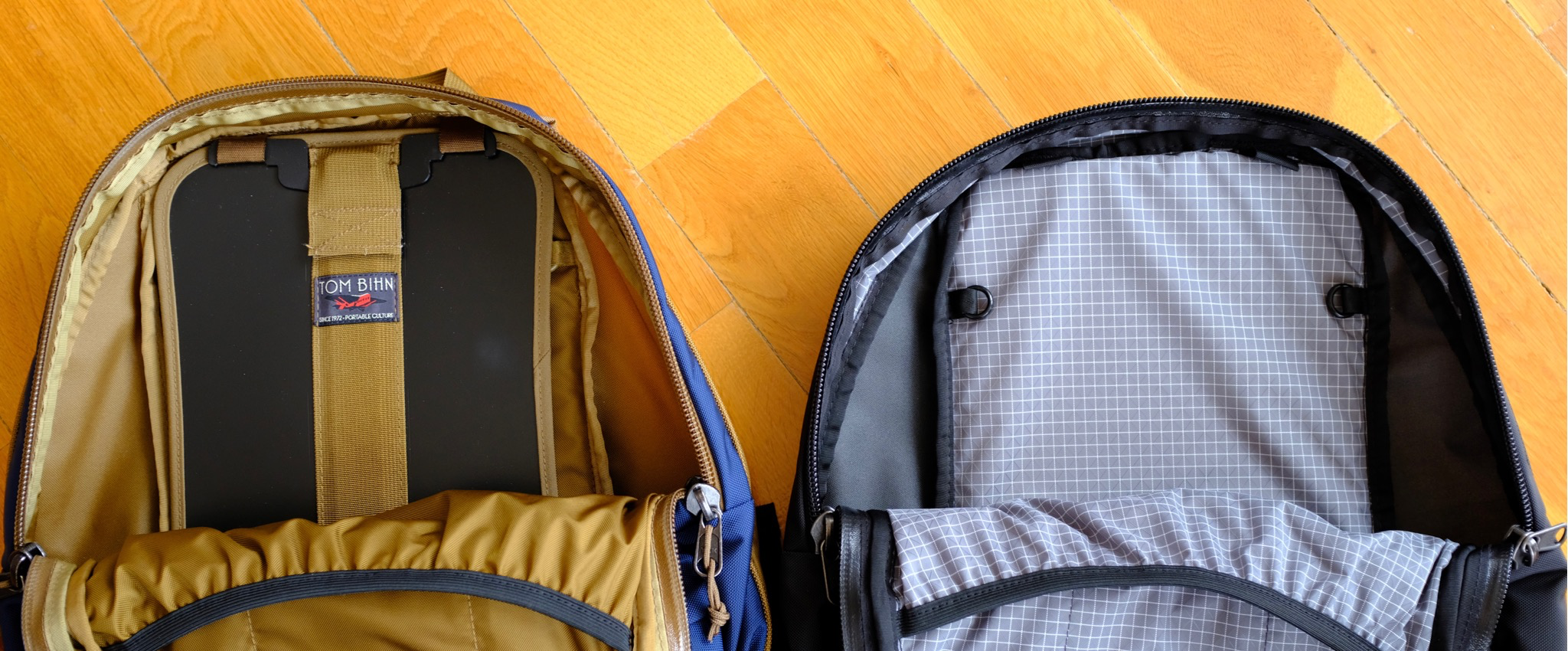 As with all Tom Bihn accessories or features, the internal frame can be removed if you wish. This will give you 300 grams less weight (if you're into ultralight packing). However, vice versa, this means that you can buy an internal frame for you already purchased Synapse 25 (and for the smaller sized Synapse 19). This costs $30 and completely in black and also comes with a black trim. It also looks really good! (definitely, check out the pictures from the internal frame page)
One question you already have is what about a cache? First, let me explain
what a cache is. Tom Bihn produces various kinds of protective Laptop and
tablet sleeves, which they call "Cache". It's designed to be used with Tom Bihn bags and comes in a variety of sizes and orientations. You can put your laptop horizontally (think of a briefcase) or vertically (think of using a backpack, i.e: Synapse 25).  It's a modular piece of component that you can add or remove for any of your bags (I've explained more about this in my previous review, go and read it).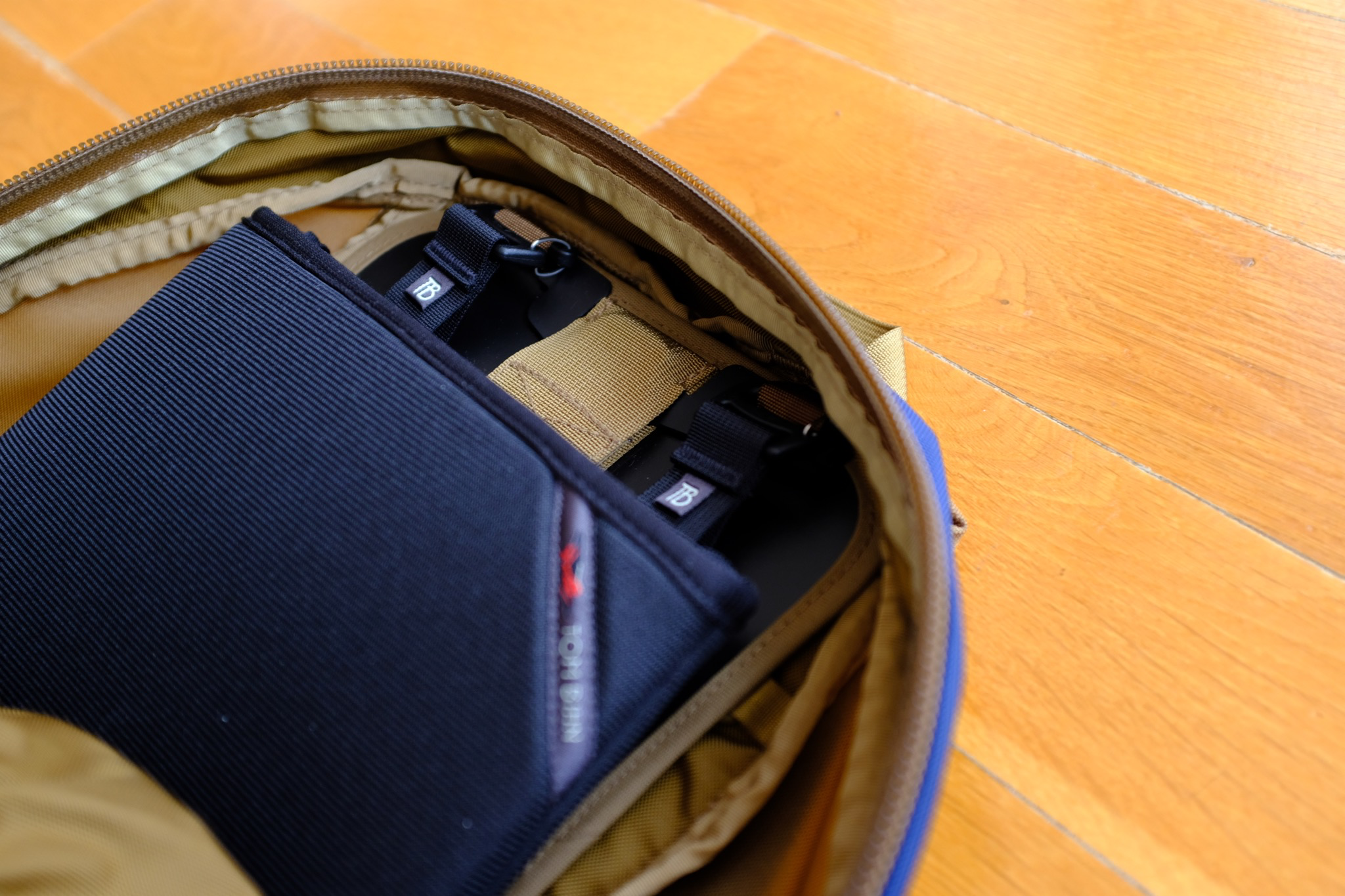 Even with the internal frame, there is plenty of room to attach a Cache
sleeve as well. You can see from the picture how it looks like. So if you
decide to buy an internal frame later, be assured it'll work just as it was
working previously.
Do I advise to buy the internal frame? Definitely a big YES! It improves
the carry and look of your bag in every single aspect. When I said it's
life-changing for this bag to my friends, I really meant it. The Guide's
Edition already comes with an internal frame, so you're covered.
One criticism I have is, I'm not sure if it's just me, I'm not sure how people
used the original Synapse 25 for years without an internal frame. I've
tried it a couple of times and I've just failed. If you don't overpack it, it's
all ok, in fact, it really creates a comfortable, cushy back. But if you start
adding items to the main compartment, it starts to bulk out immediately. To
avoid it, you have to pack it full and pack it in a way that items don't poke
out. Even then, the bag's back bulks out and it's not fun to use.
So the solution is not to overpack (but then you can't maximize the bag's
compartment) or you have to buy the internal frame. In my case, I'm going to
definitely purchase an additional internal frame for my black Synapse 25.  I
know that this pushes the overall price of the bag, but trust me it's really
worth it.
Having said that, this is probably the only single criticism I have about this bag. Everything else is top notch. And what makes me comfortable is that this is fixed now with the internal frame! As I said the Guide's Edition already comes with an internal frame with a beautiful coyote brown trimming. The above note is for the classic S25.
Padded Hip Belt
A removable 1" / 25 mm webbing waist strap is already included with the
Synapse. This is so it stays secure to your body, rather than shifting the
weight to your hips. Tom Bihn, however, provides another option.
The internal frame is only one part of the story that increases the comfort of the bag. You can also purchase custom designed Padded Hip Belts for the Guide's Edition in Coyote trimming. The hip belt costs $30. The hip belt can be attached with clips to the webbing loops of the Synapse 25 (yes there are two of them, one on each side). Made of EVA closed cell foam, it's also very comfortable to wear.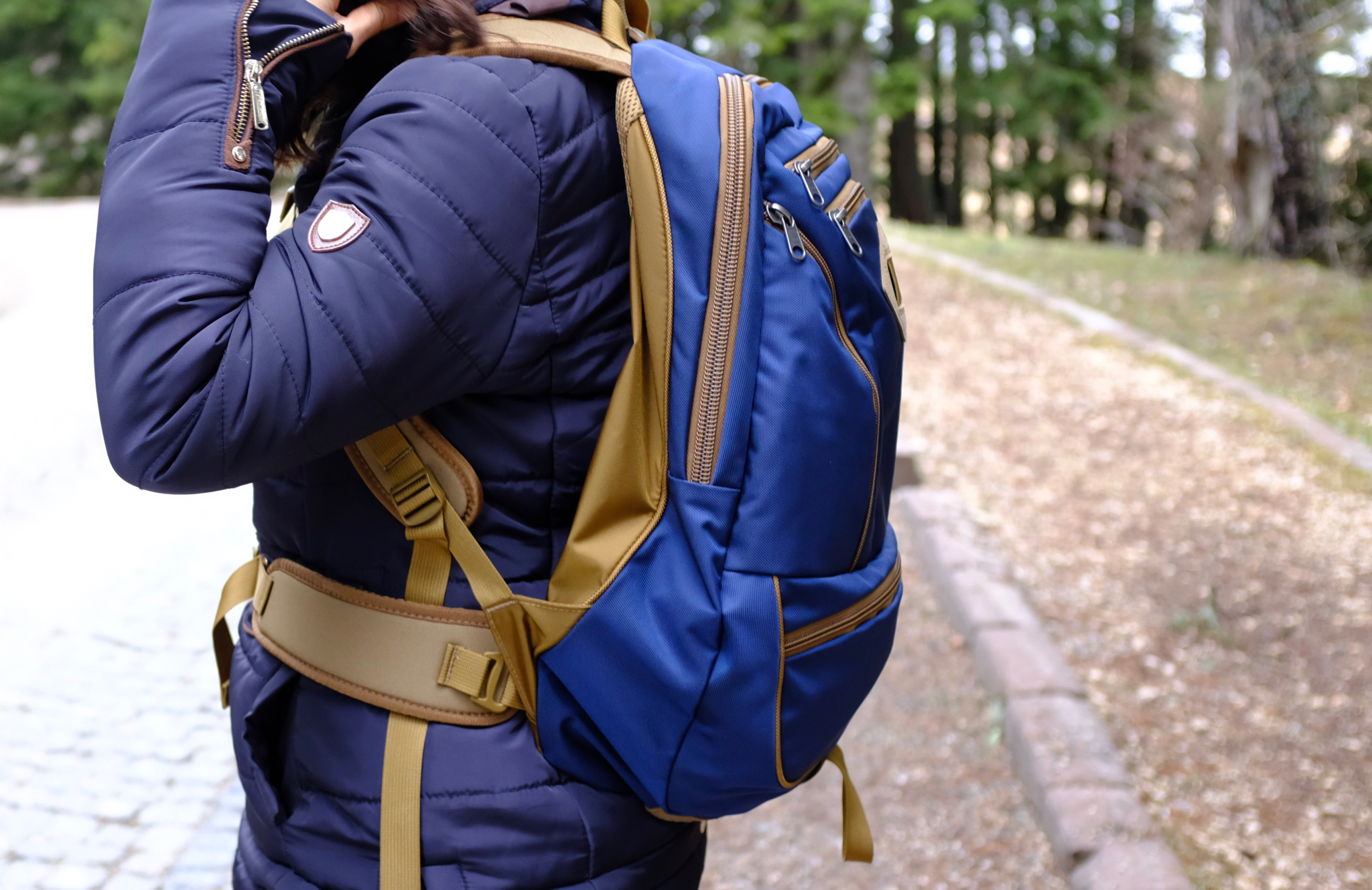 A hip belt is an important part of every hiker or anyone who carries a lot
of stuff. Because with a hip belt you're allowed to carry some of the weight
of the pack on your hips, rather than just your shoulders. This means that you can walk over long distances comfortably and with ease. Without one, you probably going to be exhausted and it'll be hard to walk over long distances.
But do you need one? I think it depends. Some argue that a hip belt is not required for small backpacks. For them the GE Synapse 25 is a small backpack because backpackers usually carry bags in sized between 35-75L (depending on the hike duration). Because of the amount of pack they carry, it's indeed required otherwise they would suffer a lot.
If you're like me, who only does day hikes through the mountains, use it for commuting or travel with a single bag from airports to train stations, I don't think you need it. However, if you are serious nomad who travels the world with just a single Synapse 25 (yes there are people like this) or hike over very long distances with a lot of weight, I think you should definitely get it. I can't stop saying it, but this is again the beauty of Tom Bihn accessories. You can buy the Guide's Edition without the hip belt and buy later if you think you need one. Think simple, act smart.
Shoulder straps and padding
The back panel is padded with 1/4", closed-cell foam. It has a combination
of mesh and smooth nylon which provides breathability and smooth carry.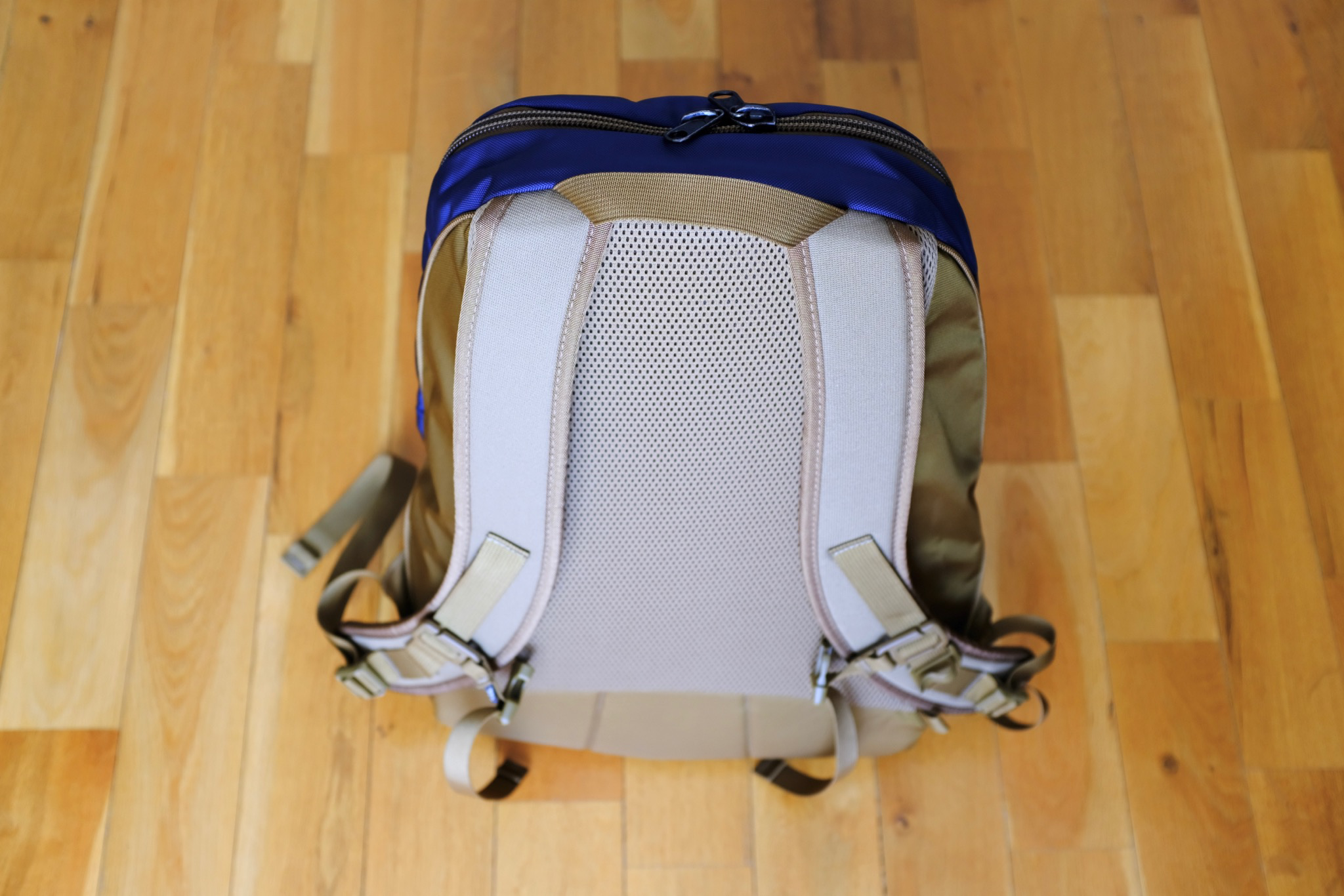 The shoulder straps are also padded with closed-cell foam (the same material used for the back panel). I can say that the shoulder straps are very comfortable to carry. They are by default not stiff and are lossier. Compared to straps of other backpacks (such as GoRuck GR1), it's much nicer in my opinion. The GoRuck, for example, requires you to wear it for months until it breaks in. Not so with the Synapse 25. It was comfortable starting the first day.
The Guide's Edition Synapse 25 also features adjustable and removable sternum strap. The sternum strap is always helpful and helps a lot to distribute the backpack weight. It's there if you need it. Don't like it? You can easily remove it from the straps.
Grab handle
One of the things that have changed is the top grab handle. In the current
line of Synapse 25 (classic version) it had double the amount of webbing and
stitched together. This would give you a more padded and comfortable carry
for over a long time.
In the Guide's Edition, this has changed to a simple webbing loop. I
prefer the old style and hope Tom Bihn rethinks their decision as I think
this is a step backward. However, maybe there is something I'm missing so let
me know if that is the case.
Woman fit
After our recent day hike with my wife, I thought I should also add some notes
for my woman followers. First of all this bag is really big. It's not small and
you can carry tons of stuff with it. If you have a small torso, be aware that
it might look big on your back. But this doesn't mean it's not comfortable to
carry.
My wife used it for several hours with no issues at all. She had two positive
notes: one is the internal frame and the other one is the padded hip
belt. Both of them made it very easy for her to carry it for long distances.
So if you struggle whether it looks good on you (because of the size) or
whether it can be carried comfortable (due the weight it carry), I can
definitely say it shouldn't be a problem for you as well. Of course, you need
to test it yourself.
Black (classic) design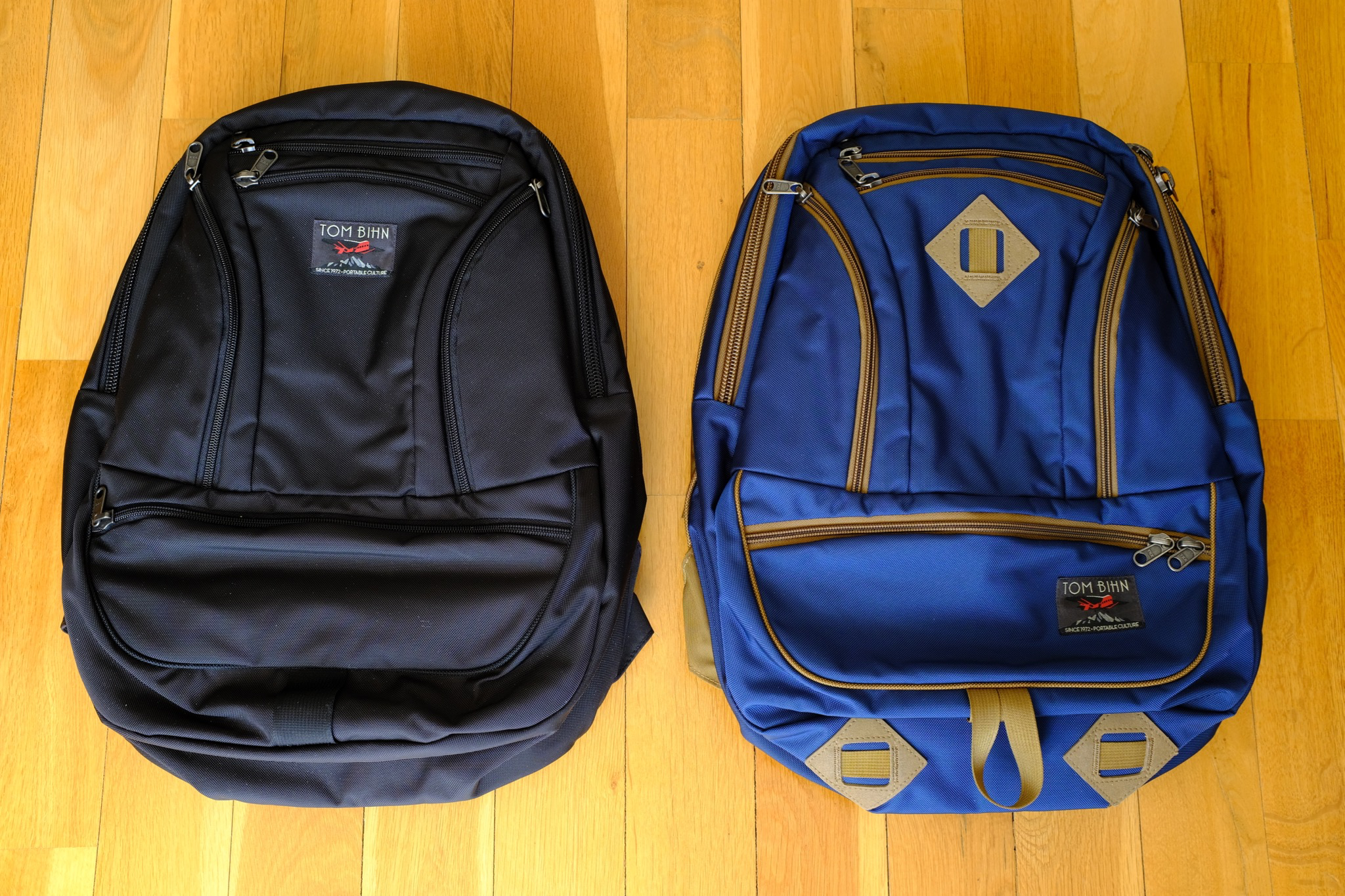 The Synapse's classic design color theme doesn't have the coyote brown trimming.  It also doesn't have the diamond strap holders. Besides that, both bags are exactly the same. I have the black color as well, but you can buy it in different colors as well. I think the black color fits very well in every situation, especially in business environments.
Black is a color that never gets old, therefore it's also the most popular option. My review and photos were all about the Guide's Edition limited version in Deep Blue color. However, as I said, function wise they both are identical. To summarize all differences again, the Guide's Edition has the following changes compared to the classic Synapse 25:
Coyote brown trimming and unique color matches (deep blue, mars red and black)
Removable, modular internal frame with pre-curved aluminum stay, the classicdoesn't come with it, but you can purchase it additionally
Accessory strap holder on the front and bottom, the classic don't have it
Two zippers on the bottom compartment on the bottom, the classic has one zipper
Top handle is now made out of a simple webbing loop instead of a padded version
Verdict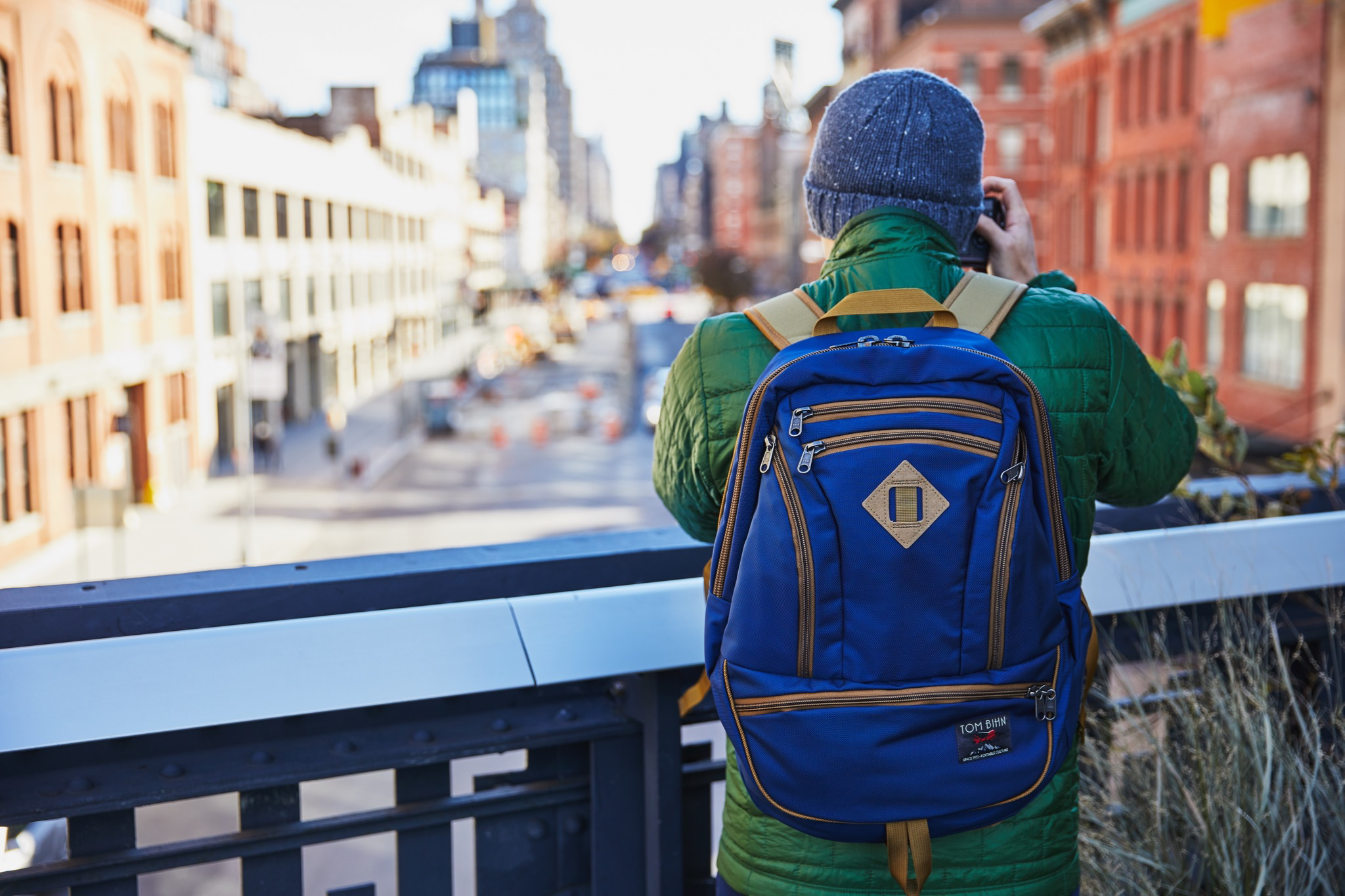 The Guide's Edition Synapse 25 is an excellent, well designed and functional backpack. Its unique design and custom theme makes it very useful for different environments. Add a Freudian slip and it's good for your work, attach your sleeping bag to the bottom and you're good to go for your one-night camping, add a couple of packing cubes and start traveling the world. It can adapt to everything.
The design and colors might be not for everyone, but you can always opt for a more discrete color, such as the black one if that is your thing. Personally, I like the coyote brown color of the bag.
Of course, not all bags are perfect! And that's a good thing. After using it for several weeks there were two minor things that I think I should mention again. First, the grab handle could be padded. But I don't care much, to be honest, I don't use it much as it's always on my back. Second, without the internal frame, it's not fun to carry it. The Guide's Edition Synapse 25 already comes with an internal frame, so you're covered. My advice would be to use the Synapse with the internal frame and never take it out.
One thing I need to mention is the size of the bag. For me it's perfect. It doesn't feel big if I don't overfill it looks very slim. It has a decent size and I can imagine traveling with it for several weeks. But it might be big for you. In that case, let me remind you that there is a smaller version of the Synapse in 19 liters version. However, the Guide's Edition only comes in 25L version. So if you want to get the great Guide's Pack color theme, you won't get it with the smaller size.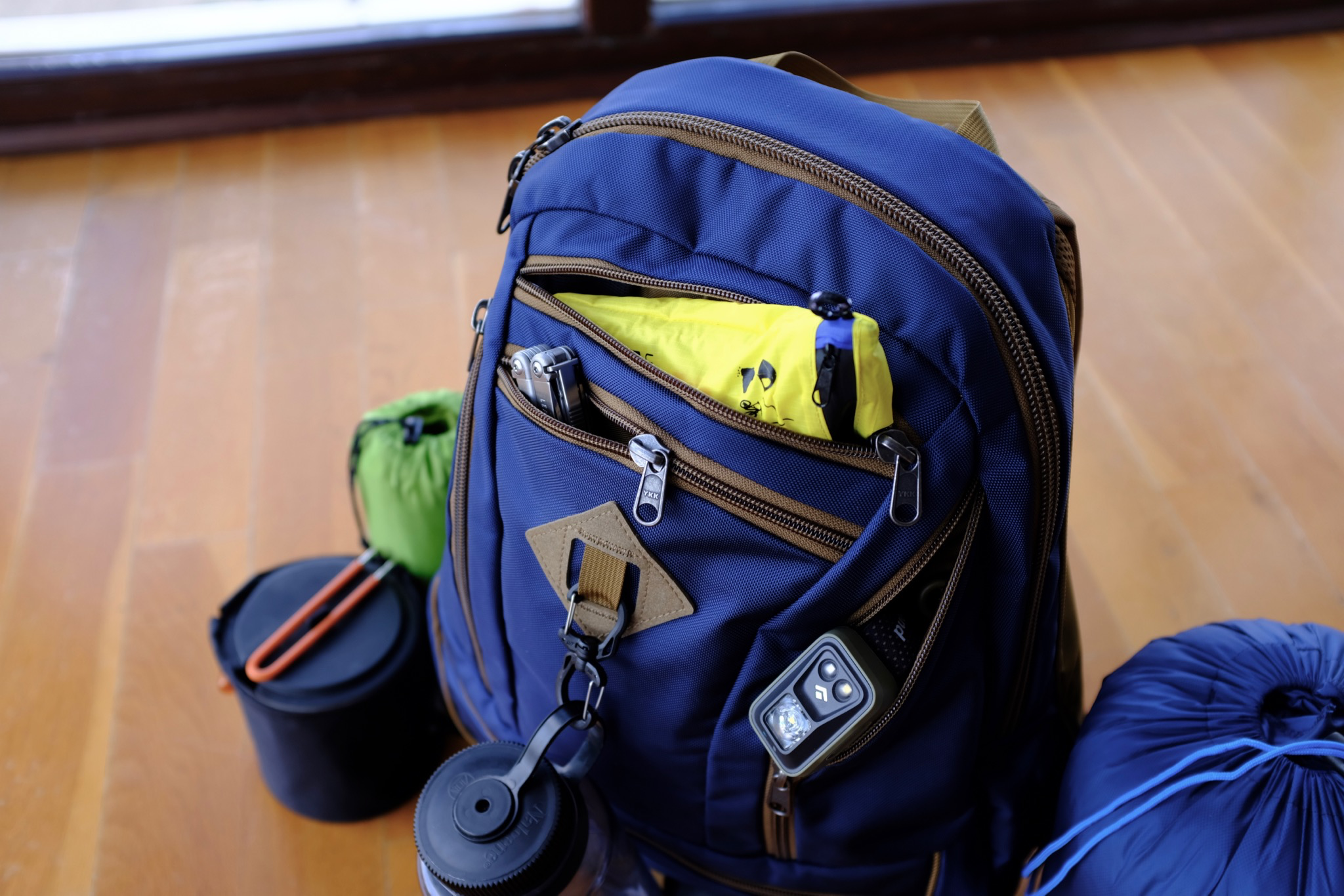 On the other hand, the bag is excellent in many points. The highly modular approach of Tom Bihn with all its accessories is a welcome addition and gives the bag the ability to adapt to any environment. Whether it is your daily commute or your hikes to the mountains doesn't matter. Its multiple compartments front pockets make it a very useful to organize all your items and get easy access to take things in an out. The internal frame, combined with the padded hip belts transforms it to an excellent hike bag.
Of course, I can't say enough of Tom Bihn's top notch quality material's. This bag will last for decades, if not a lifetime. It's very well made and you can immediately feel it once you start carrying it. The attention to detail is unparalleled.
Finally, I want to thank Cihangir Savaş and Nan Zhong for their much valuable feedback and suggestions.