Tom Bihn Aeronaut 30 Review
A 30L carry-on bag can be carried in three drastic ways (backpack, shoulder, and suitcase) and is made to last forever. The Aeronaut 30. How does it feel to use one?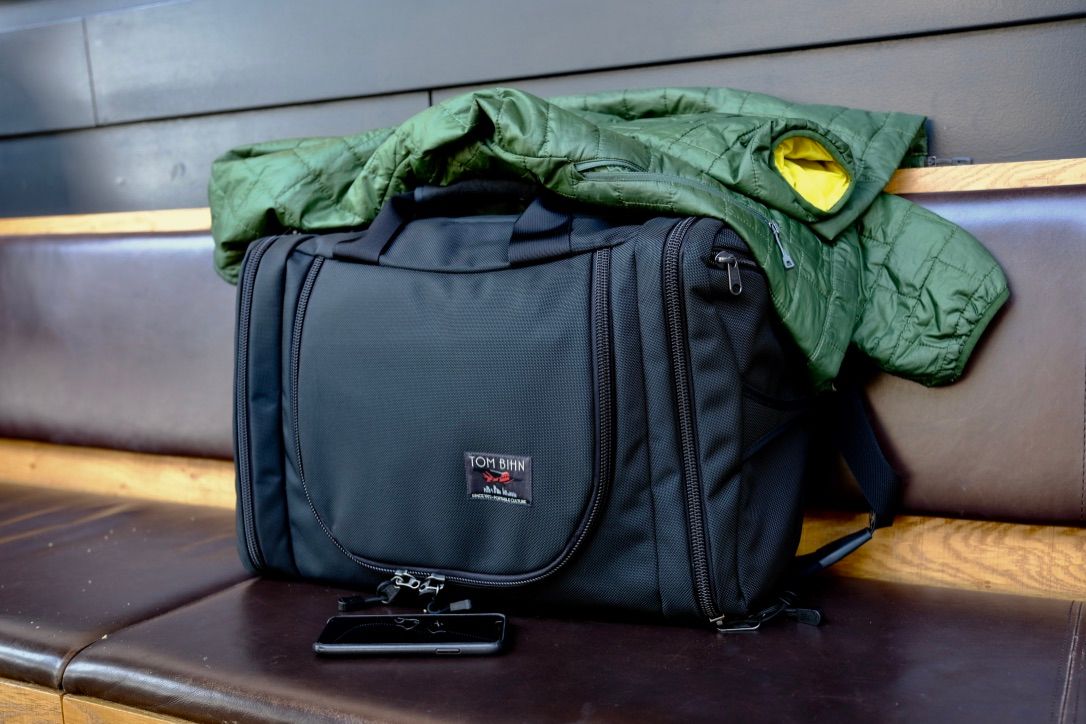 Let me introduce one of the most iconic one-bagging bags out there: The Tom Bihn Aeronaut 30 carry-on travel bag.
Since I started using various kinds of Tom Bihn Bags, I always was interested in up the Aeronaut 30. The number one reason: it's designed for traveling the world with three drastic different ways to carry.
The Aeronaut 30 is the fraternal twin of the Tom Bihn TriStar bag. They are very different in usage and looks, but they share the same values and makes you feel like you're talking to the same family. Both aim to give you the flexibility to carry your goods in an optimized way, but they each have their own ways of doing it.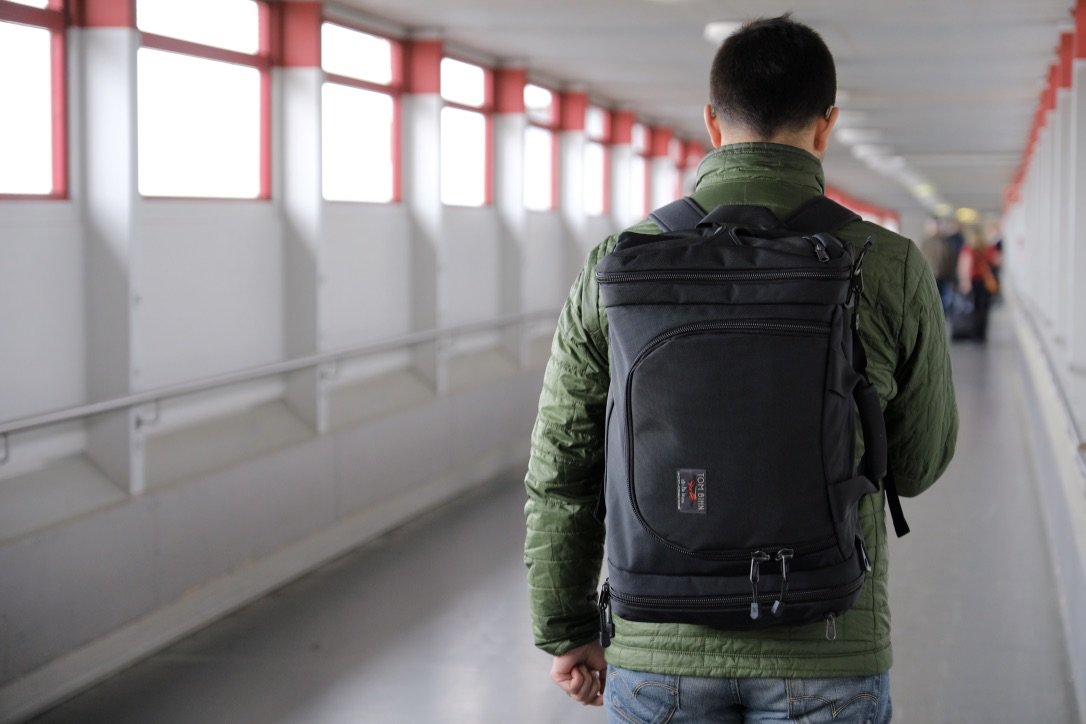 Tom Bihn was kind enough to send me a Aeronaut 30 in Black color. I used the Aeronaut now on several occasions, for several small weekend travel in Turkey (Bodrum, Istanbul, etc..) and a five day trip to Germany (Berlin). Each time I started to like it more and more, appreciated the good things, understood why people are obsessed with it, but also learned why it's not the perfect bag for everyone.
For people who don't know, Tom Bihn Tom Bihn is a popular, Seattle-based company that produces very high quality, functional, hand-made and design-oriented bags. The Aeronaut 30 (also called as A30  amongst Tom Bihn users), weighs around ** 1070 grams** (Halcyon)  or 1300 (Ballistic Nylon).  Add another 245 grams if you use the internal frame (can be purchased additionally).
It has ~30L capacity (hence the name Aeronaut 30), and has one big main compartment and two end compartments. It costs $285.
Note: The Aeronaut 30 also has a larger sibling called the Aeronaut 45. Throughout this blog post I'll be using Aeronaut interchangable for Aeronaut 30.
Look
The Aeronaut 30 can be carried in various different ways, hence the look changes based on how you carry it:
With a shoulder strap attached, it can be used as a shoulder or cross-body bag
With the padded handle on the side, it can be carried like a suitcase or duffel
With the zip-away backpack straps, it can be carried as a backpack
There is an Aeronaut for every type of person. It meshes all these three styles and creates something that can be appreciated in a lot of use cases.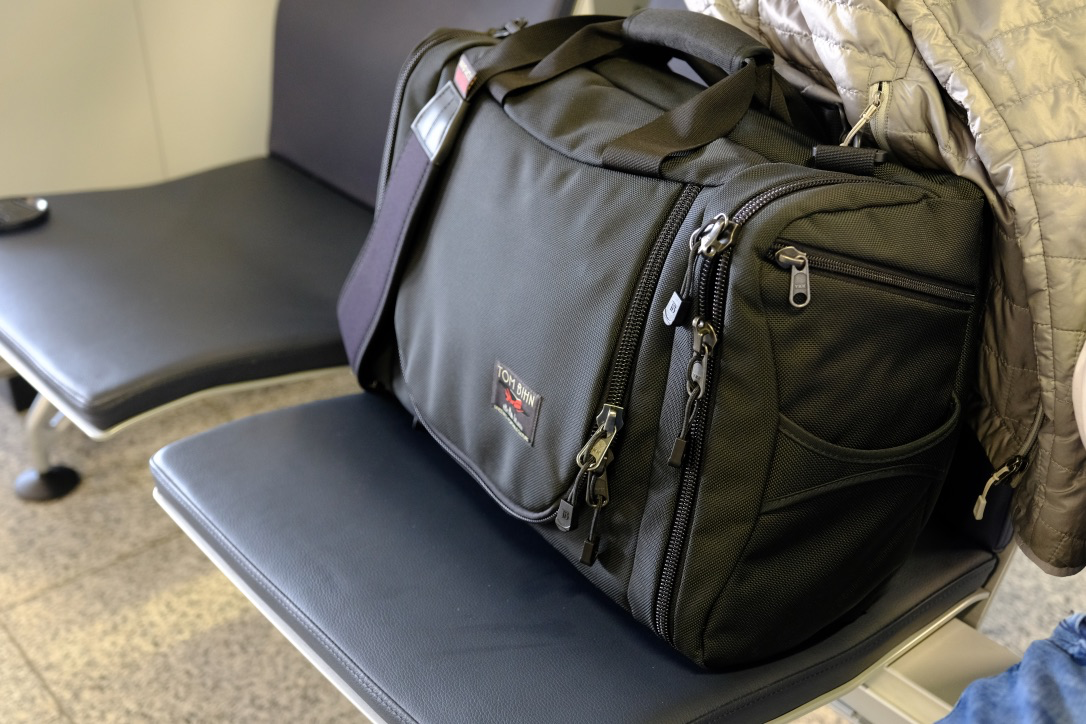 The design of the Aeronaut 30 looks like a duffel or a suitcase, depending on how you look at it, but it definitely doesn't feel like one. It can stand on its own, but if you observe carefully, you'll see that the handle is not on top of the bag, instead, it's on the side.  With the padded handle, it looks like a suitcase, but unlike a suitcase there are no horizontal compartments (like in a TriStar).
---
The Aeronaut 30 comes with many different color and material combinations. As with most Tom Bihn Bags, the exterior and the interior materials/colors define the color theme of the bag.  Colors make it very easy to find things inside your bag. Make it black and it'll make you feel like you're left in the dark without a flashlight. It's not pleasant. However vibrant colors change the night to a day.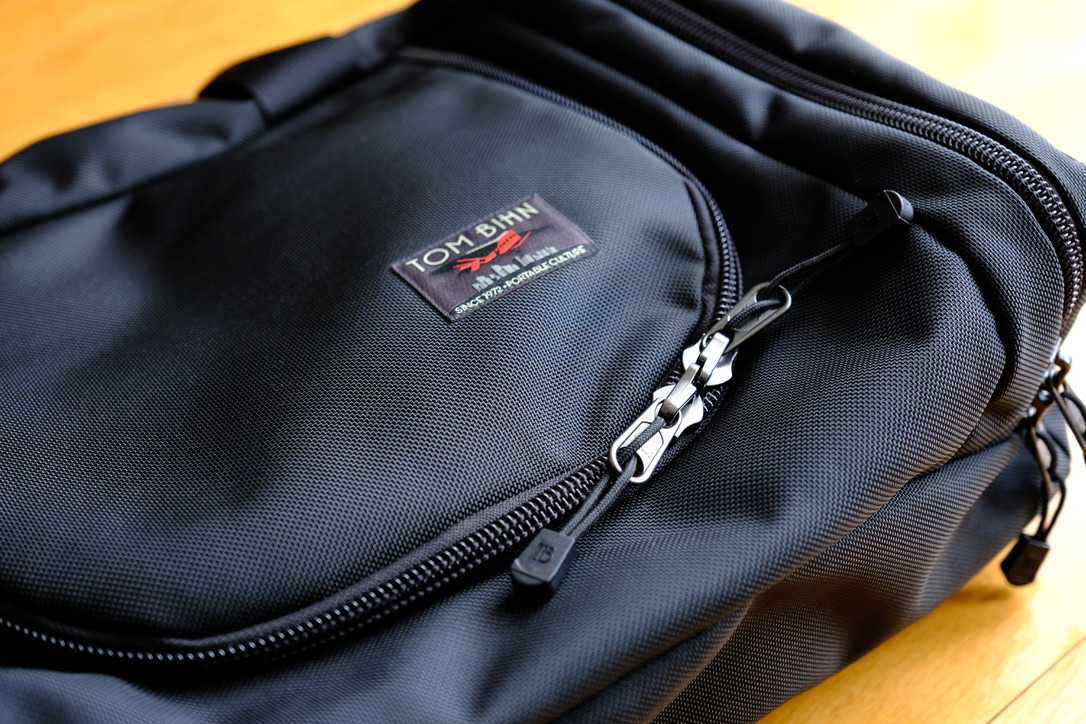 I have the black Aeronaut 30 (in 1050d high tenacity ballistic nylon) with the shiny Island (Blue) color (which uses the lightweight material Halcyon 200 Denier). You could also opt-in to use the more lightweight Halcyon 400 denier for the exterior Material. It's 230gram lighter compared to the Ballistic Nylon version.
Which one to choose? That's a very tough question and to be honest depends a lot on the personality of the person using the bag. However, Tom Bihn has an excellent page that deeply goes into the usage of the materials.  I always choose the heavier, 1050d Ballistic Nylon version as it's tougher (originally designed for bullet-proof vests) and holds its shape better.
Here is how it looks like in it's empty form, with no packing cubes, clothing, items, etc.. in it: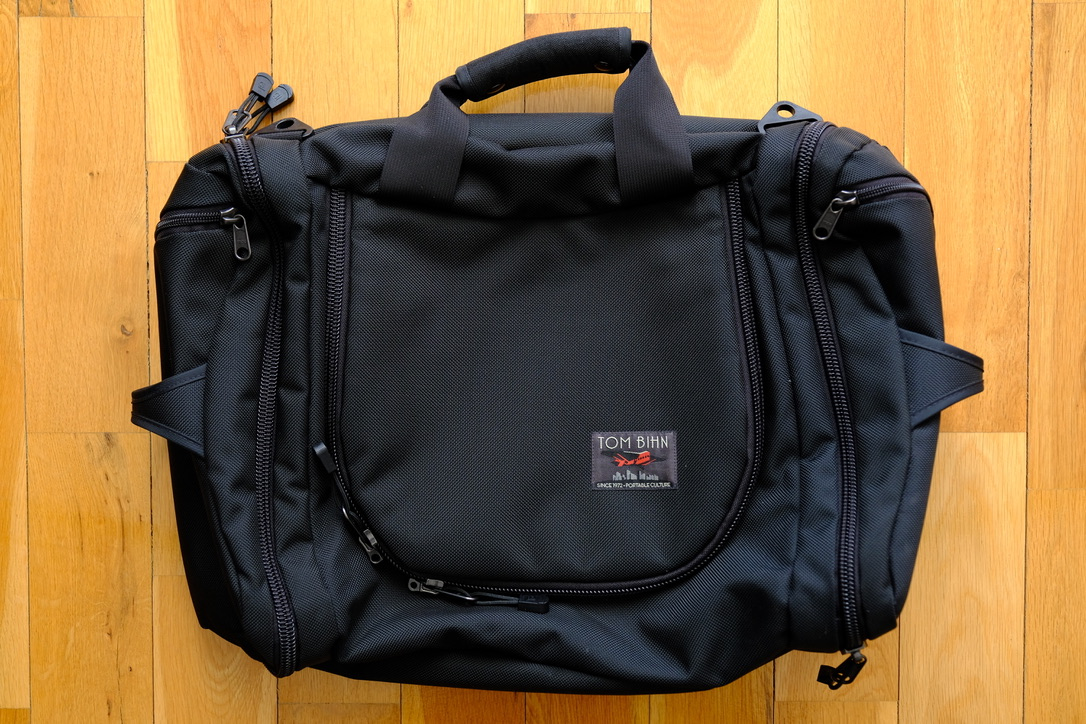 And here you can see how it looks like when it's fully packaged (no worries, I'll explain more on how and what to pack in later sections).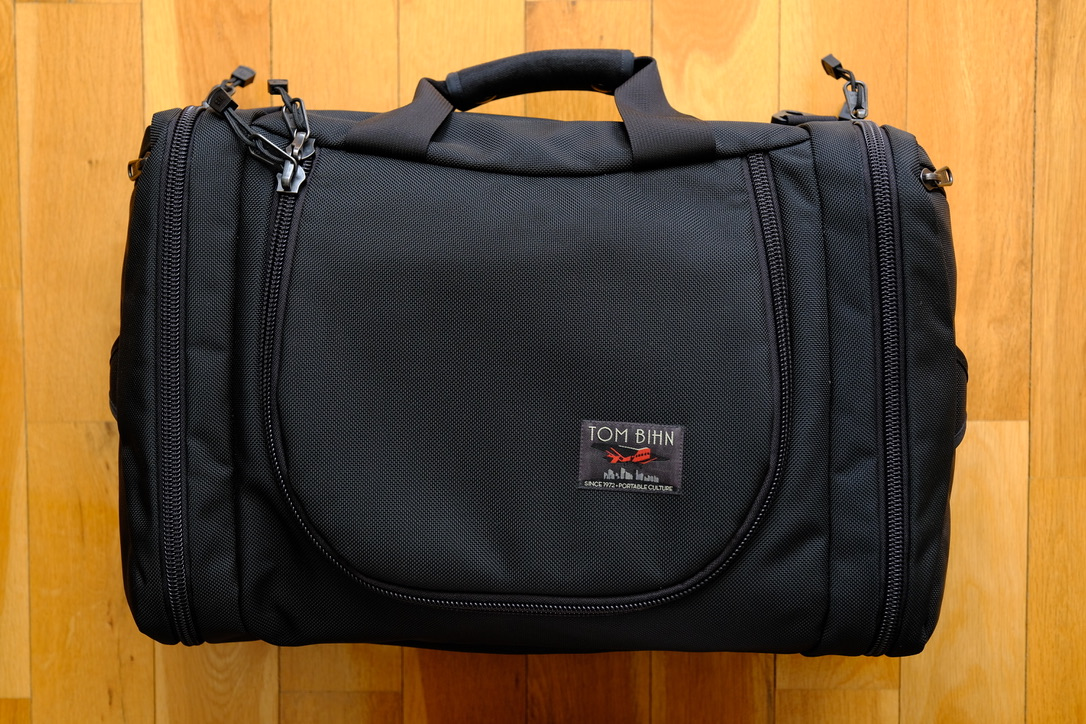 All outside zippers are YKK Aquaguard water-repellent zippers. Some of them are big (such as the main compartment) and small (such as the divider zipper).
As with some of the other Travel bags, the Aeronaut 30 zippers have lockable sliders. What it means is that you can lock you main compartment with a single TSA lock if needed. This comes very handy, in case you need to lock and keep your bag for an unattended period of time (which happened to me a lot during travel).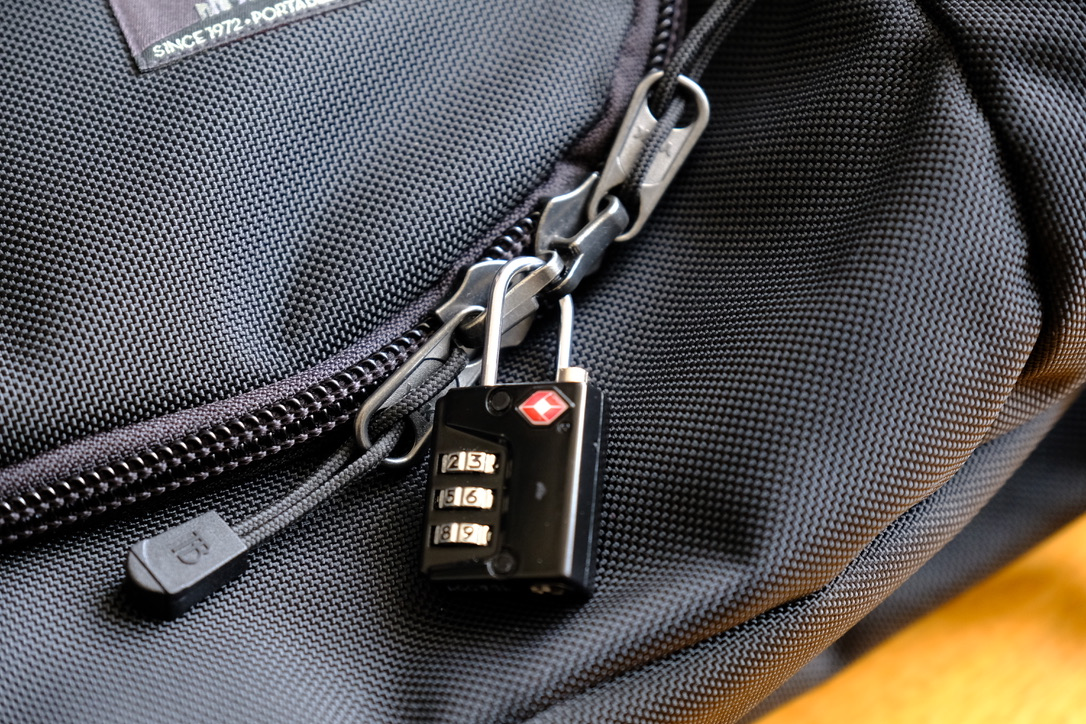 However, always keep in mind that any of these small locks can be easily unlocked by any professional thieves.  It's not meant to keep them in an unbreakable stash, instead locks like this, are used to postpone the action and make it harder to the thief, just to give you some leeway.
Usage
Using Aeronaut is very fun and comfortable. The fun part is that it's easy to use. With its big compartments, little small features, simple and basic layout it doesn't put pressure on you. Whereever you are, it's always a joy to use.
Compartments
There is a single main compartment and two side compartments. The side compartments are big enough to put a pair of shoes. These compartments are the places you would put all the little things you want to reach easily.  Such as your travel camera, headphones, emergency kit, chargers & cables, toiletry kit, etc..
The main compartment, compared to traditional duffels, is accessed through a curved zipper, which is not under the carry handle. It is used to place your main items, especially clothes. It's wide enough to accommodate a 13" inch MacBook (more on this later).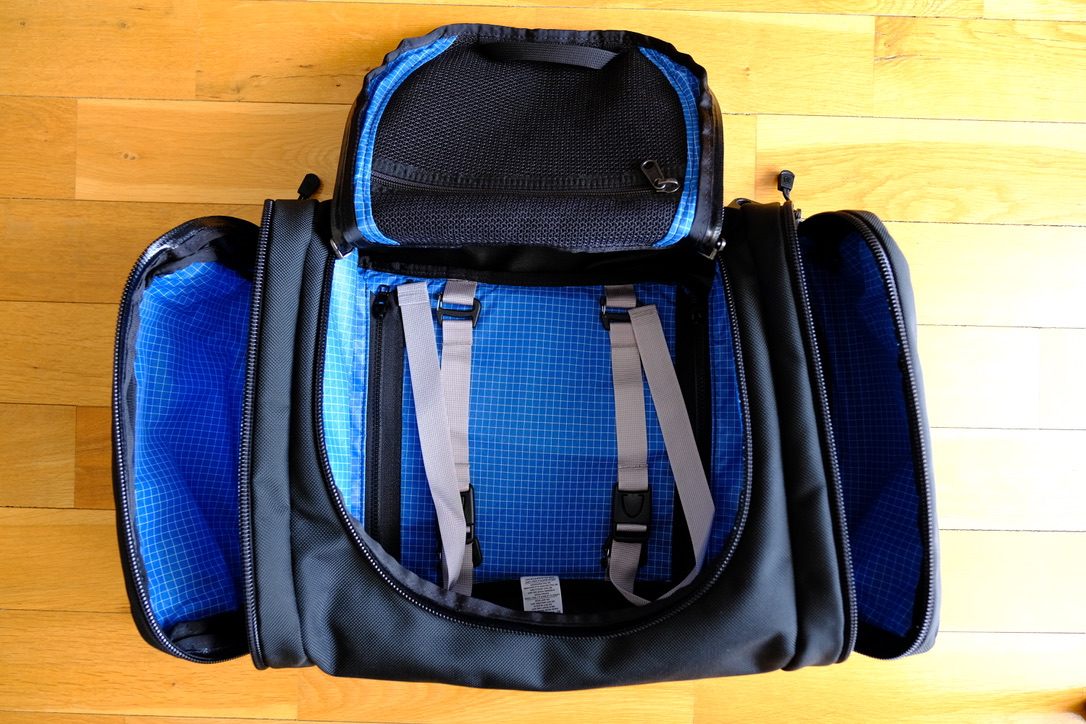 What's genius is that it can be expanded even more if you have a large and wide item. You just unzip the panel dividing the end compartment from the main compartment. As with all Tom Bihn bags, it's there if needed.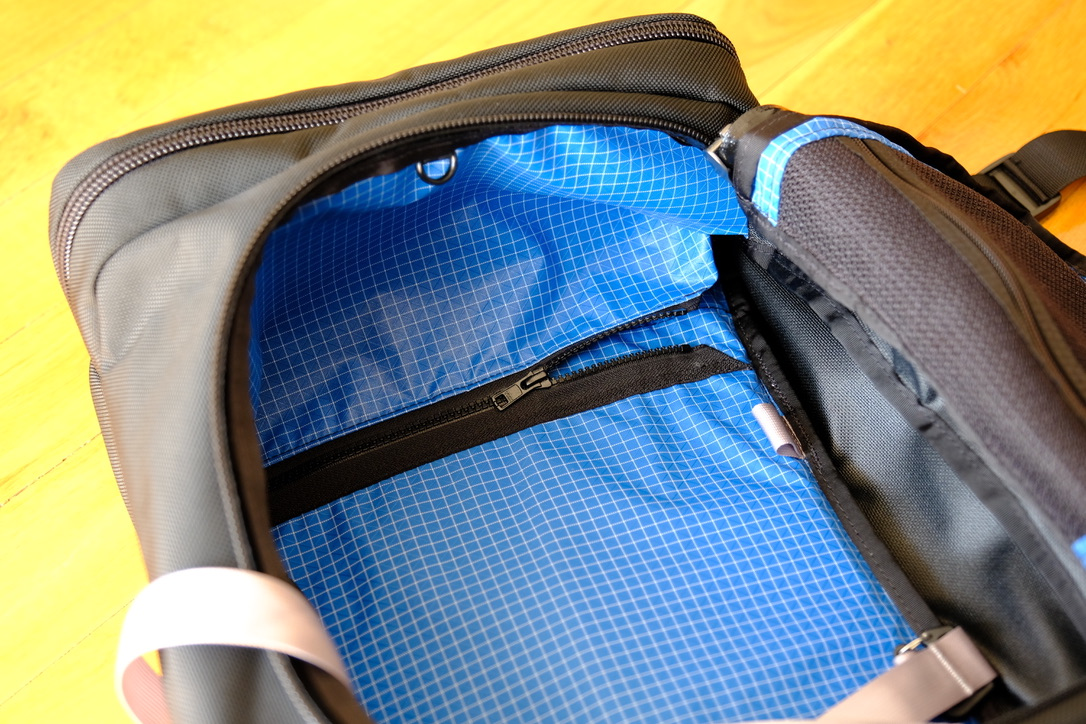 Just like the TriStar, it also comes with a pair of tie-down straps inside the main compartment. These can be used to secure folded clothing. The best way is to use packing cubes, but if you don't need them the straps come in handy. As usual, these straps are attached with a Gatekeeper loop, so if you don't need them you can remove them.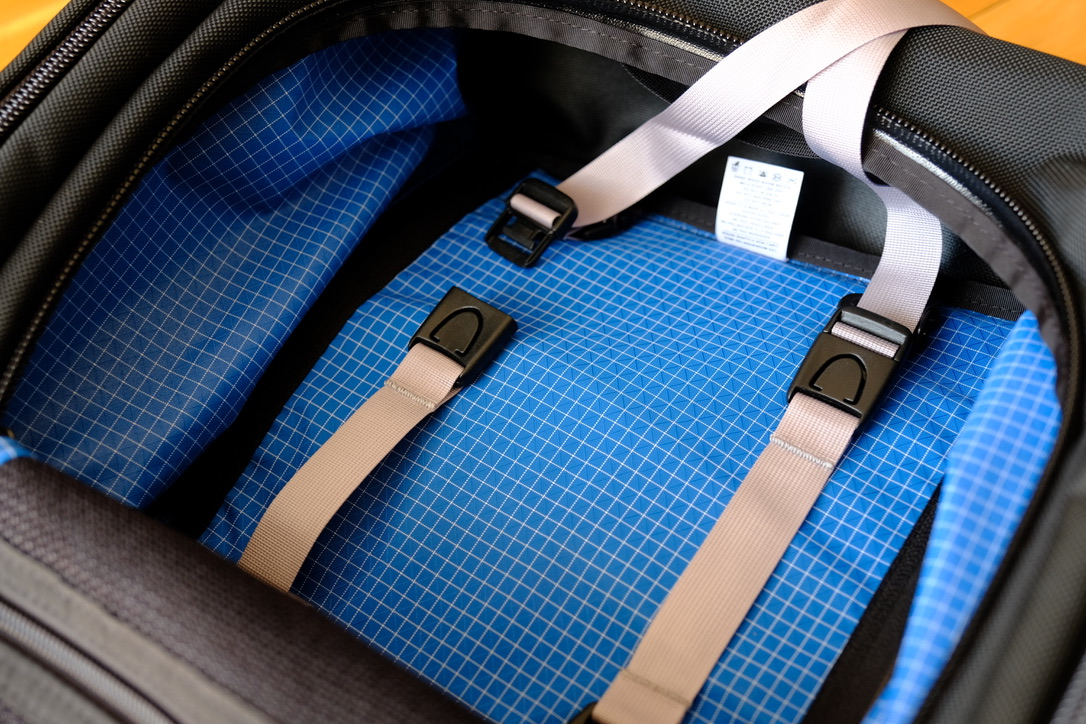 Beside the big compartments, there are also small ones. One of them is represented to you just after opening the main compartment. The opening has a zippered mesh pocket for small items.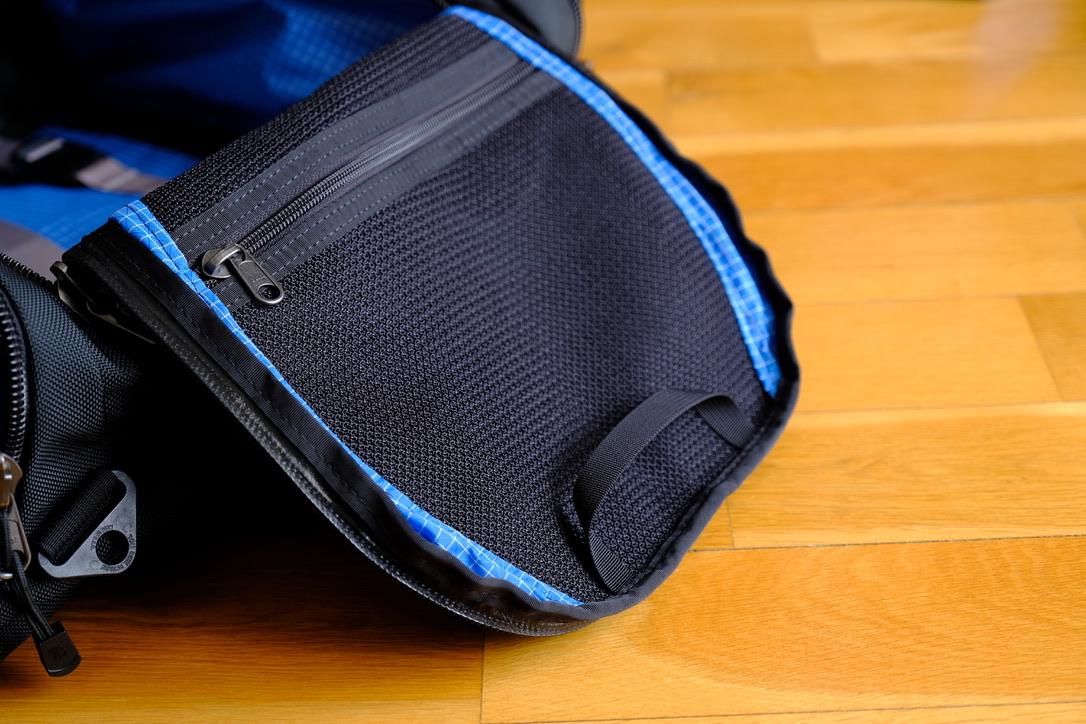 This section is very useful for things that you want to access later but don't want to put in the big compartments to avoid later spending more time on finding these items.
Finally, there are two small pockets outside on each side compartment. I use these for things that I need access to quickly. Such as passport, boarding pass, a small notebook, pen, etc..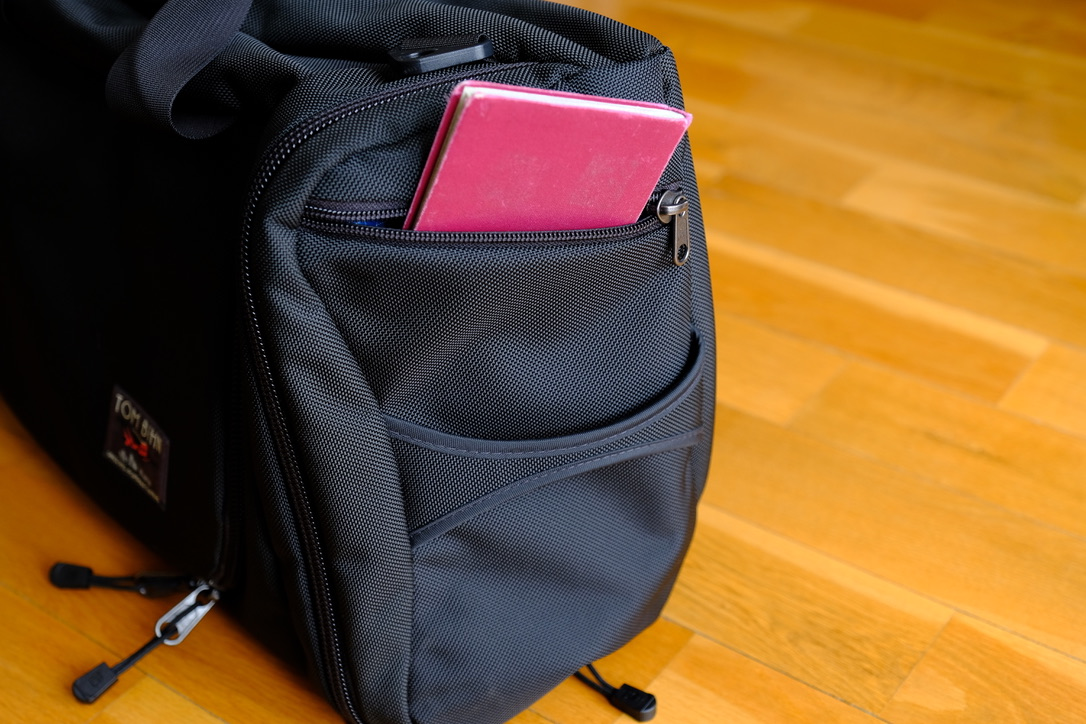 Anything that is small and you might need immediately goes here. It won't hold very bulky items, but it's deep enough to hold any long and slim items.
Aeronaut Packing cubes
Traveling one bag is great as you don't have to lug with you several bags. However, this also means you need to be able to pack your holdings efficiently to make the most out of the space in the bag. Packing cubes allow you to put your clothes in an organized and tidy way.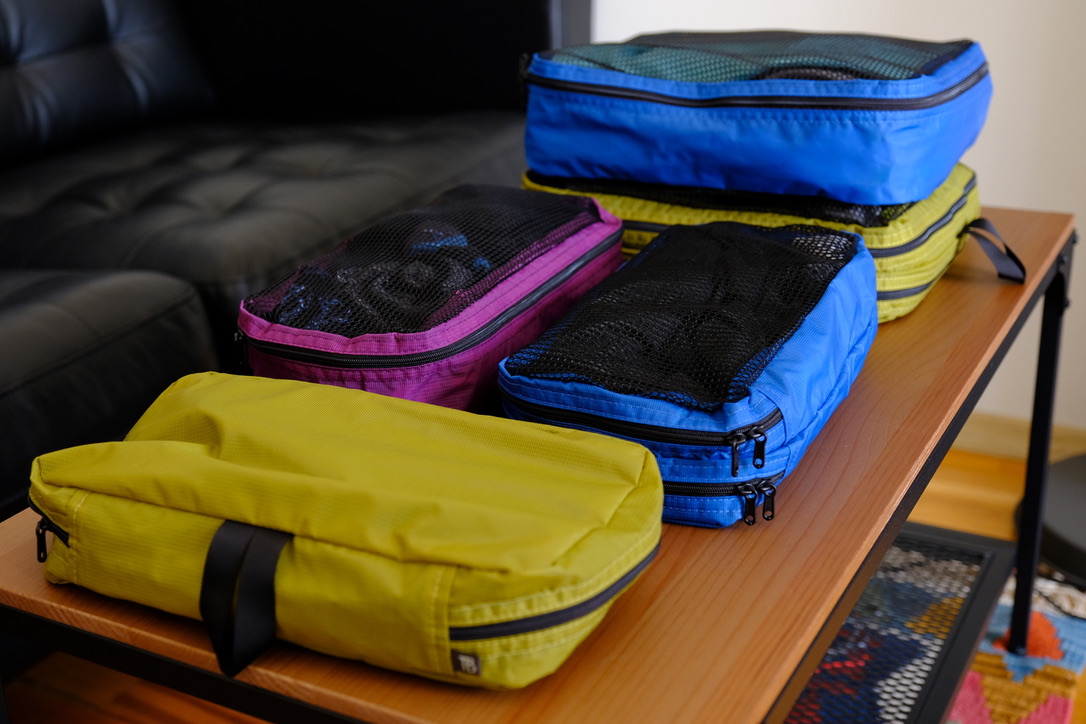 The Aeronaut 30 has a set of new packing cubes that are made from Aether. Some of them also have transparent mesh, which let you see your content quickly and let the air flow out so it can be compressed better.
There are three different kinds of the packing cubes made for the Aeronaut 30:
End Pocket: This is 3.5L large and is meant to be put inside the end compartments. You would need two of them if you want to use it for the two end compartments. It's all made from Aether and is designed to keep stuff away from your other items, such as sandals or shoes.
Small: This is 5L large and is made out of Aether and Mesh. They come in two versions, one is the basic model with one compartment, the second one is the laundry model that has two compartments. The laundry model uses the meshed side for clean clothes and the all aether side for dirty clothes. You can put four small packing cubes (doesn't matter which model) in the main compartment. You can also put them into the end compartment of the Aeronaut 30. However, note that if the packing cubes are fully packed, they might steal some space from the main compartment because they are bigger than the End Pocket Packing Cubes.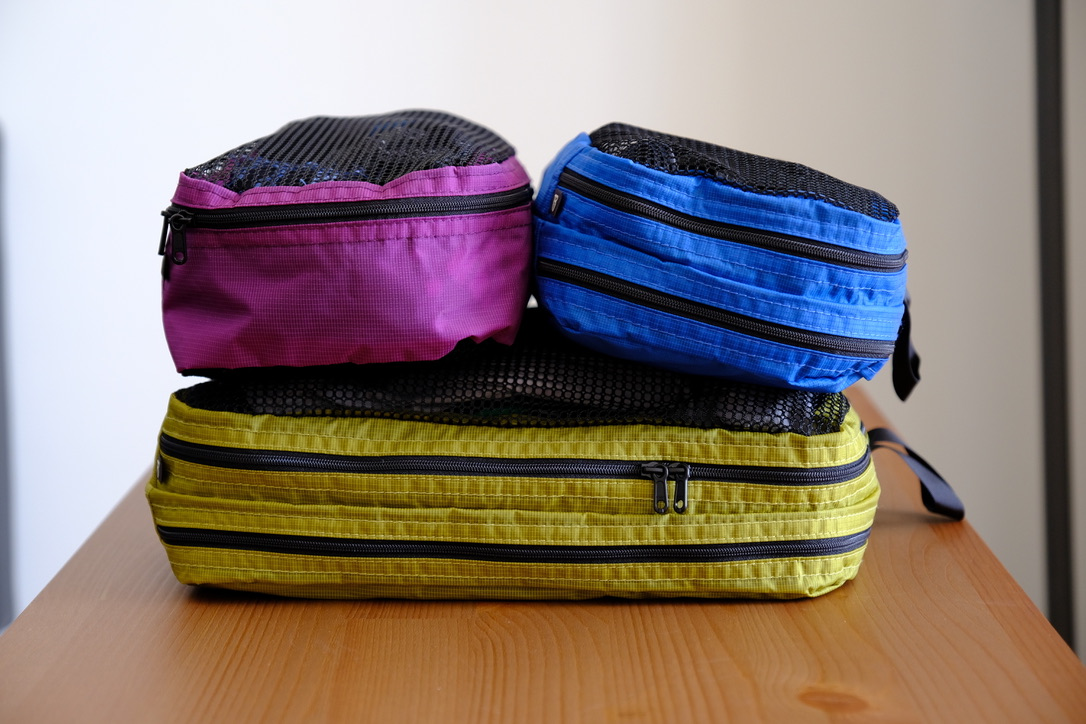 Here is an example of the Small Laundry Packing Cube. As you see it has two compartments, one for clean and the other one for dirty clothes.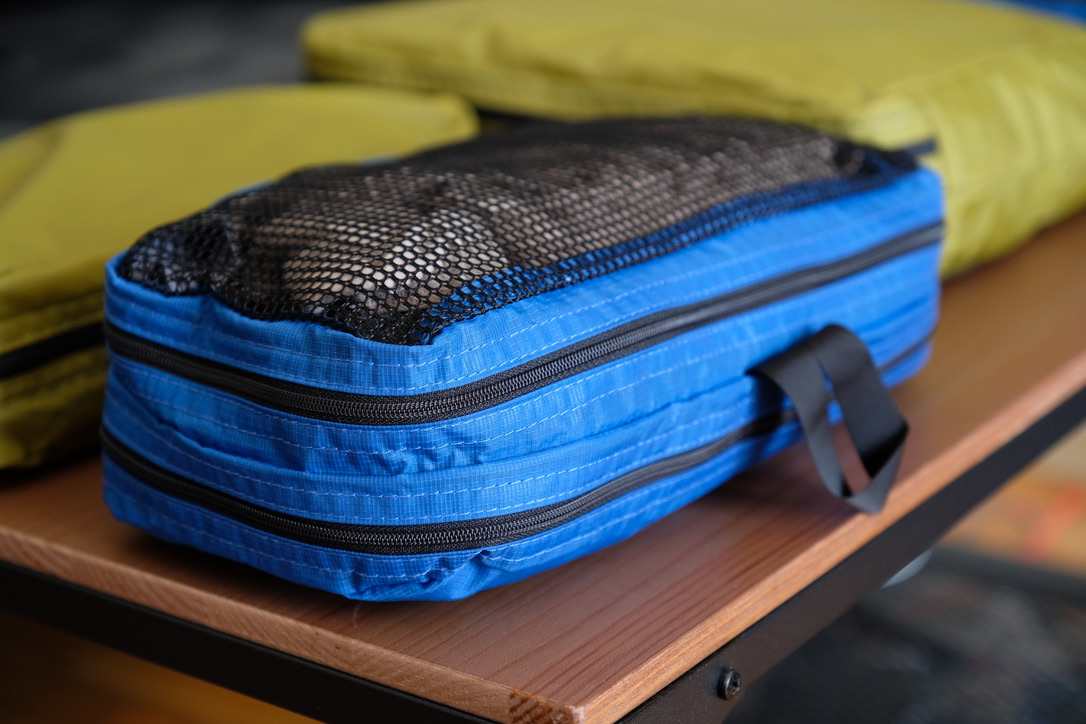 Below you can see how Small Packing Cubes can be fit into the main compartment: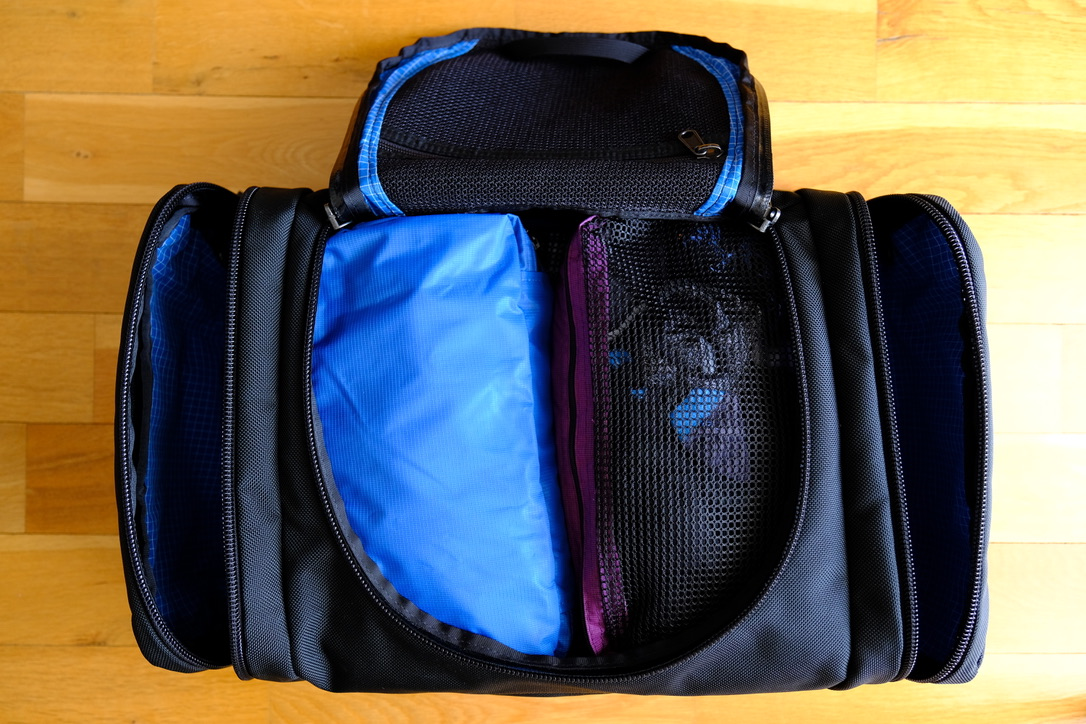 And below you can see how the Large Packing Cube is put into the main compartment and two Small Packing cubes are put inside the end compartments. Because the Small Packing cubes are not fully packed, they can be squeezed into the end compartments. However, as I said, this is not always the case.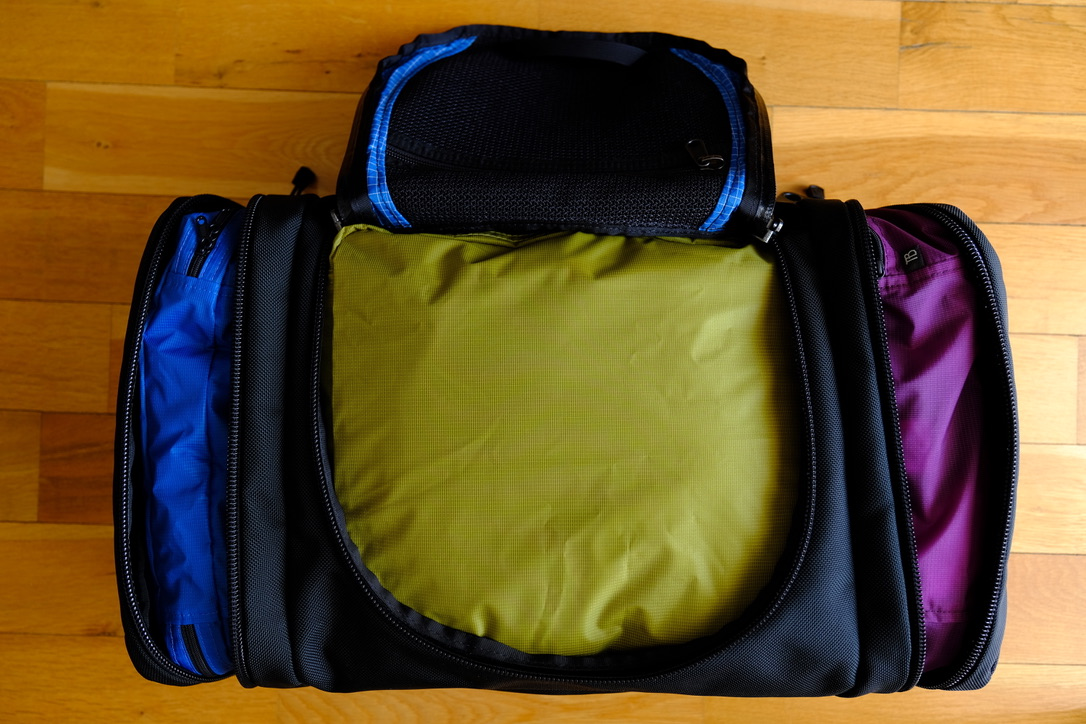 So which combination of Packing cubes are useful for you? Here are some of the combinations you could use yourself:
Full kit: This would mean using two Small Packing cubes, one Large Packing Cube and two End Pocket Packing Cube (in total five packing cubes). This would provide you with the most flexible setup as you have the ability to use the end pocket, small and large packing cubes.
All Small: This kit only contains Small Packing cubes, four of them (two basic and two laundry). You could put all of them into the main compartment and have the end pocket compartments for yourself. Or you could put two of the Small Packing cubes into main compartment and two other to the end compartments, which would give you some free space from the large main compartment
The Minimal: An End Pocket packing cube combined with a Small Packing Cube (laundry preferable). You could use the End Pocket Cube for your shoes and the Small Packing Cube for your t-shirts and co. Anything else would go into the main compartments. Use the tie-down straps inside the main compartments for shirts and other items of clothings.
Having said that, you don't need Packing cubes at all with the Aeronaut! That's the beauty of it, however, they can be a great addition for those who appreciate the additional organization and compartmentalization that they provide.
More accessories
As with other Tom Bihn Bags, there are many accessories you can get to make it easier to organize your stuff during your trip with the Aeronaut. Below, I laid  out some of the accessories that I used for one of my trips: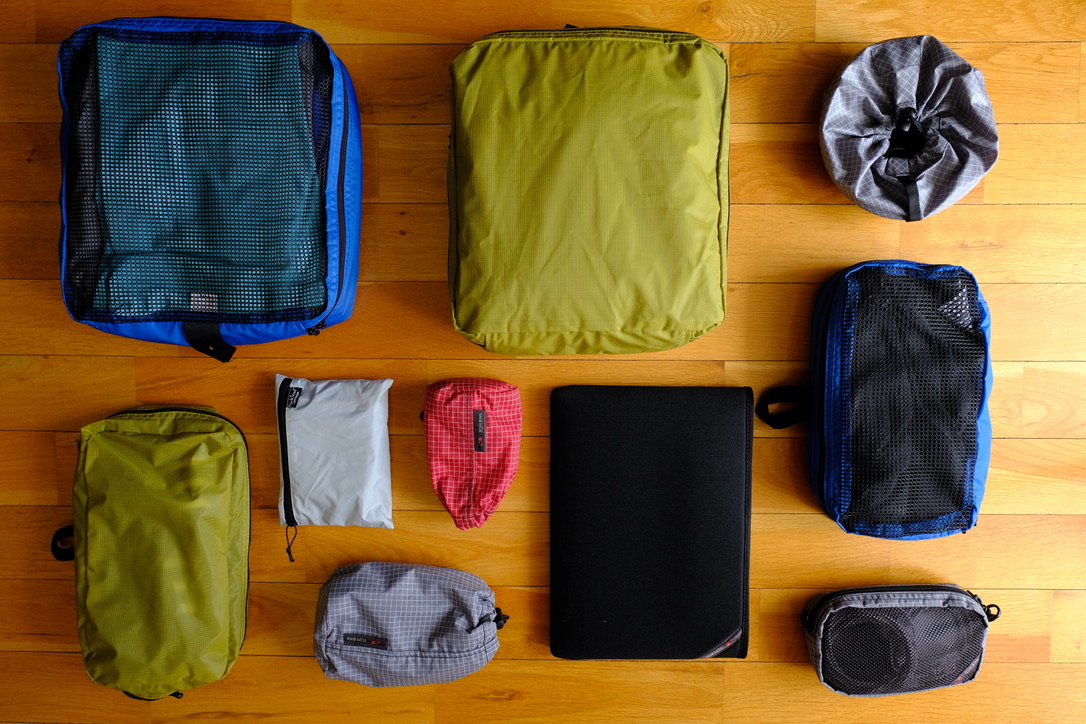 I have a Large Packing Cube in Wasabi that I use for my main shirts and clothes.
I have a Large Laundry Packing Cube in Island that is used for another set of clothes.
The Large Northwest Sky Travel Tray  is one of my favorites. During my travel, it holds my iPhone and Apple Watch chargers, Batteries for my Camera and various other small things.
The End Pocket Packing Cube in Wasabi holds the sandals that I use at my destination.
The Travel Stuff Sack (Northwest Skye, Size 2) holds my headphone, Bose QC35. The Bose has its own case, but it's bulky. The Travel Stuff sack is more modular. I can use it for my headphones, if needed I can use it for something else
I carry a Pocket Towel with me always in case I need it. Comes very handy.
Next to the Pocket Towel is a Travel Stuff Sack (Iberian, Size 1). It holds various kinds of medicines: such as Aspirin, antibiotic ointment, small lotions, bandaids etc..  This is the only color (red) that is outstanding. Why? Because in case of emergency or anything alike, I can grab it immediately.
The Aeronaut 30 is not perfect for putting your laptop (more on this in next section). To carry my laptop I use the Tom Bihn Laptop case, called Cache. The one pictured is the old version, the newer versions are much better as they can be used in both vertical and horizontal direction. They also use zippers, which is more secure than the flap in the old versions.
The Small Laundry Packing Cube in Island color that holds my underwear and socks.
The 3D organizer cube (Mesh, Northwest Sky Halycon) is used for various kinds of chargers and cables with me. This is very handy, as they are all in one place. One of the great things about this organizer is that it has an internal hook that I use mainly in airplanes to hook it to the seat in front of me. This allows me to easily access additional items I might need during my flight, such as hearing aids, glasses, etc..
I forgot to add my toiletries in the above picture, but I have a **TSA 3-1-1 **liquid bag, which is attached to an internal O-ring. This allows me to show it in case the officer asks for it.
Here is how it looks like fully packed with all accessories: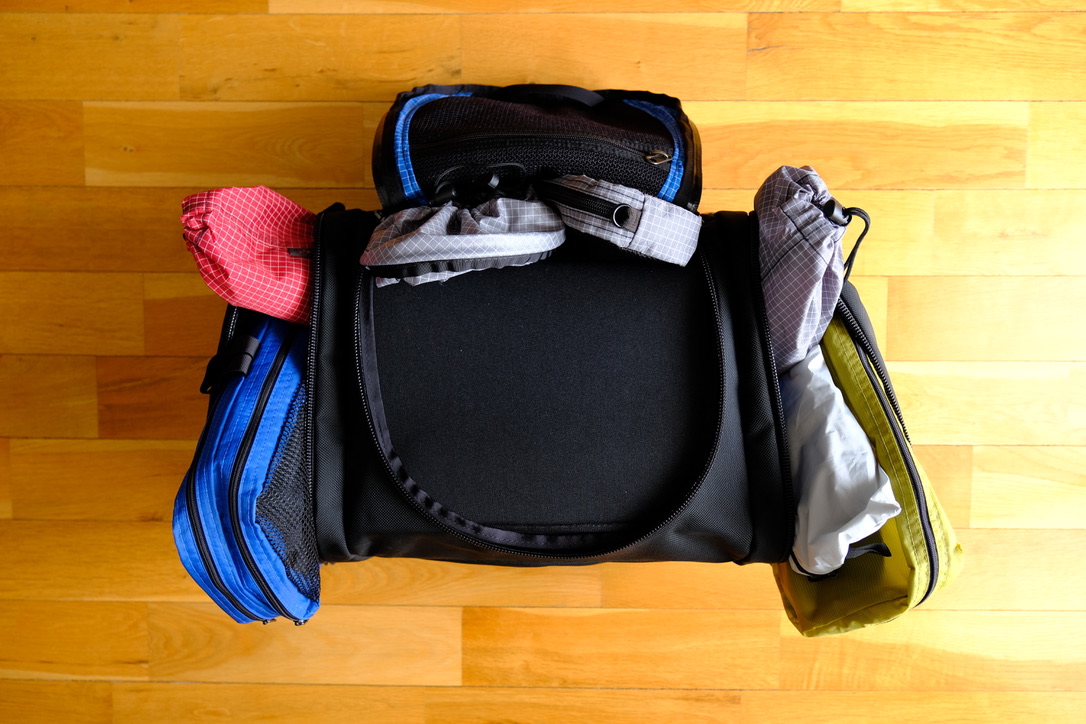 Carrying a Laptop?
Nowadays every business related profession has the need for a Laptop. Most of my travels are business related and Laptop is required almost every single time. One of the disadvantages of the Aeronaut 30 is the lack of a dedicated laptop compartment. The Aeronaut, unfortunately, is not intended to carry a laptop. This is even stated by Tom Bihn itself.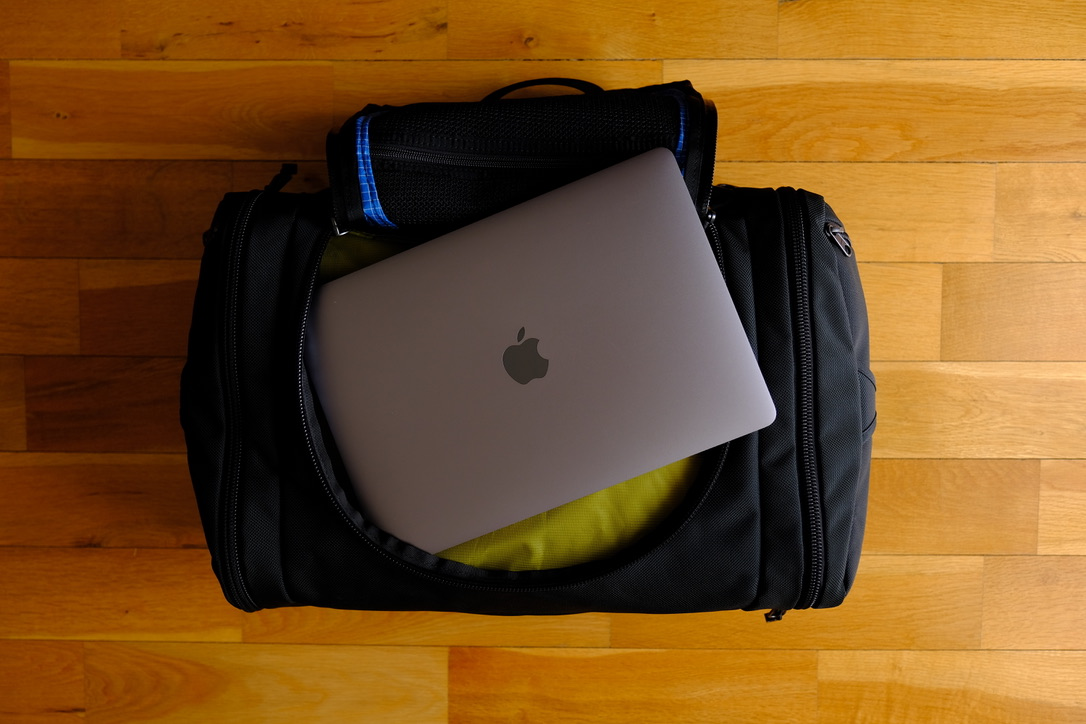 However, you can still put a 13" laptop on top of the main compartment. It's doable and that's the only way to carry a laptop. It's a snug fit, but it's possible if you intend to carry it.  This is my biggest gripe with this otherwise excellent bag. I know that there is no single bag that does everything perfectly, at least there is a way to carry a laptop if needed.
Daylight Briefcase inside A30
Suppose you decided to carry your laptop with the Aeronaut 30. Now the next question would be if it's possible to carry a second day-bag or something that could carry your laptop? Tom Bihn has several lightweight bags that you can always bring with you, however, those can be put inside the Aeronaut 30!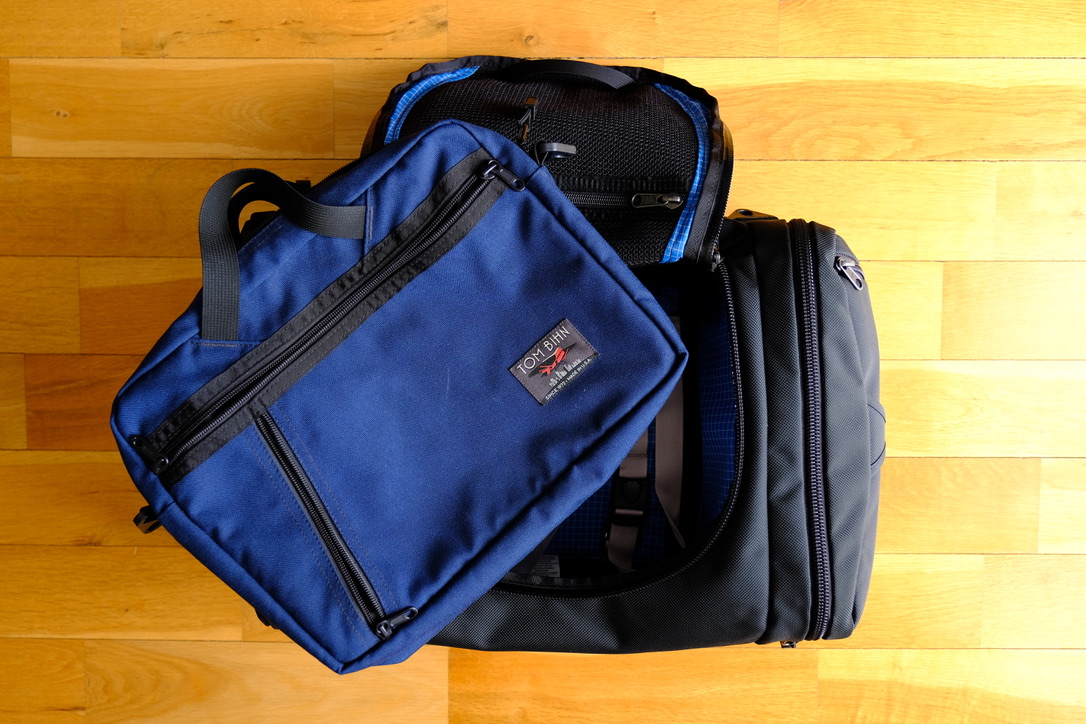 The Daylight Briefcase is one of these bags. See my blog post if you're interested in an extensive detailed review.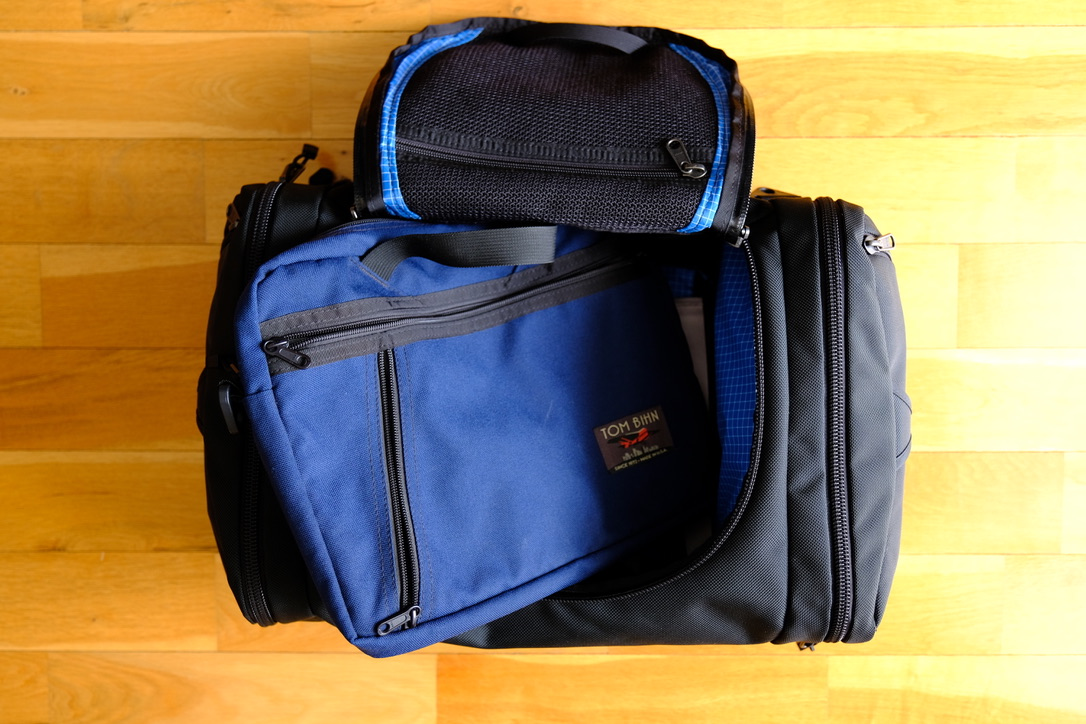 The DLBC fits into the main compartment, without opening the internal zippers to expand it. It's not a perfect fit because it's a tad larger than the main compartments wide, however, it doesn't hurt a lot. I successfully carried A30 in this mode. While in this mode, I used two Small Packing Cubes (one basic and one laundry) and put the laptops on top of the packing cubes.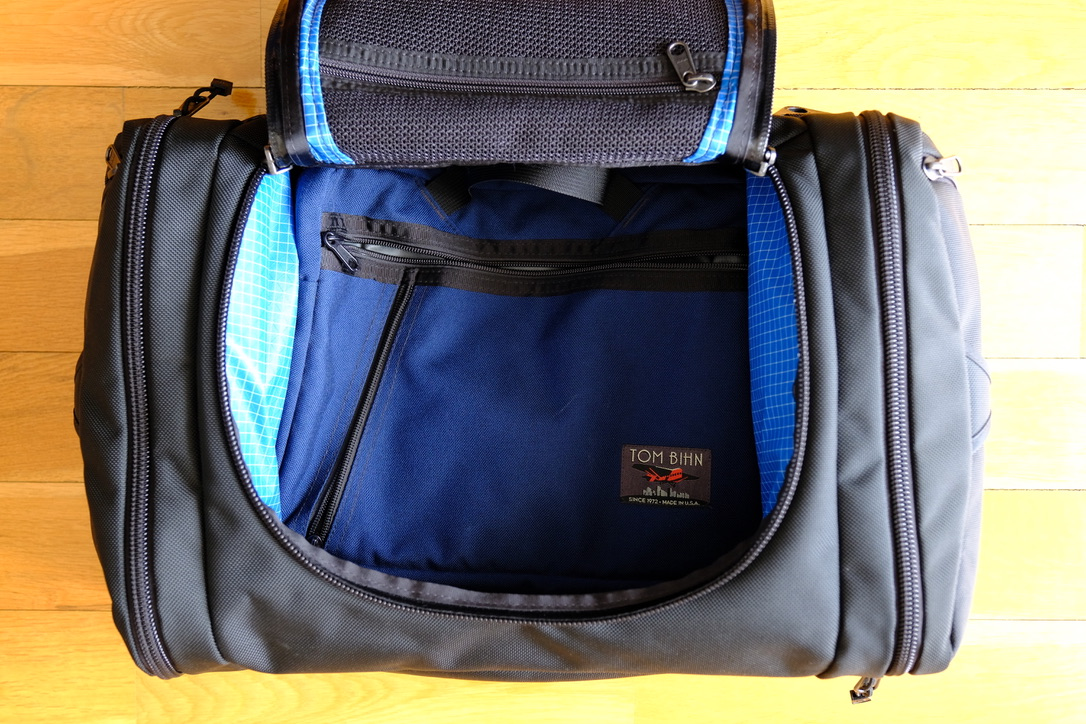 At the destination, you take out all your belongings and start using the day bag. Bonus point, if you somehow end up buying additional items (such as souvenirs) you can put them inside the second bag and carry it with you.
Comfort
As I stated at the beginning of my review, the Aeronaut 30 has three ways of carrying it. The first way is carrying it like a briefcase or duffel (depending on how you feel carrying the A30). The main handle is well padded. It's big and the natural way of carrying the Aeronaut.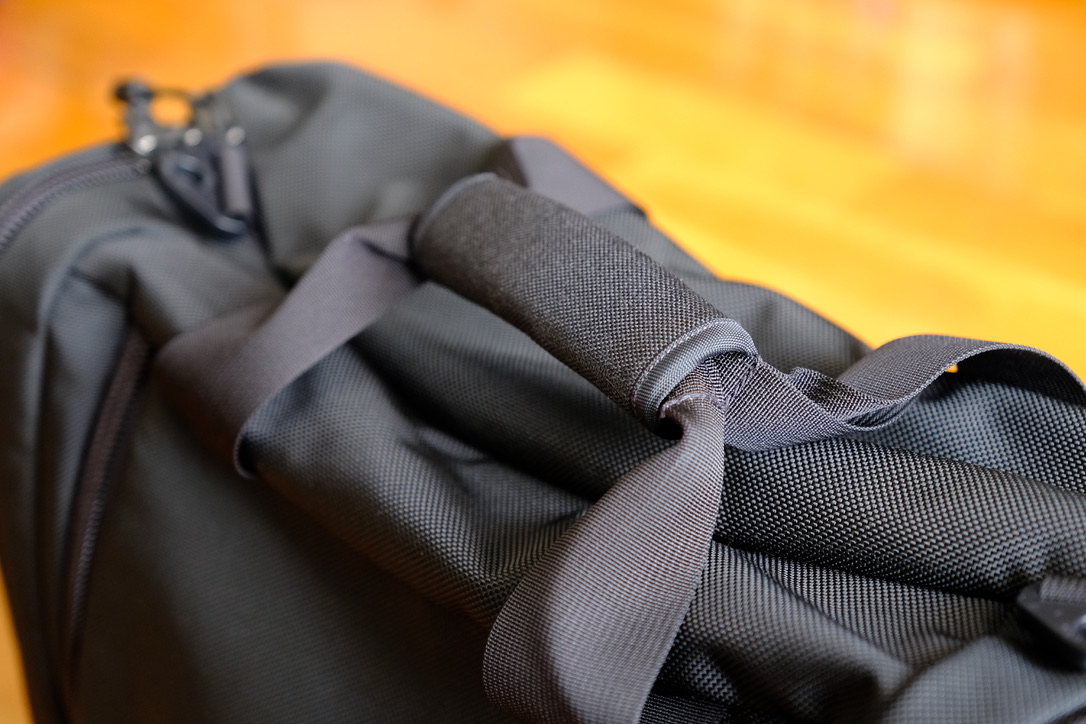 The Aeronaut 30 has lots of handles though. Not all of them are visible in the first look and some you'll discover when you start using it. They are there if needed. For example, there is a webbing loop that is beneath the opening: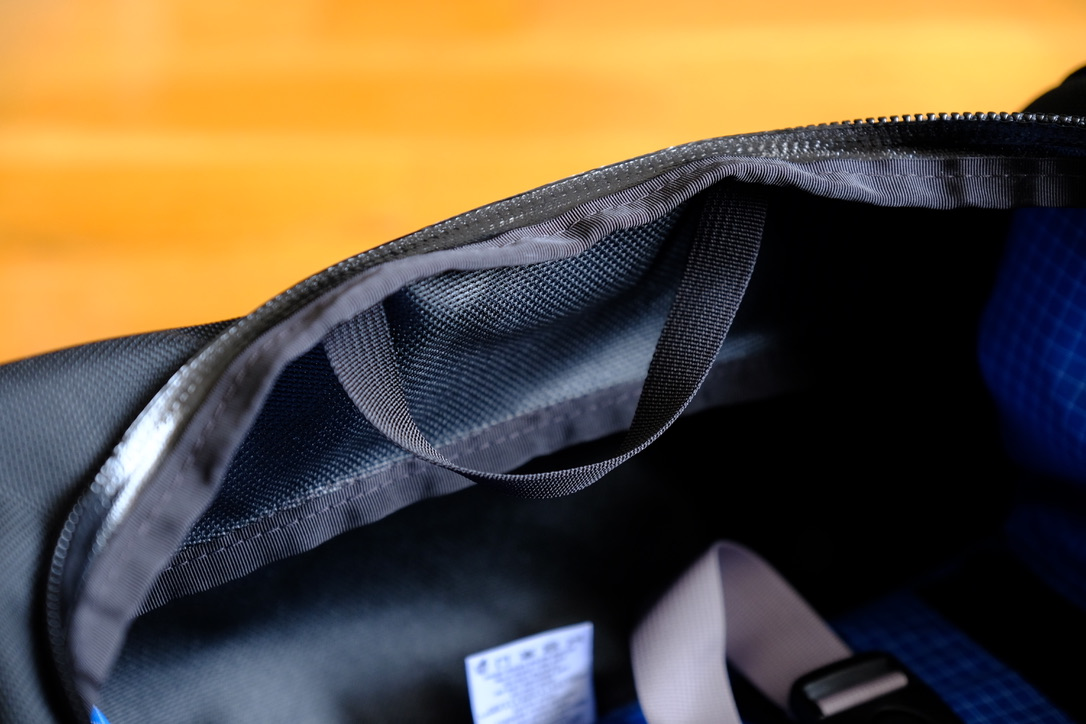 There is another loop, that is attached to the opening itself. You might wonder for what this is needed? As I said these are there in case you need them. Suppose you're packing it and have something handy that you want to put into the A30. You simply grab one of the loops and pull it to yourself. They are very useful in case you need them!
Finally, there are two handles on the sides of the A30. These are reinforced and well padded, just like the main grab handle. Those are not meant to be used for long-term carry, however, you should use them whenever you have to grab the A30, put it on the ground, grab it back, etc..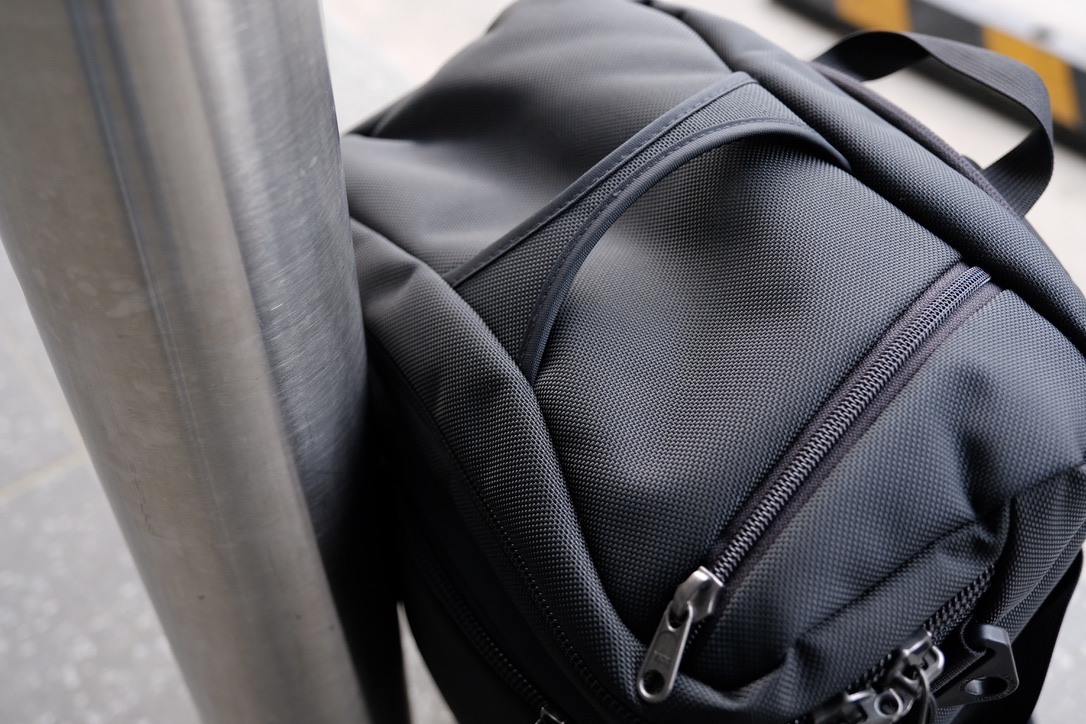 These handles come very handily especially if you put the Aeronaut into an overhead compartment of a plane. The only thing you need is to grab this side handle and pull it. I use these handles so often and can't think the Aeronaut without them.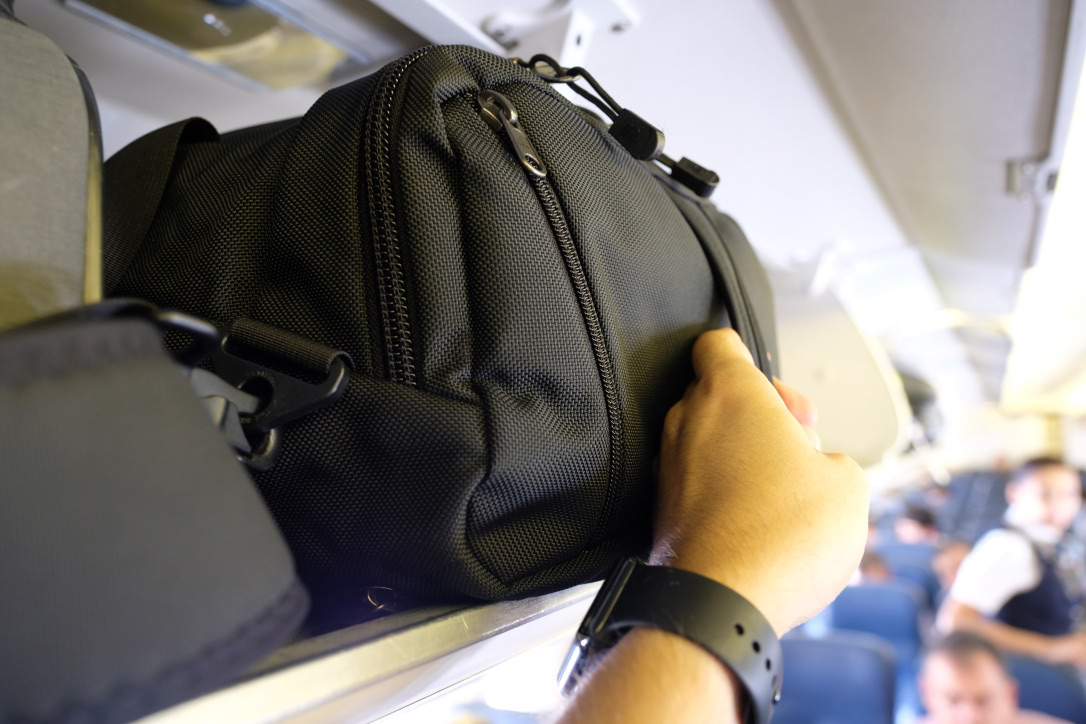 With its zip-away backpack strap, the Aeronaut 30 can be carried as a backpack as well. The backpack straps are hidden behind a zipper compartment. You unzip and take out the straps and attach them to the buckles on the bottom of the bag.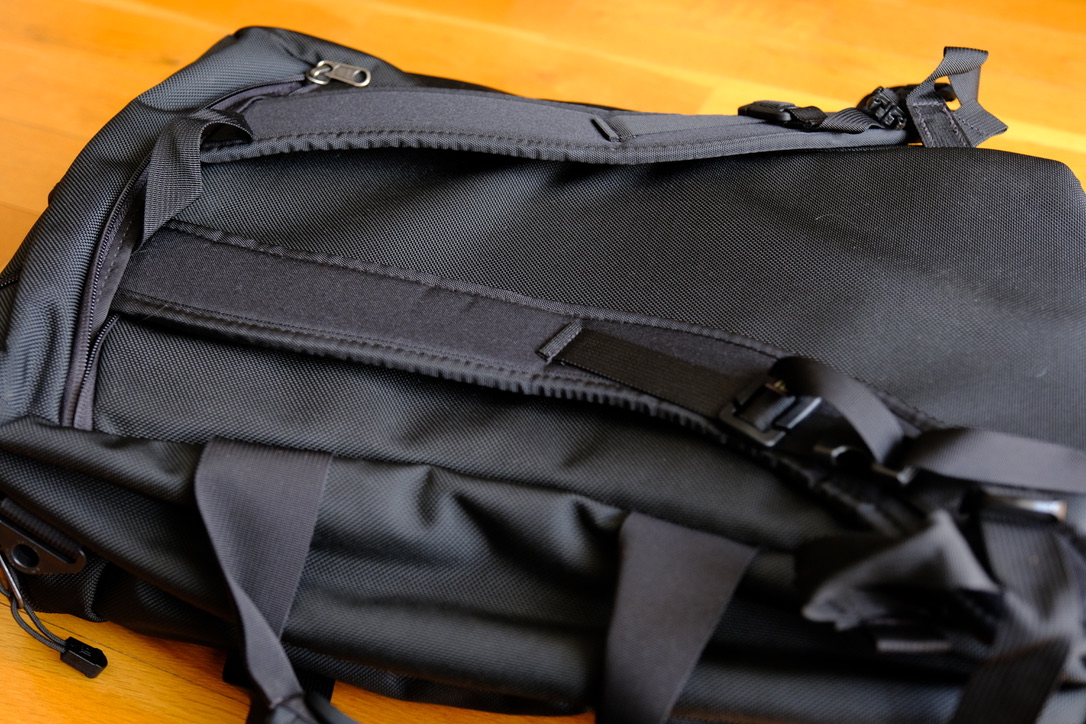 This is the feature what makes Aeronaut the favorite of everyone. People use the Aeronaut to travel the world because it's so easy to carry it as a backpack. And, because of the shape of the Aeronaut, it's surprisingly very comfortable to carry.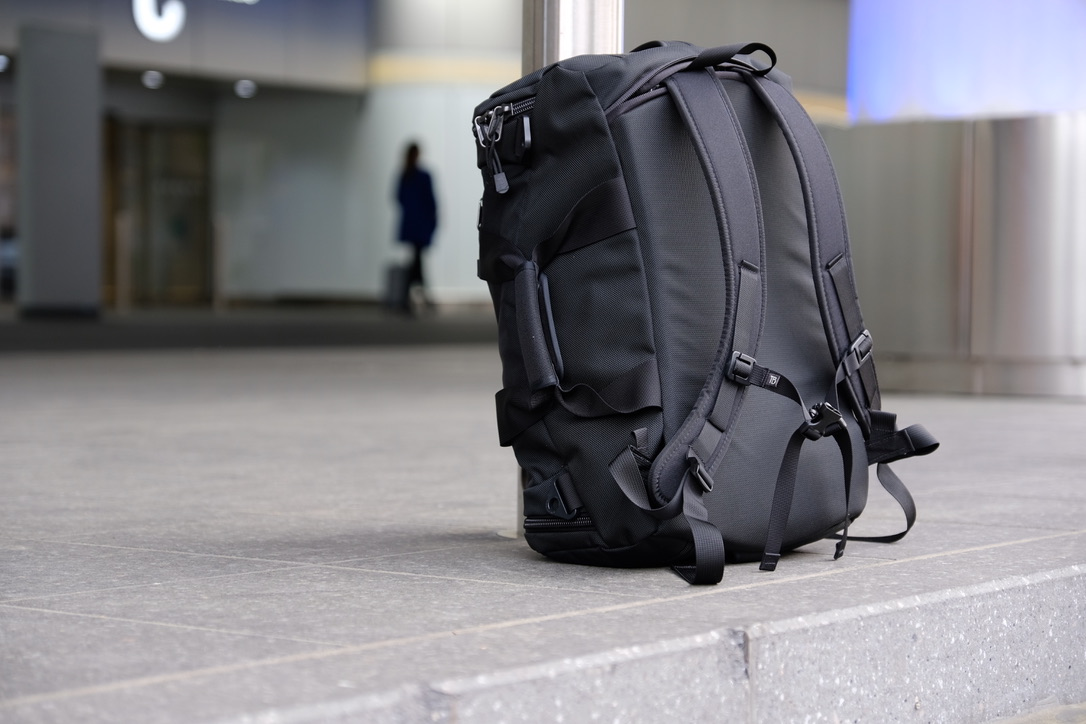 I liked this mode so much that I used the Aeronaut 30 always in this mode. It doesn't look exactly like a backpack from outside and sometimes you feel like you're carrying a block of rectangular brick on your back. But rest assured, the perception changes very fast once you carry a couple of times.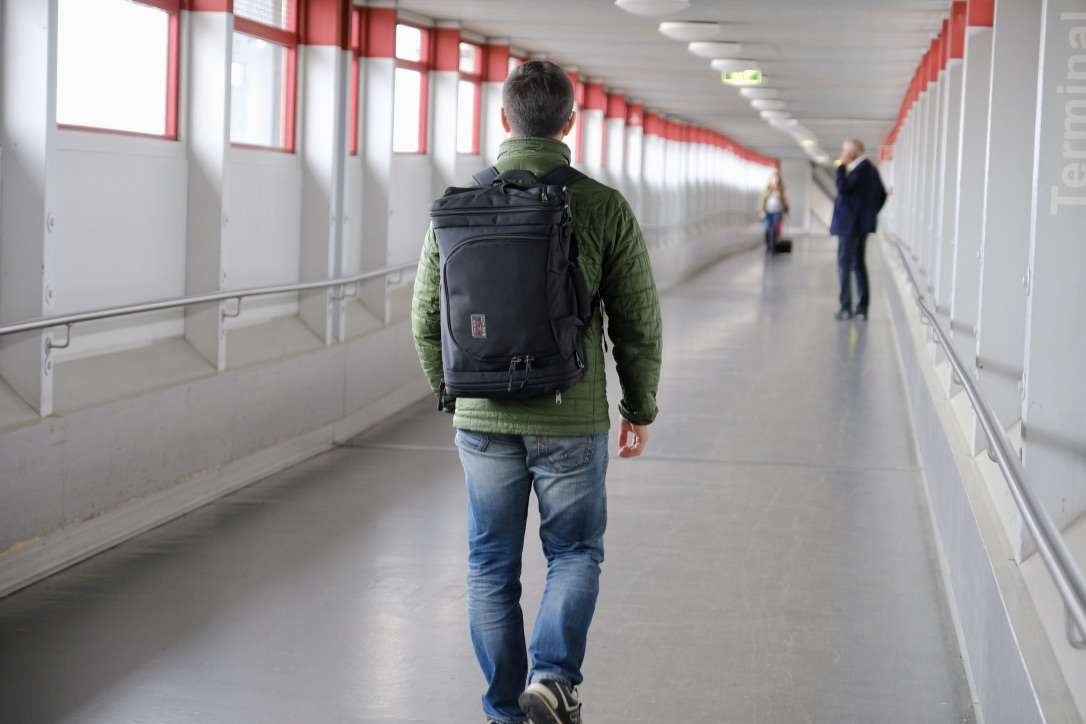 The backpack straps are contoured and padded, and they feature a removable/adjustable sternum strap. This allows you to transfer some of the weight to your chest. With the additional internal frame sheet (more on this in next section), it also makes it very comfortable to carry for a long period of time.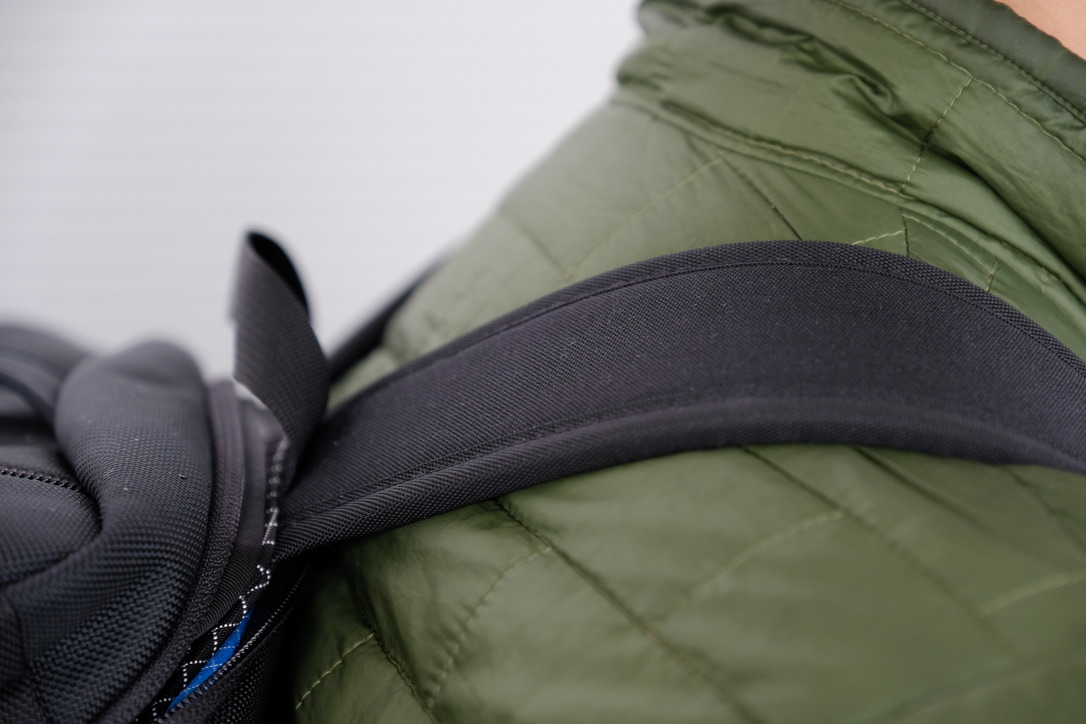 Once converted to backpack mode, a hidden backpack grab handle also appears. This comes again handy if you somehow have to hang the Aeronaut (say in a restroom).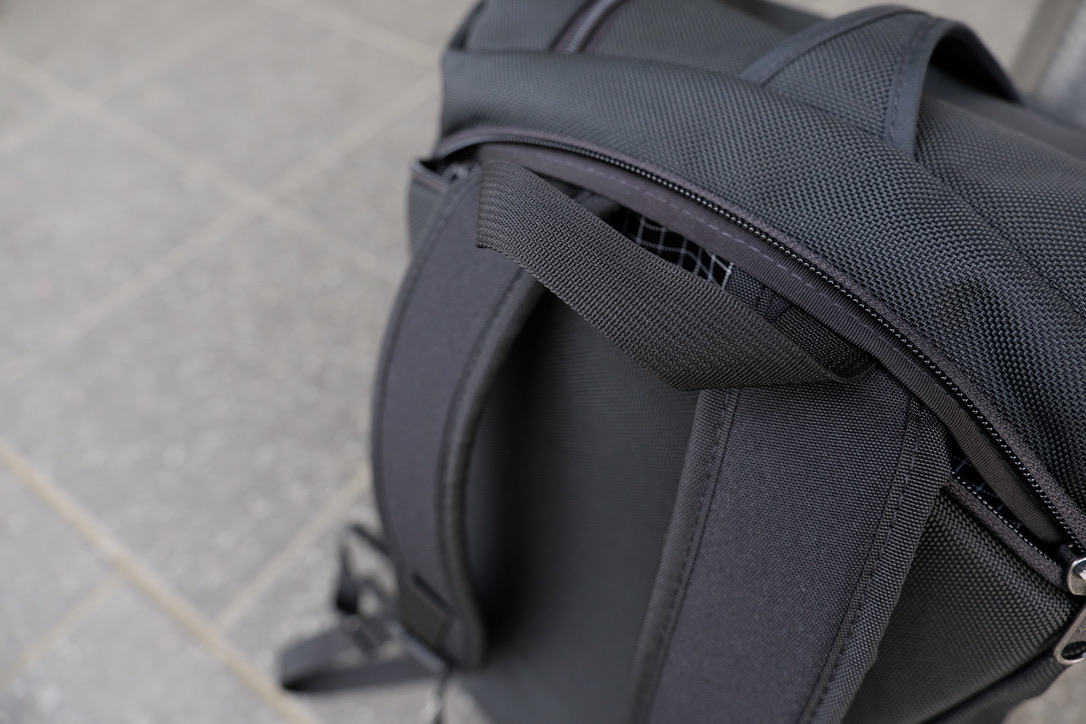 Finally, the Aeronaut 30 can be also carried as a shoulder/messenger bag. All you need is to attach a shoulder strap to the two additional attachment points.  You can use your own strap or use the much recommended Absolute Shoulder Strap.  I can definitely attest that it makes it very comfortable to carry in shoulder mode with this trap. This strap has a unique, patented,  internal control-stretch system that stretches itself under heavy load.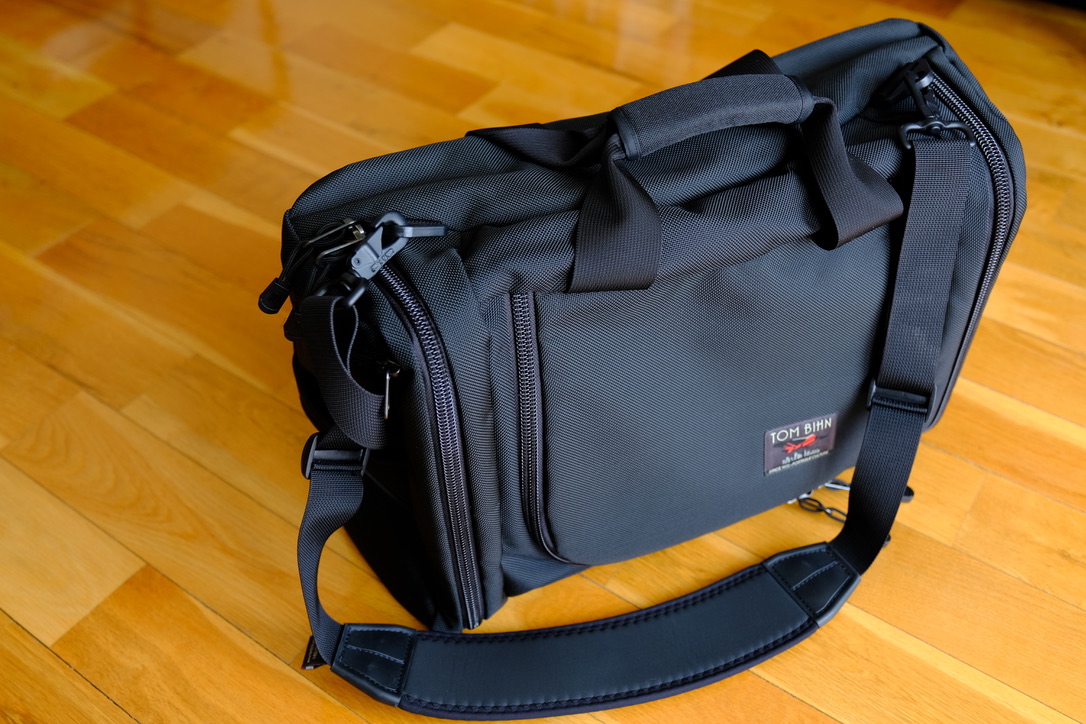 Note that in this mode, you need to store the shoulder strap somewhere if you don't want to see it dangling, when you for example carry the A30 in the backpack mode. You have to keep some space in your main or end compartments. Another way is to store it back into the back compartment that is used for holding the backpack straps.
Internal frame
After adding an internal frame to the Synapse 25, it became everyone's favorite. So Tom Bihn decided to add internal frame support to Aeronaut 30 as well. I use my Synapse 25 always with the frame sheet and I think it's the best ever addition to the bag. Having this option for the Aeronaut 30 made me therefore happy.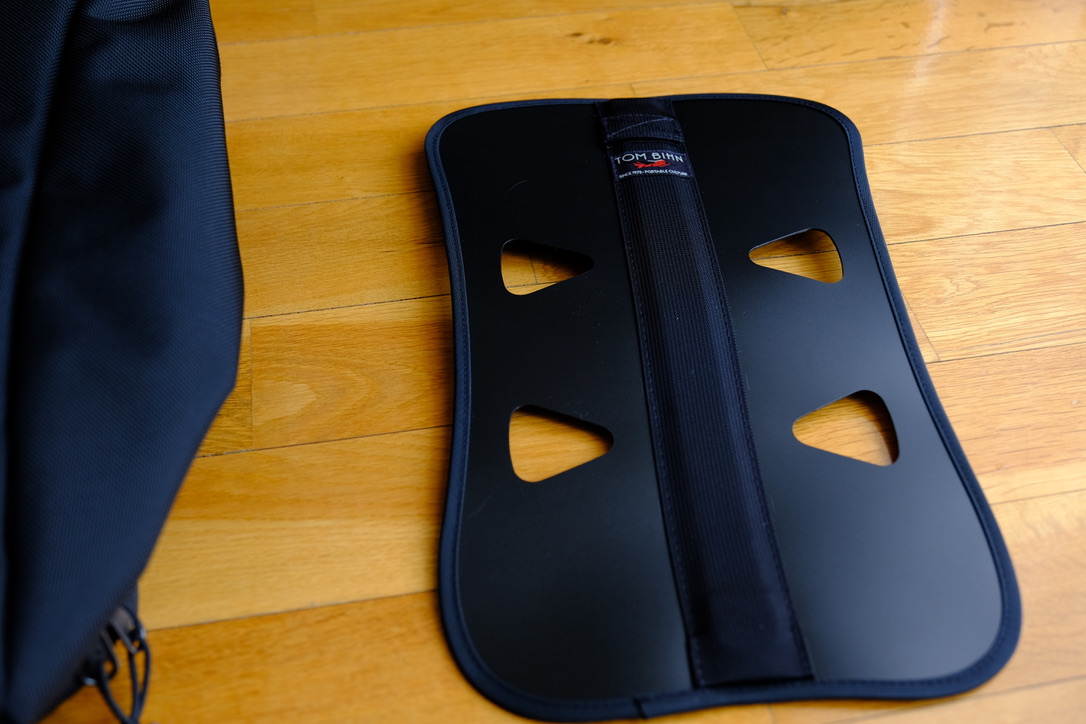 Different than the Synapse 25, you don't put internal frame inside the main compartment. Instead, you'll insert it into a secret zippered pocket that accommodates the back foam padding compartment.
The internal frame is explicitly made for the Aeronaut 30 and fits into the zippered pocket perfectly. All you need is to slip it in. It comes pre-bent for a generic spinal curve and should feel by default really good. If you don't like it, there are instructions on how to re-bend it for your needs.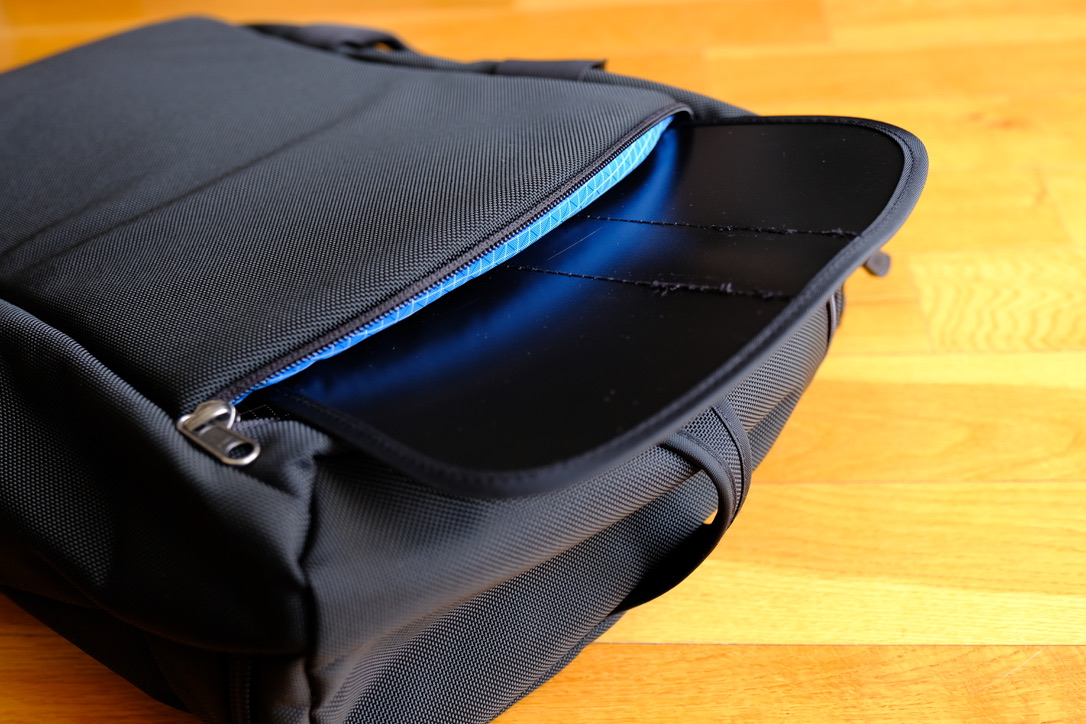 This is totally optional and costs $30. You might ask if you need this or not? As with all other Tom Bihn accessories it totally depends on your needs and usage. You might want to use it because it creates a rigid frame against your back. This is, for example, my number one reason I use it. Because I never liked how the Synapse 25 felt without the internal frame.
I have the same issue now with the TriStar and look forward to the day Tom Bihn releases an internal frame for it. It's just that every bag functions and feels much better with this addition.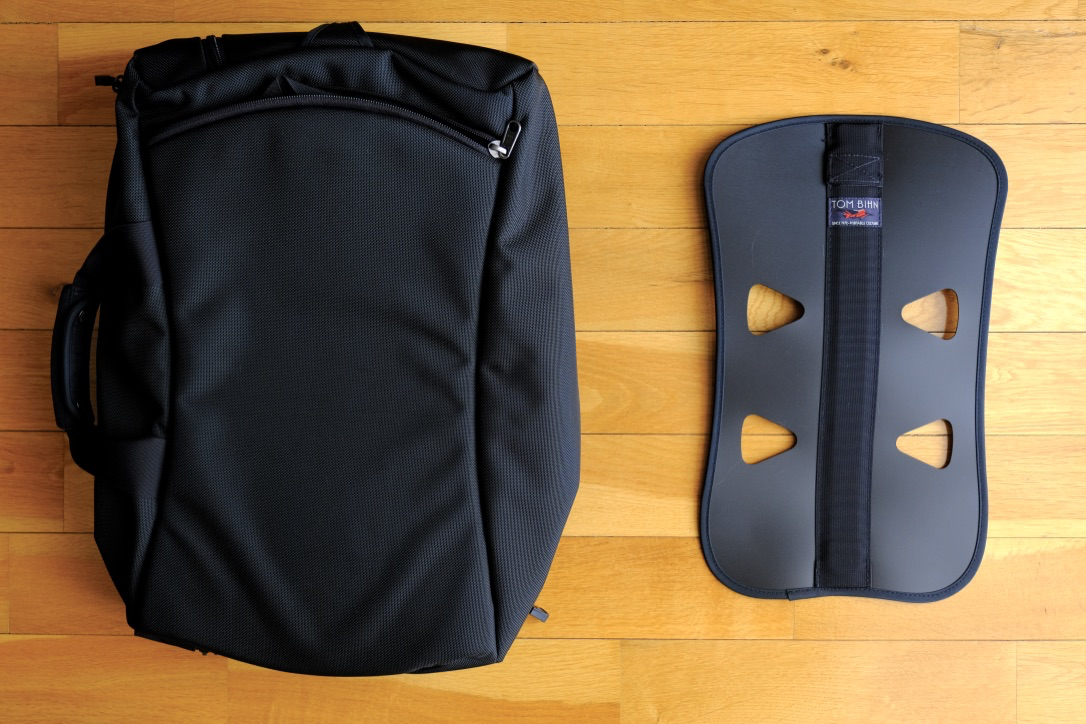 Another big reason is, together with the Aeronaut Padded Hip Belt (which I unfortunately don't have to show) can create stability and lift the weight onto your hips. This is very useful, especially for long trips or heavy carry.
Note that, it's not for everyone. It adds 280 grams of weight to your bag. Some people try to travel minimalist and don't want to carry a heavy weight on their back. Any item just adds to the total weight of the bag.  Second, it changes the feeling of the bag. If you like soft bags that can take the shape whatever it surrounds (such as an overhead compartment in a plane or the back storage space in a car) you should not use the internal frame.
For me, the pros outweigh the cons and I definitely recommend using it.
And hey, suppose you bought and don't like it? You can easily take it out! It's totally optional, which means you can change it depending on the style of your trip. This is I think what makes Tom Bihn accessories so great. It's always optional and modular, providing your the most efficient and flexible way of carrying your bag.
TriStar vs Aeronaut 30?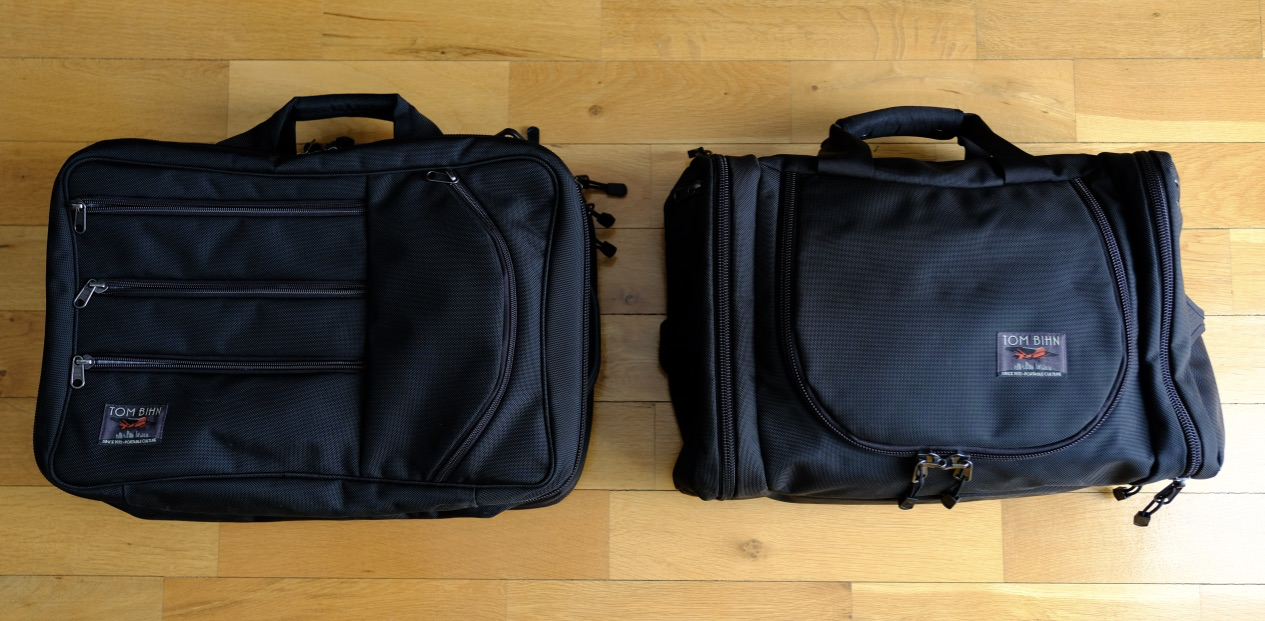 Before I end my writing, I wanted to write share couple of thoughts about the Aeronaut 30 and how it plays against the TriSar (now that I used them both for a long time on several trips).
Space: The TriStar has more space (3 liters to be exactly). This means that if you carry more stuff or have the intention to carry later, the TriStar is more flexible
Organization: TriStar is better if you use just packing cubes. It has three large, 2D-alike compartments that make use best of flat items or packing cubes. Having said that. It doesn't mean that the Aeronaut 30 is bad. As stated above in the packing cubes section, the Aeronaut 30 also works very well with packing cubes, but the TriStar is a tad better. However, this also means ...
Flexibility: Aeronaut is better to carry all kind of items in various kind of shapes. It doesn't matter whether it's flat, slim, bulky, etc.. It's just much better to carry any kind of items. The TriStar struggles here if you slightly change the items you carry. As an example, lately I'm traveling with my Camera and its accessories a lot. It's way easier to carry it with the Aeronaut, whereas I have to think ahead on how to pack it with the TriStar.
Design: This is totally subjective, but my two cents is that the Aeronaut has better design and is better looking. It has fewer zippers in overall and the clean/minimalistic look is just great compared to the TriStar. In comparison, the TriStar's look is very opinionated and looks like an oversized briefcase. It's not for everyone!
Carry: Carrying the Aeronaut 30 is much better than the TriStar. In backpack mode, it wears better due to its shape and with the new additions of the internal frame and padded hip belt. In suitcase mode, it's one single padded handle is comfortable to use compared to the TriStar's one.
Laptop: This needs a dedication section. The Aeronaut doesn't have a dedicated laptop compartment. As explained, it's not very easy to carry a laptop with you. Whereas the TriStar can carry laptops larger than 13" in its middle section in a way comfortable and safer way. It's much better compared to Aeronaut in every single aspect. If you read my TriStar review, you see how easy it is even to pack the TriStar with the Daylight.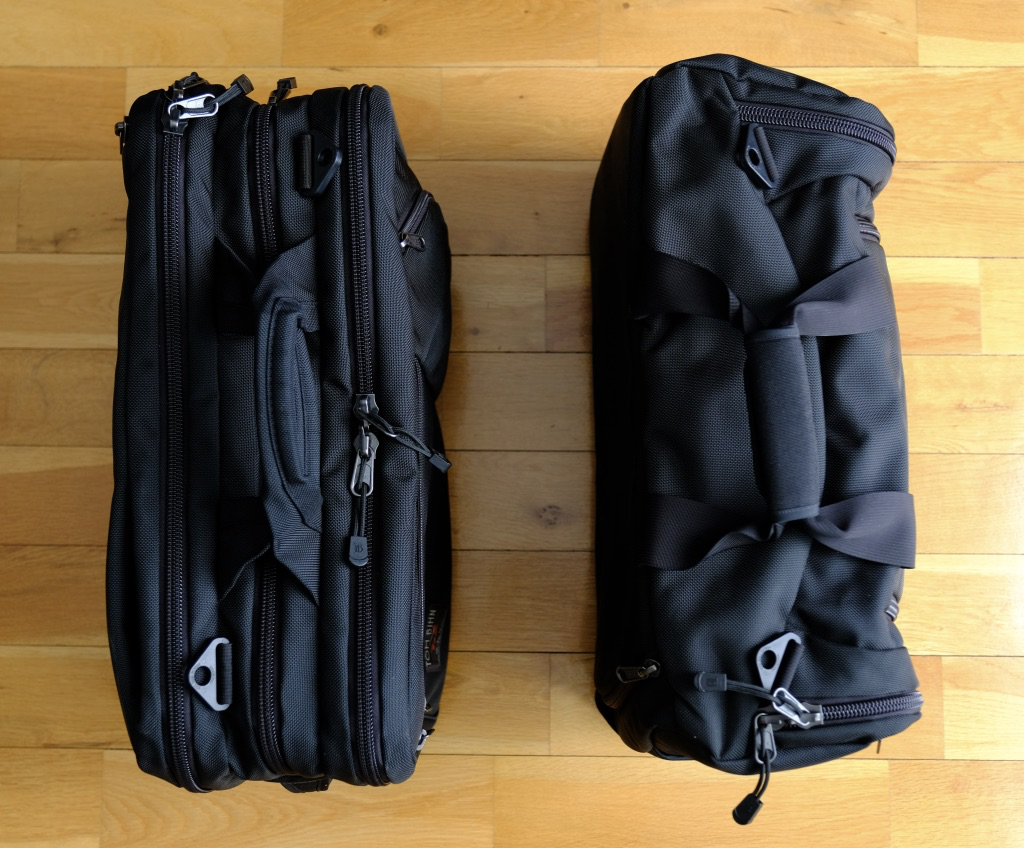 Which one to choose? This is a very tough question. I had a travel to Canada a couple of weeks ago and I packed my Aeronaut 30 with all the gears. But two things changed my mind and I opted in for a TriStar.
Number one reason is the lack of a laptop compartment and second was I hadn't any space left. The one thing I learned in my life is, never overpack a bag, because you'll never know what you're going to bring back from your trip.
However, if I had more space in my Aeronaut 30, I would just use that as it's way comfortable to carry and I like the big open compartments it provides.
The TriStar is designed for the tinkerer, the organizer, the planner
The Aeronaut 30 is designed for the adventurer, the traveler, the explorer
Pick one you believe will work for you.
(hint: you can buy both of them and return the one that you don't like. Tom Bihn allows this and I think this is what you should do if you can't decide!)
Verdict
The Aeronaut 30 is an all-rounder that is meant to be used for a lot of occasions. It does many things very well,  but only a small part not so good (such as carrying a laptop). Despite these small quirks, it's a bag that can be used for many occasions.
The Aeronaut 30 is something you'll be sure to use in various occasions.
Also, one thing you can always be sure of the top-notch quality and support
you'll get from Tom Bihn. I never saw any bag that is so well made and where
the after purchase support is so strong. You basically get what you pay for it.
This bag, just like with any other Tom Bihn bags will last for years, if not for decades.
The look of the Aeronaut is not special, but it looks different. Designing
something that can be identified in seconds, from meters away, is what makes a
good design. Design also is not always about the exterior look, using a bag
also requires extensive knowledge about human nature and a good design language.
This means, a timeless design approach is applied to a bag and you constantly
improve it. It should look good, it should feel correct, even after tens of
years. Here is what Tom Bihn said about this:
The longevity of our bags also encourages me to be somewhat cautious in terms of aesthetics: you want a bag that's going to last for 10 or 20 years to be more or less classic. — Tom Bihn
And that is what the Aeronaut 30 is all about.